FORMER RESIDENTS
Version française

You will find here all the names and dates of residences about artists who did stay at Triangle. The residents are refered by year of arrival. If you want to be in contact for professional reasons, we'll be pleased to put you in touch. Unfortunately, we cannot publish a whole biography for each of them. Google will be happy to help you!
SIMON ASENCIO (FR)
FLORENT AUDOYE (FR)
CHRISTIANE BLATTMANN (GE)
SHIRLEY BRUNO (USA/HT)
ESTEL FONSECA (FR/PT)
DOROTA GAWEDA (PL) & EGLE KULBOKAITE (LT)
JULIAN HOU (CA)
ANNE LISE LE GAC (FR) in collaboration with Arthur Chambry, in partnership with festival Parallèle
FLEUR MELBOURN (UK)
JEANNE MOYNOT & ANNE-SOPHIE TURION (FR) in partnership with festival Actoral
JOSÈFA NTJAM (FR)
BEN SAINT-MAXENT (FR) in partnership with OÙ, Marseille
EOTHEN STEARN (UK) as part of our international exchange program with Glasgow Sculpture Studios
...
BIANCA BALDI (ZA)
VALÉRIE BLASS (CA)
MARTIN BELOU (FR)
SOPHIE BUENO-BOUTELLIER (FR)
KAH BEE CHOW (MY)
GHISLAINE LEUNG (UK)
CAROLINE MESQUITA (FR)
CLÉMENCE DE MONTGOLFIER (FR)
ANIARA OMANN (DK) as part of our international exchange program with Glasgow Sculptures Studios
JEAN-CHARLES DE QUILLACQ (FR)
SARA SADIK (FR)
FAHMY SHAHIN (EG)
VICTOR YUDAEV (RU)
PAULINE ZENK (GE)
_
IN RESIDENCY FROM SEPTEMBER TO DECEMBER 2017
Maya Beaudry (CA)
Lives and works in Vancouver (CA).
www.mayabeaudry.com
Maya Beaudry (b. 1988 Vancouver) works predominantly in sculpture and installation, exploring the concept of interiority as it relates to domestic architecture and the symbiotic relationship of mental states and living spaces. Her most recent work has centred on the architectural prevalence of the rectangle as a shape for containment and the corporeal experience of inhabiting geometric space as an organically shaped organism. She is interested in both the act of building and the "softening" of the built environment, approaching textiles, upholstery and furniture as a kind of membrane between bodies and architecture.
She holds a BFA from Emily Carr University and an MFA from the California Institute of the Arts. In 2016 she received the Felix Gonzales Torres Grant to construct a free-standing studio on an island in British Columbia, the first step towards a long-term project of operating a small residency. She is the founder of Sunset Terrace, an artist-run space in Vancouver and the recipient of the Hnatyshyn Foundation prize for emerging artists. Recent exhibitions include "Period Pieces: A Sunset Terrace Retrospective" at Projet Pangee in Montreal, "Ambivalent Pleasures" at the Vancouver Art Gallery, and "Enter the Fog" at The Rooms, St. John's, Newfoundland. She holds a BFA from Emily Carr University and an MFA from the California Institute of the Arts.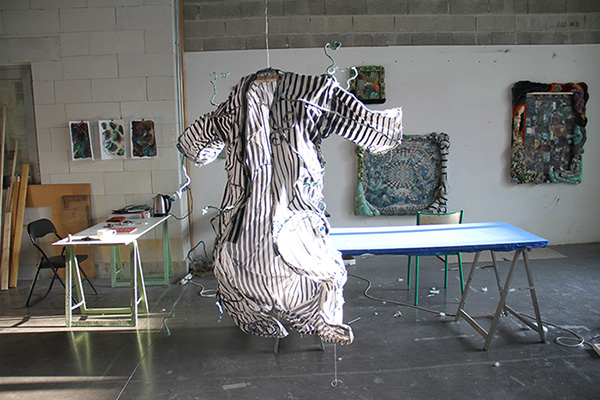 _
Adam Lewis Jacob (GB)
Lives and works in Glasgow (GB)
I'm interested in developing situations for shared authorship, in which I explore filmmaking as a space for relinquishing total control, incorporating traces of process and performance, amidst a surplus of objects, information, images and stuff. Currently I am interested in exploring the intersections between Spiritualism and Anarchism. Through this research I have started to combine different styles of filmmaking, creating dream-like portals as triggers for psychedelic experiences. While my work is predominantly moving image based, I often make installations that incorporate the material used to create the film. This can include altered lighting, objects, sound and animation.
Adam Lewis Jacob is graduated from the MFA programme at the Glasgow School of Art in 2015 during which he studied on exchange at Piet Zwart Institute and in 2011 was selected for the Mountain School of Arts program in Los Angeles. In 2016, Adam was the recipient of the Superlux research award alongside Elizabeth Murphy. Recent exhibitions include: Emotional Need, Collective, Edinburgh, ANITPHON, Kochi-Muziris Biennale 2016, India, Double Parrhesia, Catalyst, Belfast and FFWD, Duolon Museum of Contemporary Art, Shanghai. Adam is co-founder of exhibition space Celine and until May 2017 was a committee member at Transmission Gallery.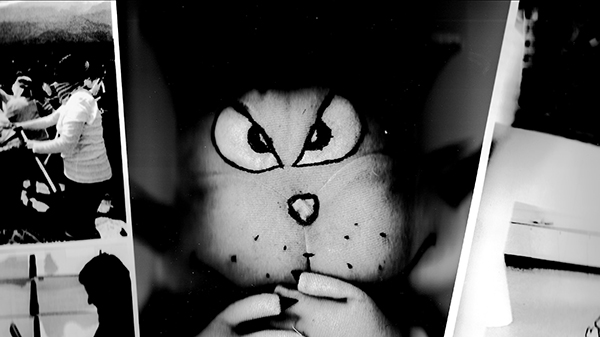 _
Anoucha Oler (FR/CH)
Lives and works in Brussels (BE)
Her practice brings together sculpture, writing and performance within videos in which the narratives often focus on the encounter between the characters that she creates and a disruptive material environment. Objects and individuals refuse to function as planned leading the characters to ponder about how this refusal to co-operate will affect their lives. Actors then engage in inquiring with impetuosity how, what and of whom are they made of. Through their speculative narratives and implicit to their playful and idiosyncratic attitude, they question the way that power circulates in shared and constructed spaces and its impacts on the construction of the self. So far in her work, numerous investigators explored affects, caring, sociability and living together.
Born in 1988, Saint Malo (FR) Lives and Works in Brussels (BE).
She holds an MFA from the Piet Zwart Institute in Rotterdam and was part of the post-master program of the Lyon's School of Arts in 2014/2015. Recent solo and two-person shows include Out of Place Artefacts, Galería Javier Silva, Valladolid (SP) with Amélie Bouvier (2016) ; Thingness? at Cooper Gallery (UK); Irma, Wisconsin, Present Works in Milwaukee (2015) ; I Smoked a Cigarette, Wondered About the Colour and Looked at You Once More in AiR-Jakobstad (FI) with Marion Jaulin (2014) and It Is Forbidden To Feed The Sculptures, Kölnischer Kunstverein/OG2, Cologne (2013).
Since 2010 she showed her works amongst group exhibithions at apes&castles, Bruxelles (BE), MOTinternational, Bruxelles (BE), Frac Île de France / Le Plateau, Paris (FR), Le Magasin-CNAC, Grenoble (FR), La Villa Arson, Nice (FR), The Front Gallery, New-Orleans (USA), De Appel, Amsterdam (NL), Tent, Rotterdam (NL), LIVEINYOURHEAD, Geneva (CH).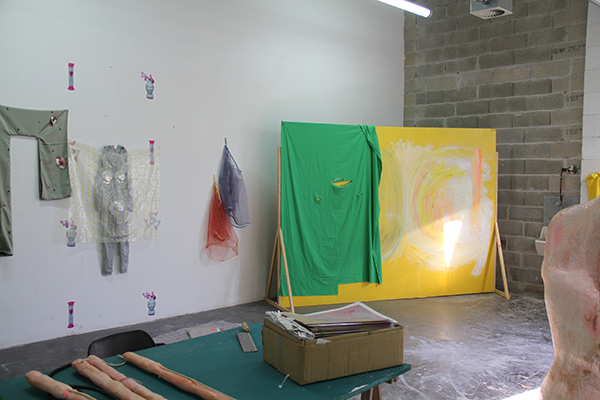 _
IN RESIDENCY FROM MID-APRIL TO THE END OF JULY 2017
_
Madison Bycroft
Lives and works between Rotterdam, the Netherlands, and her hometown Adelaide, South Australia
maddog.hotglue.me
Madison Bycroft is an artist working in video, performance, sculpture, sound and text. She explores empathic, animist, and linguistic methodologies through which to approach, become attuned to, invoke and be with the unknown. Of particular interest, is the fine line between closed (reductive) and open (enabling) speech. What practical possibilities can the mystical language of unsaying and the paradox offer? How can the middle voice - a verb form both active and passive - be re-instated in speech and action, in a way that queers the subject, makes it plural, and renegotiates lines of relation? How can we translate without capture? Bycroft performs different selves, challenging the idea of a unique subject authoring her own actions, and instead situates herself as a responsive multiplicity.
Madison Bycroft is a recent graduate of the Piet Zwart Institute of Fine Art, in Rotterdam, which she attended with the support of the Anne and Gordon Samstag Scholarship. Since 2016, along with Natalia Sorzano and Kari Robertson she runs GHOST, a platform for new collaboration and facilitation.
Bycrofts Australian exhibitions include: "CatDog" - Greenaway Gallery, "Primavera: Young Australian Artists" at the MCA in Sydney, "Synonyms for Savages", The Australian Experimental Art Foundation and It Division - Contemporary Art Centre of South Australia. International exhibitions include "Creatures of the Mud" - Westfälischer Kunstverein in Muenster, "Translating Medea", Yellow Brick, Athens, "The Blue Grey Wall" - Physics room, Christchurch, and a showing at Microscope Gallery as part of residency at the ISCP in Brooklyn, New York.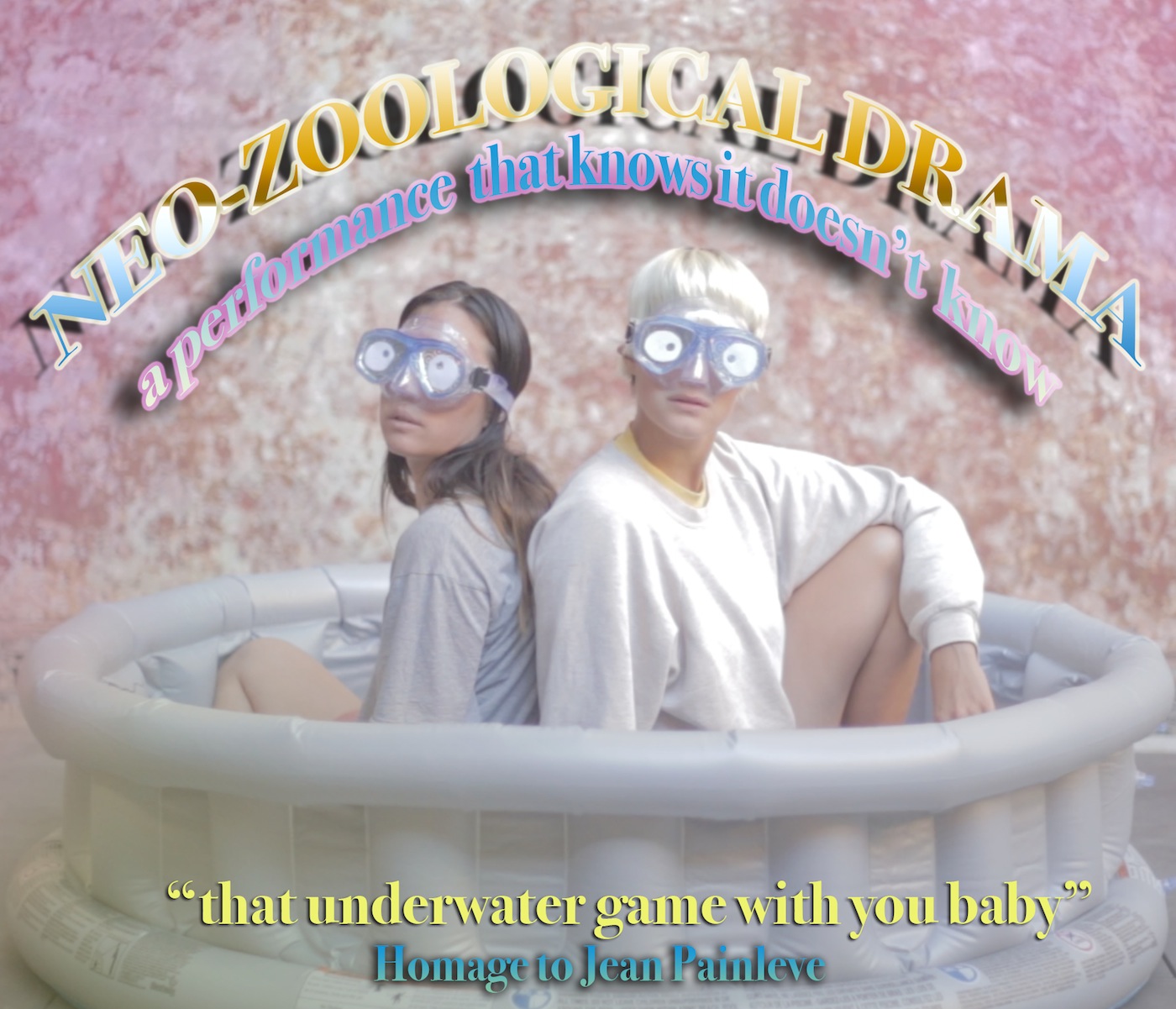 _
Camille Dumond
Lives and works in Geneva, Switzerland
camilledumond.fr
Camille Dumond's projects question the occupation of territories and its representations. She takes the process of inversion as a work method. Her work evokes one after the other a workplace, a garden, a park, an exhibition, a bar, a place of filming of film, sometimes fictitious, that she speaks about through the realization of objects or stories which transforms or reproduce it. She is interested in the protagonists of these places, in the ideology linked to the fabrication of endemic objects. Her practice includes films, sculptures, installations, events. She performs mainly by the prism of the camera, and is interested in transforming the exhibition space as a place of collective life, like a film set. She recently studies stand-up comedy texts, in order to treat it outside of the field of entertainment. She has just finished her first short film "People's Park" (2017), a 9-minute experimental fiction whose scenario takes its distant roots in the creation of the eponymous park in 1969 in Berkeley, California. The film knows several broadcast formats, including a long version and a loop version.
Camille Dumond studied at Ecole Supérieure des Beaux-Arts de Nantes, then at HEAD Genève, where she graduated in the work.master 2014. In 2015, she had her first solo exhibition at Quark, Geneva (as recipient of the Quark prize 2015), and took part to the exhibition of the laureates of the Geneva city prize at Geneva's Centre d'Art Contemporain. She won the award Bourses Déliées from the FCAC (Fonds cantonal d'art contemporain) and in 2016 showned an early version of her project "People's Park" at Halle Nord in Geneva (for which she is also releasing a publication). She has been invited to several projects and exhibitions such as "Labor Zero Labor" in Triangle France, "Motion and Infinite Lawns" in Geneva, and was artist in residence at Mains d'Oeuvres in Saint-Ouen right before her residency at Triangle.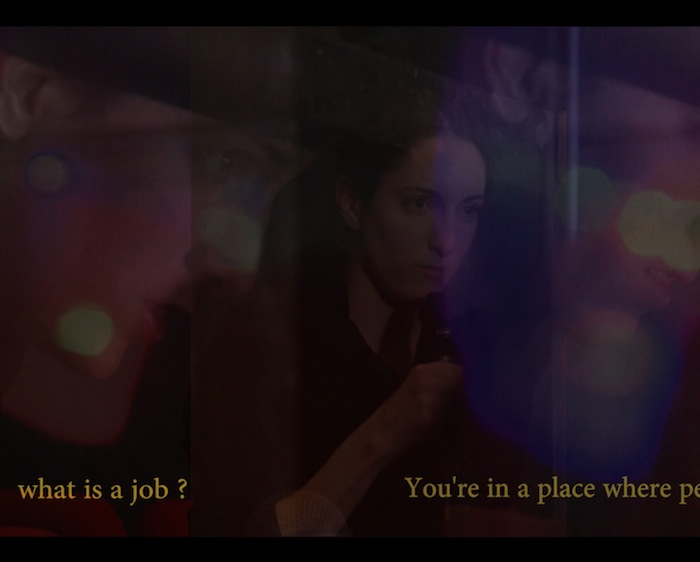 Credits: F.A.T.T.O.M. - food4less, performance, exhibition "Motion" at LiveInYourHead, 2016. HEAD - Genève and La Fabrique d'expositions, Montréal.
_
Liv Schulman
Lives and works in Paris and Lyon.
livschulman.com
Writing is the driving force behind the work of the Argentinian artist Liv Schulman. She produces filmed fictions and, theatrical performances, as well as novelistic and journalistic writing.
She has thus successively published various diaries with evocative titles: Pobre, Feo y Elegant [Poor, Ugly and Elegant], Algo Mejor que Nada [Something's Better Than Nothing] and El Flasherito. In her films and performances Schulman introduces characters offering long-winded speeches, interchangeable ventriloquist-like ectoplasms of those dislocated monologues which borrow from the vocabularies of art, liberal economics, critical theory, and psychotherapy. Merging with one another, these distinct forms of discourse become absurd and crazy tools of a paranoid interpretation of the social world, based on the alienation of bodies, the devaluation of identities, and the complexities of desire for meaning. A caustic sense of humour, combined with an acerbic analysis of the conventions of language, enables the ludicrousness of parody to co-exist with a disenchanted idea in her work
Texte: Incorporated Les ateliers de rennes.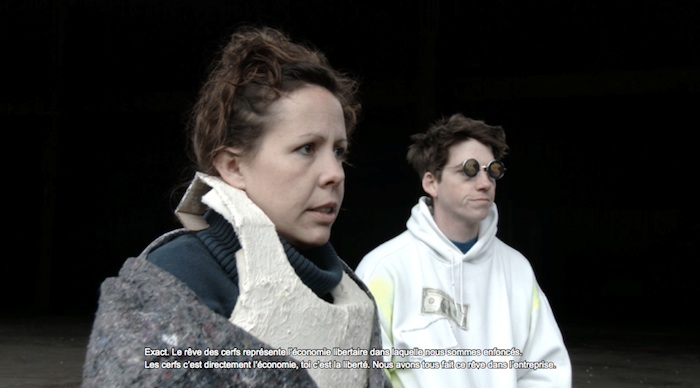 Credits: Liv Schulman, "Assemnlée Générale", 2016. Production: Les Ateliers de Rennes - Biennale d'Art Contemporain.
_
IN RESIDENCY FROM JANUARY TO MID-APRIL 2017
_
Arthur Eskenazi
Lives and works in Paris, FR
arthureskenazi.com
The work of Arthur Eskenazi is multiple and protean, not attaching itself to any particular discipline but considering them all as territories with particular topographies that we would have to cross.
Performance, dance, theater, scenography, but also video, installation, drawing, writing or painting represent like a great planisphere with porous and moving boundaries depending on the body that passes through them, the specific situations which it makes the experience and which can only be transmitted by telling the story. But which one?
The question of discourse on the work takes then an important place in it ambiguous relation that it talks between lie and truth. But behind it is actually hiding the means of production. If it is the discourse that allows the artist to work (grant files, calls for projects, application for residence ...) if it is still him who fix the value of the work done (since a work of Art today is judged only by the credibility of relations - and the artist invents - that the artistic object maintains with his discourse) which space remains it for the transmission of artistic experience, which one can not be summed up in word, but in gestures, temporality, or quality of address?
To take this discourse as "pre-text" to the creation of a form, to the creation of an experience that can not be anything other than the temporality necessary to the appearance and transmission of an event, historical as well as artistic.
Arthur Eskenazi is a graduate of the Ecole Nationale Superieure des Beaux-Arts in Paris in 2012 and a master's degree in exe.r.ce from the Center Chorégraphique National de Montpelier in 2015.
In 2012, in collaboration with Jennifer Lauro-Mariani, he set up the project of dance "The IPSE" on the occasion of the "Danse Elargie du Théâtre de la Ville et du Musée de la Danse" (Special Mention of the Jury). With proven experience, "IPSE" will thereafter develop into two other versions: in 2013 for the Festival Petites Formes (D)Cousues au Point Ephémère in Paris and in 2014 for the Festival Les Hivernales in Avignon. At the same time, he co-wrote this year with Elsa Eskenazi the play "A la sarbacane" which they stage, and assists the director Jessica Dalle as playwright and stage designer for the play "Walpurg-Tragédie" (Théâtre de la Cité Internationale, December 2016).
In 2015, he founded during a residence in Pact Zollverein a multi-disciplinary Franco-German research group, the aim of which was to make artists work with different mediums and questions. He regularly performs for performances and choreographic pieces.
His plastic work was presented in several collective exhibitions in France, Germany and Japan.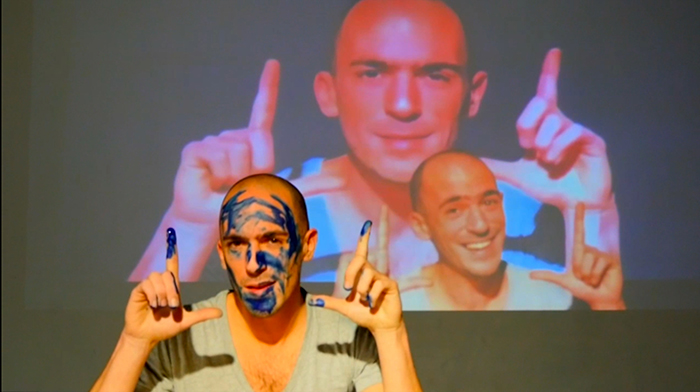 Arthur Eskenazi, ciné-fils, vidéo (4'03), 2016
_
Gina Folly
Lives and works in Basel, CH
www.ginafolly.ch
Gina Folly multimedia work embracing sculpture, photography, drawings, film, and installation, she subjects objects and symbols to minimal contextual shifts and critically thematizes the promises that our striving for greater naturalness and productivity in an increasingly technologized environment holds out. The domestication and imitation of natural phenomena play an important role for Folly. As a result, animals and plants occur repeatedly in her works as motifs or materials and looking for a confrontaion between humans and their natural surrounding. These relations and exchanges are emphasised in the way Folly uses, alters and mixes industrial production processes with artisanal or even homemade techniques.
Gina Folly is born in 1983 in Zürich. She graduated in Master of Art in Fine Arts, Zhdk, Zürich in 2014. Since 2013 she's running the artist space Taylor Macklin in Zürich together with Selina Grüter and Michèle Graf www.taylormacklin.com. Recent exhibitions include: Domestic Problems, Almanac, London, 2016(Solo); New Conditions,
Ermes-Ermes, Roma, 2015 (2015);Ströme, Duoshow with Mandla Reuter, SALTS, Birsfelden, 2015 (Solo); L'état parfait, Freymond-Guth Fine Arts, Basel, 2016; Adrift on a Plastic Island, Galerie Bernhard, Zürich, 2016; 13. Triennale Kleinplastik 2016, Fellbach ,2016; Some of my best friends are germs, Le Doc, Paris, 2016;NATURAL INSTINCTS, Les Urbaines 2015, Lausanne, 2015; Some Gallerists, ML Artspace, The Duck, Berlin, 2015; Summer Group Show organized by Matt Moravec & Taylor Trabulus, Germantown, NY, 2015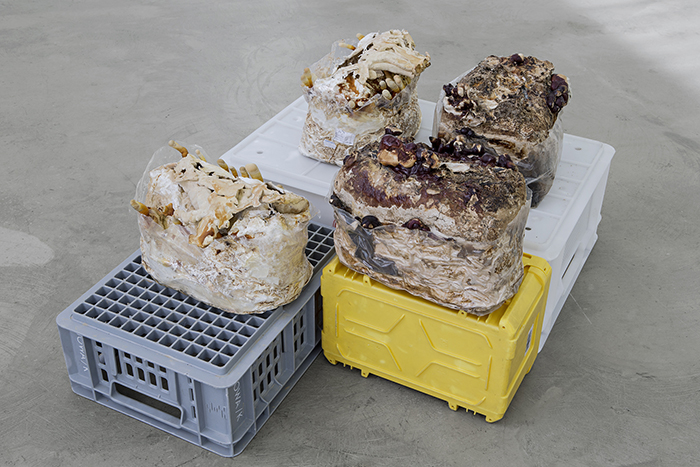 Gina Folly, Unfinished business, (Ling Zhi) I - IV, chinease anti-aging mushroom spawn for immortality, 4 plastic crates, dimensions variable, 2016.
_
Tiziana La Melia
Lives and works in Vancouver, CA
tizianalamelia.com

Tiziana La Melia is an interdisciplinary artist working in painting, installation, film and writing. To date, La Melia's work has explored through painting, installation and writing, the relationship between proprioceptive experience and the way that thought becomes form; language digresses; things become subjects, subjects become things; hyphens, metonymy, stutters, and slime form a mutating and nonlinear poetics. Her work is populated by angelfish, losers, dropouts, and spinsters—who are preoccupied by fate, weather, health, time, food, perfume, writing, technology and pets. The characters in the work evoke an agency that is both fixed and malleable. Titles and form evoke theatrical structures to navigate the slippage between objects and language, plotting to blur the dialectic between the utilitarian and the lyrical.
Born in 1982, in Palmero (IT). Her work has been exhibited, screened and performed in Los Angeles, New York, Toronto, Stockholm, Nevers, Montreal, and Vancouver. Her writing has appeared in C Magazine, The Organism for Poetic Research, Pyramid Power, The Capilano Review and Poetry is Dead. Forthcoming activities include a solo exhibition at 8-11 (Toronto) and Anne Baurrault (Paris). La Melia was awarded the 2014 RBC Painting Prize. In 2017 a book of poetry will be published by Talon Books, Vancouver.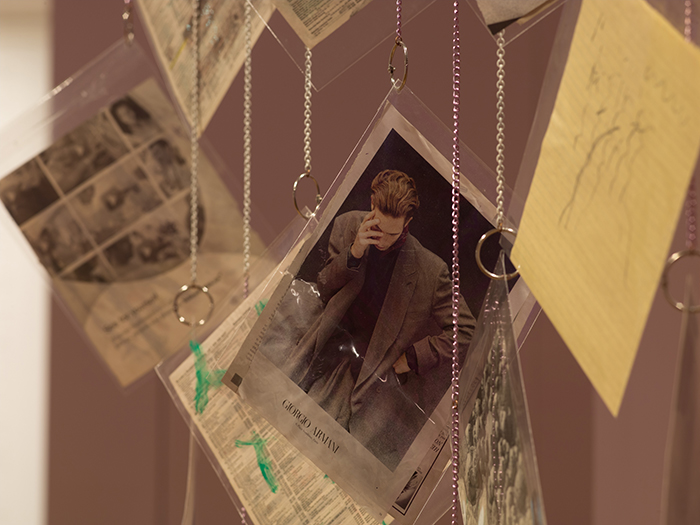 Tiziana La Melia, Yellow Pages Improv, steel, metal chain, spraypaint, crystal sleeves, binder loops, magazine cutouts, phonebook pages, oil paint, dimensions variable, 2011-2014.
_
IN RESIDENCY FROM SEPTEMBER TO MID-DECEMBER 2016
_
Hannah James
Lives and works in Glasgow, UK
Hannah James' work addresses the relationship(s) we have with ourselves, each other, non-human animals, and environments. She is interested in particular moments where balances of power, control and manipulation are brought into question: moments that result in positions of trust, vulnerability and fear being compromised. How identities are formed, perceived and challenged are reoccurring interests within her research and production. James explores these concerns through her theoretical address of topics such as the phenomenology of perception, pedagogical structures, gender relations, domestic and captive animals and competitive activities. These ideas are realised through sculpture, installation, film and text.
Hannah James (b.1985, Nottingham) lives and works in Glasgow. She graduated from The Piet Zwart Institute, Rotterdam in 2014. Recent exhibitions include: Every woman is an animal, The Arboretum, Rotterdam, 2016 (solo); Heads, Pracownia Portretu, Lodz, 2016 (solo); Left Hand to Back of Head, Object Held Against Right Thigh, The Bluecoat, Liverpool, 2016; Hybrids, Celine, Glasgow, 2016; Can't you see how big those snails are? Chert, Berlin, 2015 (solo); wow! Woven? Entering the (sub) Textiles, Kunstlerhaus, Graz, 2015; The Museum of Unconditional Surrender, Tent, Rotterdam, 2015; breaking A skin, weaving A sense, Cole, London, 2014 (solo). Hannah is represented by Chert, Berlin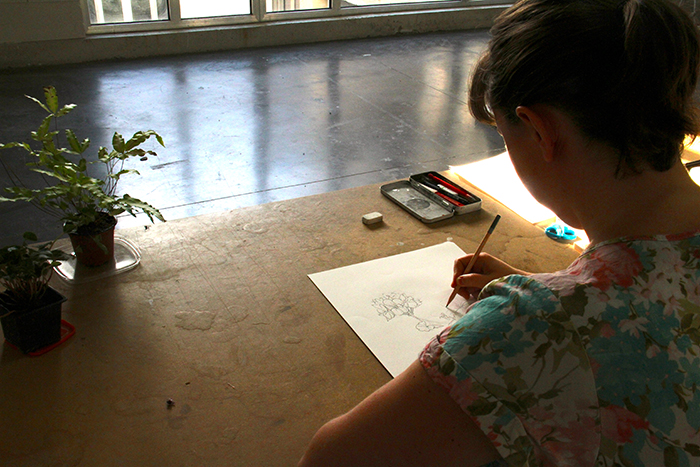 Hannah James, view of studios, November 2016.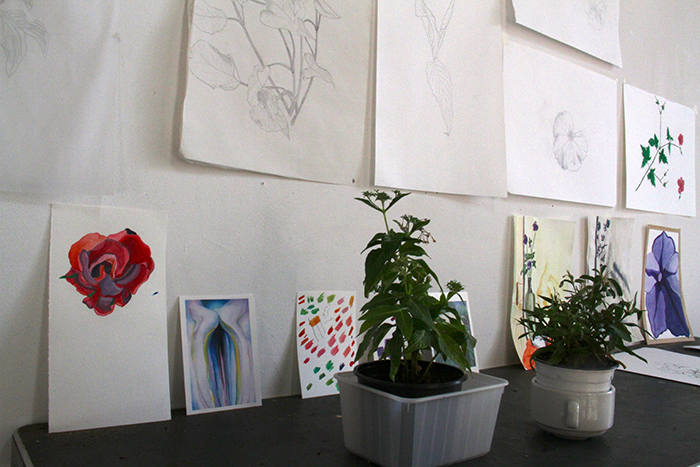 Hannah James, view of studios, November 2016.
_
Matthew McQuillan
Lives and works in London, UK
matthewmcquillan
Working across written text, performance and installation, McQuillan's practice combines found material and personal experience to focus on the overlooked; the nature of rubbish on a Los Angeles Street, a gesture of dismissal in a botched youtube selfie or a character's attachment to a missing, cherished pet, for example. These details harbour ambiguous, and sometimes conflicting affects, such as care, anxiety, inertia and hysteria which the artist looks to question, in relation to personal and wider social relations. His practice often draws on situations and scenarios of suspended agency; in which a subject's ability to act is obstructed or blurred. I recent years, McQuillan's work has widened to include organising exhibitions and thematic events, as another means to explore and test ideas.
Born 1982, (Bristol, UK) McQuillan graduated with an MFA from Goldsmiths University in 2010. He is based in London and currently teaches at London Metropolitan University. Recent exhibitions / events include 'Rough House', at The glue Factory (part of Glasgow International); 'A Public Resource', Cubitt (London, UK); 'Bottom Natures', GCP (London, UK); 'Concerning the Bodyguard', The Tetley, (Leeds, UK); 'Soft Evidence', Legion TV (London, UK) and 'Winter Escape', The Common House, (London, UK).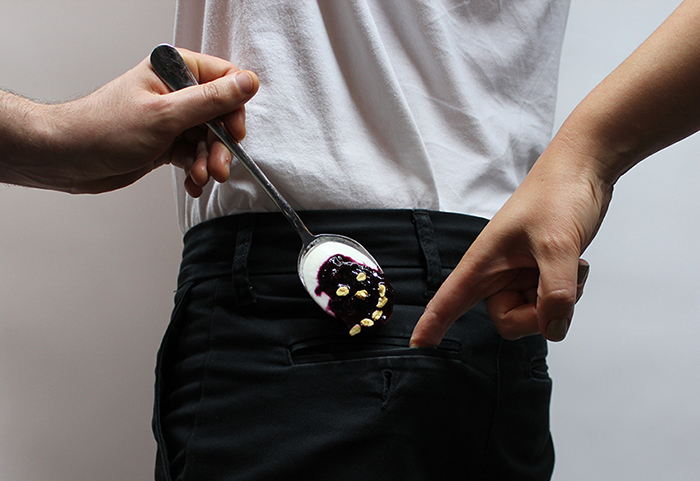 Matthew McQuillan, 'Promissory Note', working image for forthcoming video, 2016.
Matthew McQuillan, view of studios, November 2016.
_
Timothy Simonds
Lives and works in New York, US
timothysimonds.com
In a world of phonemes without consonants, articulation is something applied, not seen/expected/found.
 
My work occurs at moments lost between selfishness and selflessness. I see this tangle as playing a part not only in my own being and care for others, but also between individuals and institutions, and within cultures of architecture, food, and health. I create objects, set up scenarios, and perform texts that treat object, body, space, and written language as interchangeable; to illustrate desires to care for and control oneself and others. I am drawn to question the branding of wellness, methods of bodily maintenance, and relationships in childrearing. I use materials and imagery that appear homogeneous, such as processed deli meats, hair-conditioner, cat litter, Grape-Nuts™ cereal, MDF, baby fat, aluminum, and potatoes.
Tim Simonds received his MA in Performance Studies (2013) and a dual BA in Architectural Studies and Performance Studies (2011) from Brown University. In the past few years he has taught theory and writing to both architectural design and sculpture students at Pratt Institute. Selected solo exhibitions, group shows, performances and collaborations include: In Corners at Cathouse FUNeral (2015); limb at Water Street Studio (2014); House of Orange, curated by Wilma Projects (2016); High Density, Oblique Function, curated by Tabitha Piseno at Proxy (2015); Losing Oneself Without Getting Lost, curated by Jordan Carter at A+E Studios (2015); MYMEOGRAPH and Deux Vacances, as a part of Transient Theme, a month-long opera conceived by Bethany Ides at Knockdown Center (2014); and And Learn to make a body of a Limb, a performance hosted by the installation Gymnasia 4:00 AM, by Goldberg/Hertz/Peters/Schrader, at Cleopatra's (2013). He has shared his critical writing, "The Limbs of Language: Prepositions as an Architectural Medium," as a part of Embodying Cognition symposium (2016) at Pratt Institute, "Parts of Speech" (2015), a lecture, at Ecole Polytechnique Federale Lausanne, "The Burrow: Architecture as the Medium of Passing," as a part of Performing Philosophy symposium (2014) at Brown University, and "The Architecture of the Burrow" as a part of Performing Architecture symposium (2012) at Princeton University.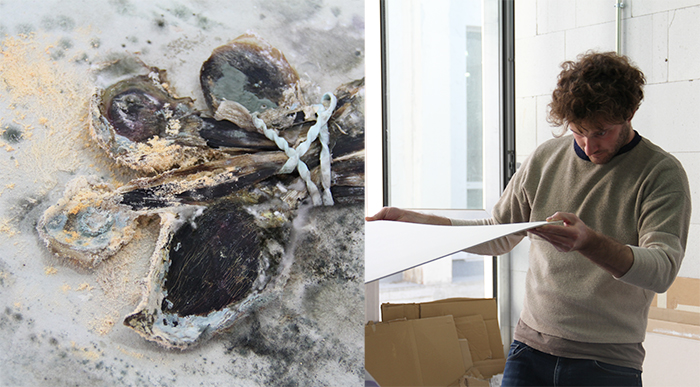 Timothy Simonds, view of studio, November 2016.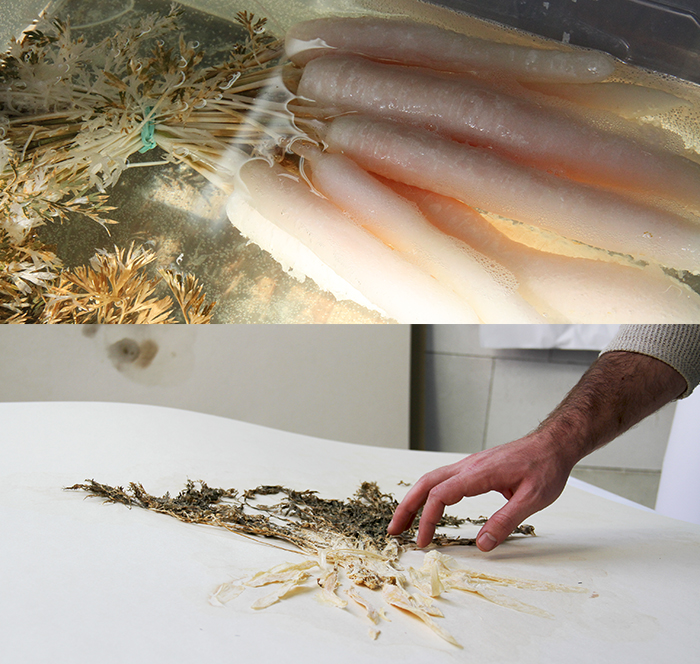 Timothy Simonds, view of studio, November 2016.
_
IN RESIDENCY FROM APRIL TO JULY 2016
_
David Perreard
Lives and works in Paris, FR
www.davidperread.com
David Perreard réalise de courtes vidéos, qu'il met en scène à la manière d'un marionnettiste.
Les narrations qu'il compose prennent leurs sources dans les scènes du quotidien dont on pourrait être le témoin inopiné. Au milieu de ces situations familières et identifiables, les techniques s'hybrident et les règles semblent être sabotées. Une voix de femme sous alcool, sur carcasse de manga japonais - une Youtubeuse, magicienne l'air de rien - piégés dans une Bar Mitsva infernale. Chacun prend conscience de son mode d'existence et tente d'exister. Pas toujours facile de cohabiter quand l'ensemble forme un mutant. Les personnages cherchent leur place, les images aussi et cette hybridité instable, annonce avec humour un chaos presque imminent.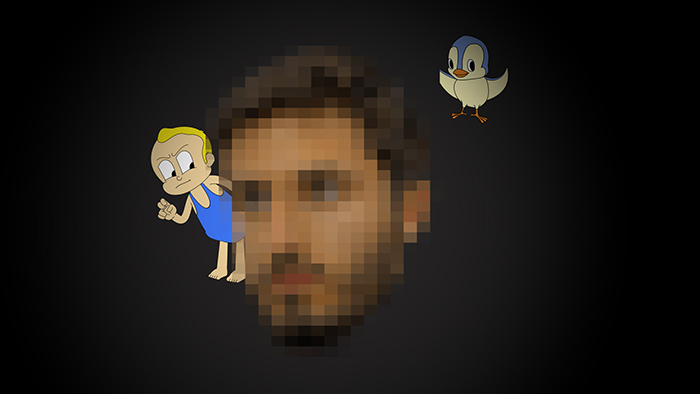 David Perreard, studio's view, Crédit photo © David Perreard.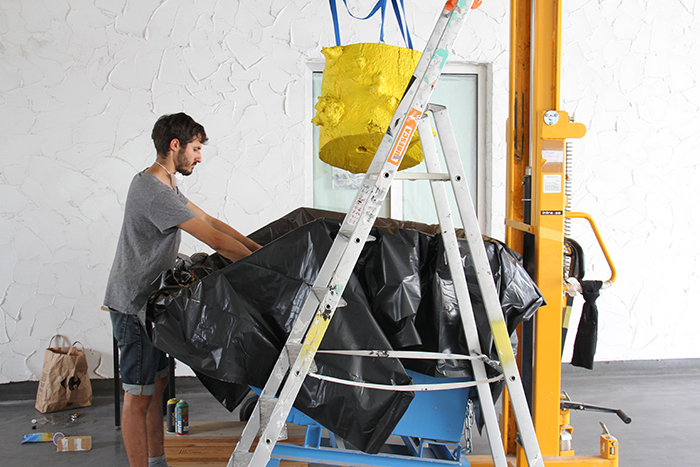 David Perreard, studio's view, Crédit photo © Triangle France
_
Davide Stucchi
Lives and works in Milan, IT
www.davidestucchi.com
Stucchi's research is devoted to the exploration of the artwork 'materiality' along an interest in the strategies of vision which allows to subvert its object hood. Stucchi defines himself as a 'sculptor' even if a large part of his practice unfolds as minimal interventions: engraving leather with fire; shaping in forms spaghetti pasta; accumulating dust, etc. All these interventions, in one way or another, avoid any possibility of conveying the work through traditional channels as for example the photographic documentation of it. Stucchi's practice never stops to surprise thanks to the use self-referentiality and secret meanings, blurring the lines between viewer, work, meaning and the various contexts of reference in which enacts.
He has graduated at the Academy of Fine Art of Brera of Milan in 2011. Visiting student at the Royal Academy of Fine Art in Antwerp in 2010. Recently his work has been shown at Taylor Macklin in Zurich, with a show titled What's left unsaid, says it all curated by Mattia Ruffolo, but also in Sant' Ilario Pavillion in Genoa with NENA curated by Francesco Garutti and MACRO Museum in Rome with Oggetti traditi. He has also been featured in numerous group exhibitions such as the exhibition Basic Instinct curated by Attila Fattori Franchini  at Seventeen Gallery in London, In Real Life curated by Luca Lo Pinto, presented at Galerie Christine König in Wien. In 2013, he spent the year in residency at the Cité internationale des Arts in Paris and at Fondazione Pastifficio Cerere in Rome.
During his residency in Triangle France, Davide Stucchi has realized one sculptur with Marseille soap, which will be shown at the International Fair of Contemporary Art ART-O-RAMA, 2016.
We warmly thank our partner, the Savonnerie Fer à Cheval for its support.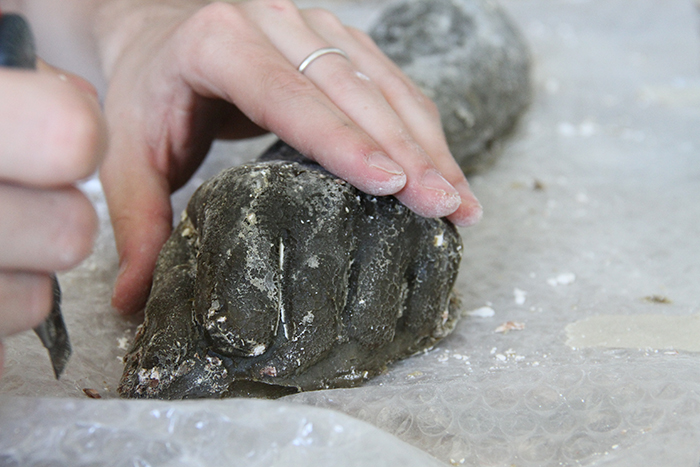 David Stucchi, studio's view, Crédit photo © Triangle France.
_
Beny Wagner
Lives and works in Berlin et Maastrich, DE, US, IL
benywagner.net
Beny Wagner is an artist and writer with a focus on moving image. Whether in film, writing, discussion through collaboration and performance, Wagner combines things both found and created to ask questions about the possibilities for contemporary and future narrative forms. His practice is driven by an interest in the intersections of perception, language and material. Having grown up between cultures (Germany, America, Israel) he is fascinated by how language shapes collective perception. He contemplates moments of transition in histories of perception in attempts to question and understand contemporary structures of representation. Avoiding overtly political themes, he instead focuses on the understated shifts found in material histories, labor processes, and modes of representation. His current work is focused on the relationship between digestion and perception.
Beny Wagner (1985, German, American, Israeli) graduated from Bard College, New York, in 2008 with a degree in Liberal Arts. He is currently a resident at the Jan van Eyck Academy, Maastricht, NL. He has exhibited internationally, with solo exhibitions at Import Projects (Berlin), Future Gallery (Berlin), Kleine Humboldt Galerie (Berlin), White Columns (New York), and has participated in group exhibitions, in Venice Biennial, Zürich, New York, Berlin, Toronto, Montreal, Tokyo as well a workshops with Harun Farocki (Rio de Janeiro), HIAP (Helsinki). He is the recipient of the Sol Lewitt Award, and Nelson B. Delevan Award. His work has been featured in Artforum, Spike Magazine Quarterly, Frieze Magazine and Kaleidoscope Press. He has published essays in 60Pages and Block Magazin.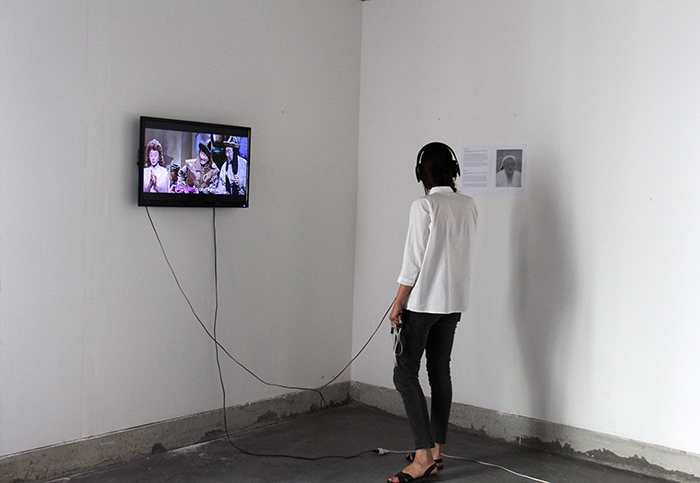 Beny Wagner, studio's view, Crédit photo © Triangle France.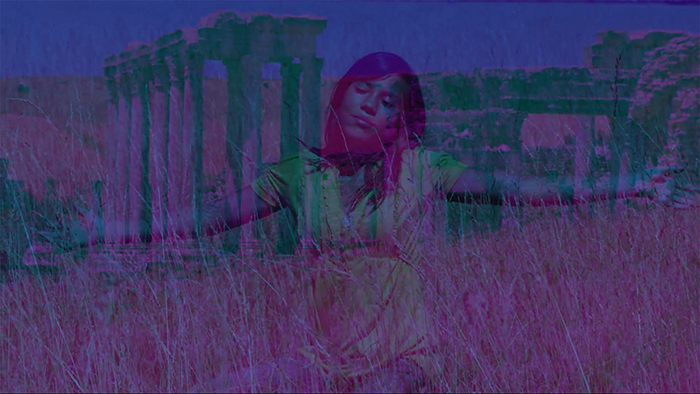 Beny Wagner, Eye Farm, FULL HD video, 23 min 38 sec, 2016
_
_
IN RESIDENCY FROM JANUARY TO APRIL 2016
_
Virgile Fraisse
Lives and works in Paris, FR
virgilefraisse.com
In response to an anthropologist method, Virgile Fraisse's work invests communication's protocols by film and installation. By criticizing neo-liberal strategies, his films investigate cultural influences of transcontinental relationships, for example through an image of a submarine fiber optic cable's deployment (SEA-ME-WE, 2015), or through absorption mechanisms and extension of occidental patterns (as in Situations Suivantes, 2014, with the South African community's Americanization process). Therefore, how to measure possibilities to counter the colonization of images circulation? With a pastiche tone, parodying the film format becoming then playgrounds, characters embodies contradictory positions one after the other.
Pursuing this dialectical logic with an in situ dimension, the installations convoking architect gestures shape our physical access to information; the installations require the audience to take position.
Born in Paris in 1990, Virgile Fraisse studied at Otis College (Los Angeles, 2013) and is graduated from École Nationale Supérieure des Beaux-Arts in Paris with jury honor (2014).
His work has been shown in collective exhibitions including Wicked Problem, Friche la Belle de Mai (Marseille, 2016) ; 61e Salon de Montrouge (Montrouge, 2016) ; Les Réalisateurs, Galerie Paradise (Nantes, 2016), 8 plus ou moins 2, Galerie Mansart (Paris, 2016), LOOP Festival Discovery Award (Barcelone, Madrid, Johannesburg, Istanbul, Malaga, Rub i, Athènes, 2015-2016) ; Les Voyageurs, Palais des Beaux-Arts (Paris, 2015) ; Snake Road, Bolsky Gallery (Los Angeles, 2014).
He has been awarded the Video Prize of Fondation des Beaux-Arts de Paris for his film SEA-ME-WE (part 1). Virgile Fraisse is preparing video series for the film program LABOR ZERO LABOR, Circa TV by Benjamin Valenza at Friche la Belle de Mai (Marseille, 2016). He also is preparing his first solo show at Clark House Initiative, Mumbai (India, 2016) and will be part of the upcoming Hors-Piste festival at Centre Georges Pompidou museum (Paris, 2017).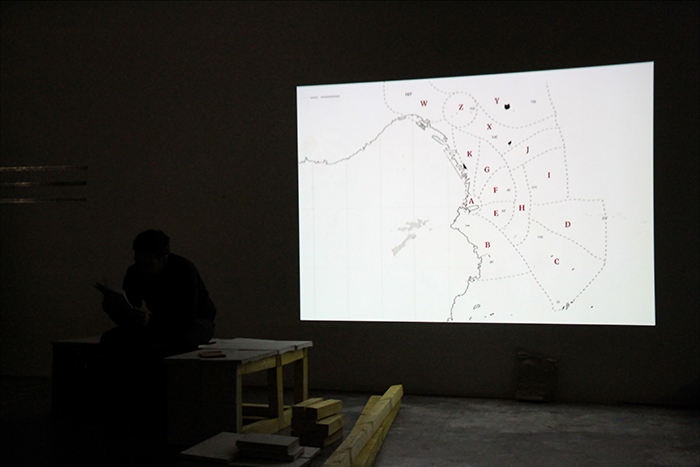 Virgile Fraisse, Scénarios d'occupation, programme pour deux performances, 2016, Crédit photo © Photo Triangle France.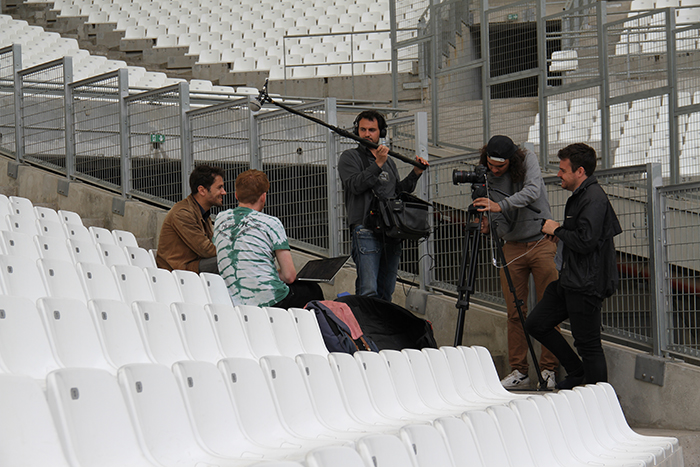 Virgile Fraisse, Crédit photo © Triangle France
_
Dan Walwin
Lives and works in Amsterdam, UK/NL
www.danwalwin.co.uk
Dan Walwin's works pay acute and visceral attention to details and detritus, channelled and contained inside hybrid and potentially uncomfortably ill-fitting forms. These evoke associations with pop culture, scientific research and speculative fiction, while employing scale and imitation as means to structure the atmosphere of a viewer's encounter with the work.
Dan Walwin (1986, Frome, UK), studied at Goldsmiths College, London from 2004-2007, and was resident artist the Rijksakademie van beeldende kunsten, Amsterdam from 2012-2013. His work will be included in the exhibitions Inflected Objects #2: Circulation - mise en séance, De Hallen, Haarlem and Dorothea van Stetten Art Award, Kunstmuseum Bonn in 2016. Recent solo exhibitions were Winds at Cell project space, London, and Sun room, P/////AKT, Amsterdam in 2015. Group shows and presentations include VISIO Next Generation Moving Images, CCC Strozzina, Florence, 2013, 2014, Cosmos Carl, online, in 2015, Marl Media Art Awards, Skulpturenmuseum Glaskasten Marl, Out There - Video Art, New media & Photography on Landscapes in Public Space, Maastricht in 2014, Interzones, Wexner Center for the Arts, Ohio State University, Columbus, USA, UTOPIA, Stedelijk at Trouw: Contemporary Art Club, Trouw, Amsterdam in 2013, and End Times, South London Gallery, London, in 2012.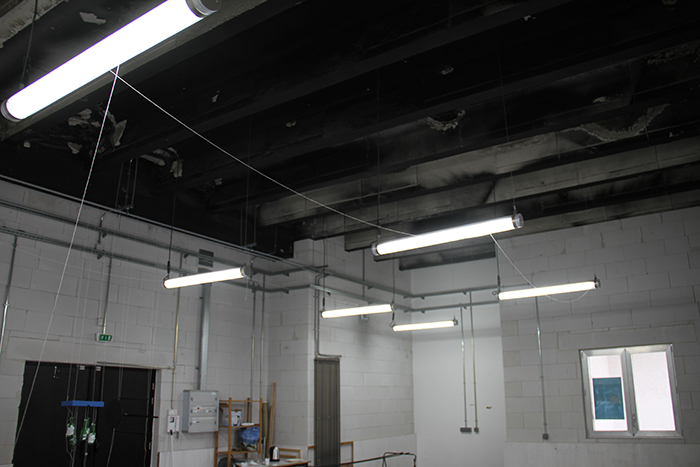 Dan Walwin, studio's view2016, Crédit photo © Dan Walwin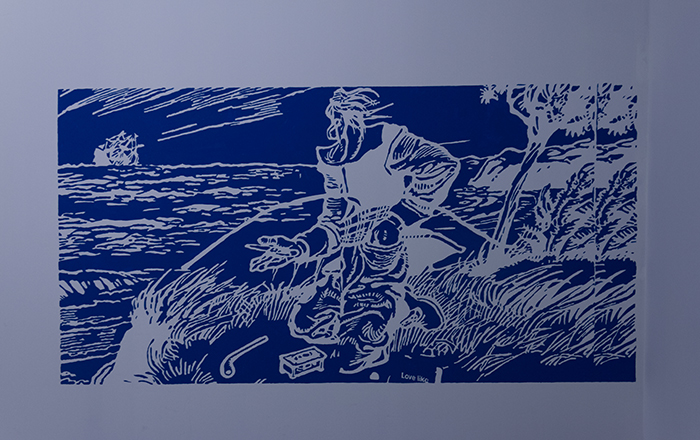 Dan Walwin, 2016, Crédit photo © Dan Walwin
_
Lauren Hall
Lives and works in Glasgow, UK
lauren-hall.com
Lauren Hall's practice involves making exhibitions and writing. She offers objects under the assumption that they all have agency; exhibitions want an audience, pop music wants to be loved, myopia wants us to look closely, paperweights want the centre of the earth. The objects of disease and wellness are as important as the objects she places together herself, and those she has fabricated commercially. She relies on self-manufactured coincidence and anomaly to think through psychological measurement, biopharmaceuticals, leisure pursuits, and musical education. She views culture as an evolutionary adaptation which fosters empathy and builds social cohesion. Her exhibitions are about looking; often using 3D glasses, contact lenses and opera binoculars to attend to how humans pay attention.
Lauren Hall (b. 1983, Kitchener, CA) lives and works in Glasgow and received an MFA from Glasgow School of Art in 2014. Recent exhibitions include That's Genetic, 16 Nicholson St., Glasgow, Life Like, Transmission, Glasgow, Comfortably Warm, Friends, as part of Glasgow International, Archive Fever!, Canadian Clay & Glass Gallery, Waterloo, and superpositions: New Wight Biennial, UCLA, Los Angeles. Readings of her work have been performed as part of National Bedtime, BALTIC 39, Newcastle, Gnommero: Multiplicity, CCA, Glasgow, Artists' BookMarket, Fruitmarket Gallery, Edinburgh. She has forthcoming solo presentations at Voidoid Archive, Glasgow, and ESP, Toronto.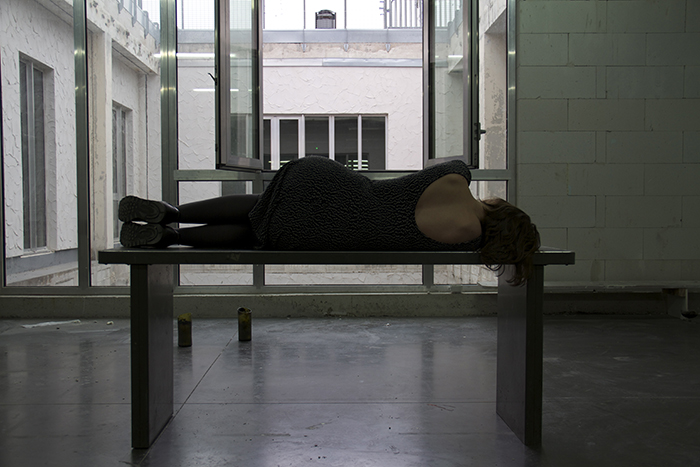 Lauren Hall, studio's view 2016, Crédit photo © Lauren Hall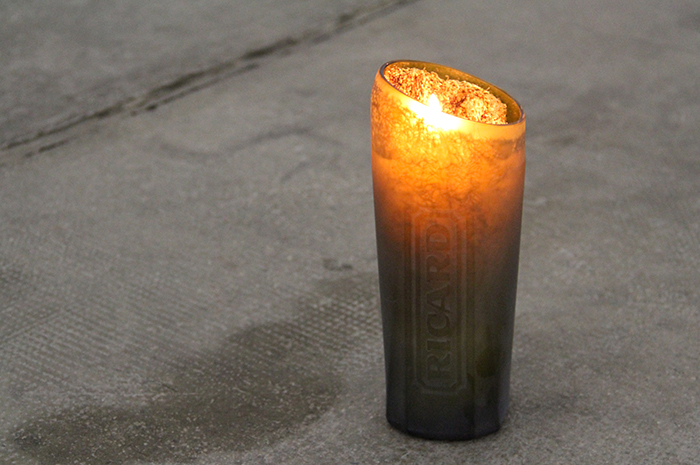 Lauren Hall, Radical 200, 2016, Crédit photo © Triangle France
_
IN RESIDENCY FROM SEPTEMBER TO DECEMBER 2015
_
Morgan Courtois
Lives and works in Paris, FR
To explain his work, he refers to the movie making-of Passion of Jean-Luc Godard where he explain that he built this movie from a picture : a woman who comes out a car with a lily of the valley bouquet. Felini meant a lot as well because Morgan Courtois first wanted to be in the movie business .
"For the last things I did in Hamburg : there was two lamps which are usually used in horticulture in order to recreate a light spectrum specific to each seasons. A wintery for the growing period and heatwave for the blossoming. The mobile was composed by gelatin as well as worn ready-made. The wintery is called Berezina, named in reference to the battle and to a funny anecdote saying how the napoleonic troops ended up carrying the sumptuous dresses from their several looting to keep them warm from the russian cold. I imagined what could of been the elements of this procession. The summery mobile foot (Snuck) came the day before my departure. It's a failure that I wound up by appreciate. It is painting with food coloring bought in the Hamburg indian neighborhood (Steindamm), the winter lamp pot also comes from this neighborhood which was next to my studio. We ended up by listening indian music, very stimulating to work."
Morgan Courtois is currently obsessed by Christina dance in Exotica of Atom Egoyan and he is thinking about producing a sculpture on Leonard Cohen song's Everybody Knows inspired from this dance. Meanwhile he's making paintings inspired by the Warburg method with Berezina illustrations, paintings of Marco Polo's "Livre des merveilles", medieval print, shots of Aguirre et la colère de dieu movie…. and he's thinking a lot about the raft slow degradation during the movie like a background image for the exhibition in october.
Born in 1988 in Abbeville, Morgan Courtois lives and works in Paris. After graduating from the Valenciennes Beaux-Arts, he majored in the Lyon ENSBA where he obtain the Paris Award. In 2014 he found  "Pauline Perplexe" with Kevin Bogey, Florent Dégé and Sarah Holveck : a suburb pavillon both studio and exhibition space. He recently participated to Heartbreak hotel, Hochschule für bildende Künste, Hamburg; to Liste, Bâle with Balice Hertling, Les trépignements du Fakir, Parc Saint Léger off-site, Pougues les Eaux ; Sweating as Distribution, Treize, Paris; Faire des fleurs, Florence Loewy, Paris; Family Matters, De la Charge, Bruxelles. He currently preparing an exhibition with Sylvie Auvray to Balice Hertling, New York.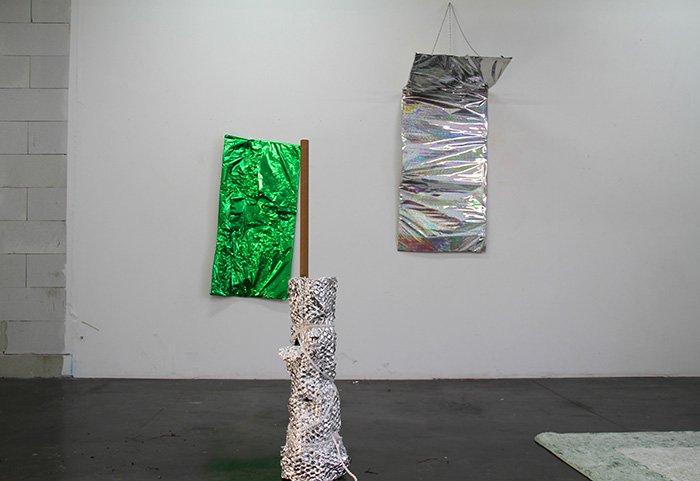 Views of studio, Triangle France, October 2015. © Photo Triangle France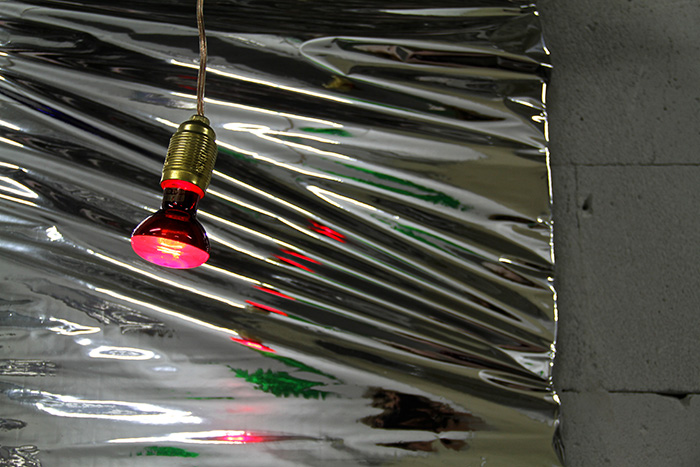 Views of studio, Triangle France, October 2015. © Photo Triangle France
_
Cecilia Jonsson
Lives and works in Bergen, NO
www.ceciliajonsson.com
Cecilia Jonsson is an interdisciplinary artist whose research addresses the tensions between the mineral domain and living entities. Informed by methods used in the natural sciences, her works are often site-related, artistic interpretations of empirical material. Exploring the raw materials that create our experience of the world, from their origins deep in the ground, to extraction, transformation and global exploitation. Jonsson lives and works in Bergen, Norway.
Previous solo exhibitions include Paradoxes of a Diamond, the Natural History Museum, Musei Civici, Venice, Italy; The Iron Ring, Atelier Nord, Oslo, Norway and the Seed of Metals, Cirkulationscentralen, Malmö, Sweden. She has been part of group exhibitions in venues such as Disseny Hub Barcelona, Barcelona, Spain; Kunsthall Grenland, Porsgrunn, Norway; Mauriziano, Reggio Emilia, Italy; V2_ Rotterdam, The Netherlands and Museum of Contemporary Art, Roskilde, Denmark. Jonsson received her MFA from the Bergen National Academy of the Arts in 2012 and completed the Nordic Sound Art master program the same year. In 2014 she earned Second Prize in VIDA 16.0 Art and Artificial Life International Awards for her project The Iron Ring.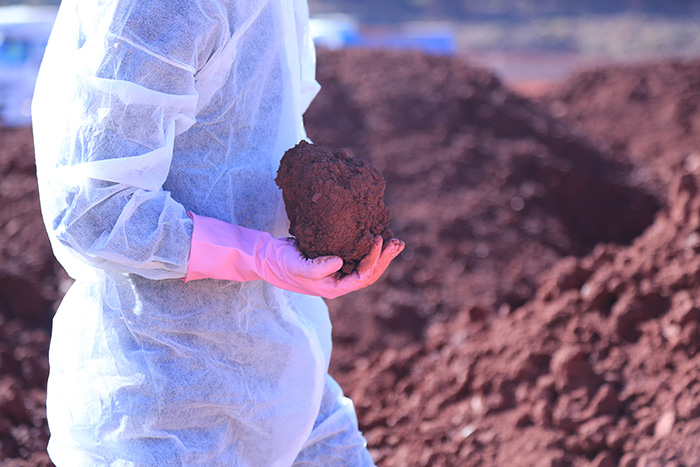 Views of residency, Triangle France, October 2015. © Photo Triangle France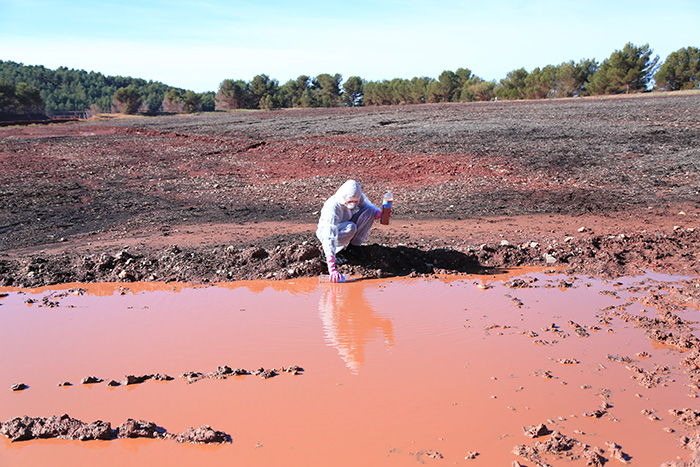 Views of residency, Triangle France, October 2015. © Photo Triangle France
_
Rachel Levine
Lives and works in Glasgow, UK
Levine's work concerns sculpture as both a method of research and as a medium. She employs methods of production and reproduction to interrogate cultural perceptions of objects, materials and matter in order to examine the structures of politics, histories and economics present within, and projected on to them. Within her works and installations she layers processes and materials such as; casting objects and augmenting them from their 'natural' materialities and forms, flattening and manipulation of perspective in metal cut outs, and contrasting the real and the fake within installations. She tries to question the use-value of objects by removing or subverting the material function that provides their 'usefulness' or deliberately adding or subtracting from their material value.
Rachel Levine lives and works in Glasgow. Levine graduated in 2013 from The Glasgow School of Art with a BA (Hons) Sculpture. Selected solo exhibitions include Material Anxiety Curated by Debra Lenard 2015; Café Concrete The Hayward Gallery London, Soft Chaos Intermedia Gallery The Center for Contemporary Arts Glasgow, and Here, Create Distance, Tension it… Feel the Flex. One Royal Terrace, Glasgow 2014. Group exhibitions include Fold Up, Snap On The Pipe Factory, Glasgow International Visual Art Festival, Hydrapagena The Botanic Gardens, Glasgow International Art Festival, Vernissage The Royal Standard, Liverpool, Dear Green ZKU, Berlin 2014; RSA New Contemporaries The Royal Scottish Academy, Edinburgh 2013. Residencies include Are We Looking at Dead Birds? The Banff Centre, Alberta, Canada 2014; Emerging Artist Residency The Scottish Sculpture Workshop, Scotland 2013 Home Workspace Program: Creating and Dispersing Universes that Work without Working, led by Anton Vidokle and Jalal Toufic Ashkal Alwan, Beirut, Lebanon.
Views of studio, Triangle France, October 2015. © Photo Triangle France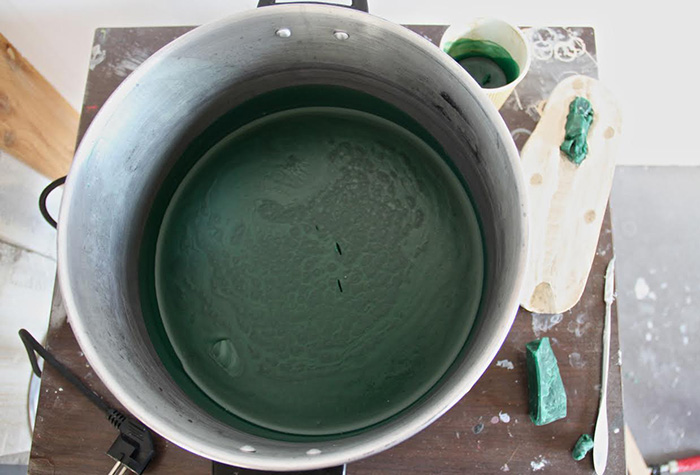 Views of studio, Triangle France, October 2015. © Photo Triangle France
_
IN RESIDENCY FROM APRIL TO JULY 2015
Vittorio Brodmann
Lives and works in Zurich, CH
His work seems inspired by the tv-reality and the celebrity culture. This is particularly visible in his paintings, through his caricatures and grotesque scenes represented. His paintings resemble real shows, make us travel in spooky spaces embellished by figures to disarticulated body. His paintings transforme herself and to transport us to imaginary worlds, however influenced by today's era.
Vittorio Brodmann also practice the performance, and takes to heart his role as comic, expressing a more complicated position of comedy.
His approach is based on experiences, the situations encountered, that he transpose into its work.
The Vittorio Brodmann artistic training is quite traditional. He has been in the High School of Art of Zurich and in School of Art and Design in Geneva where he received his BFA. His work has been shown at Leslie Fritz gallery in New York, but also in New Jerseyy art center in Basel. He has also been featured in numerous group exhibitions such as the exhibition D.R.E.S.S.I.N.G. curated by Paul Pieroni, presented at Space in London. In 2011, he was awarded the ZKB Art in Zurich.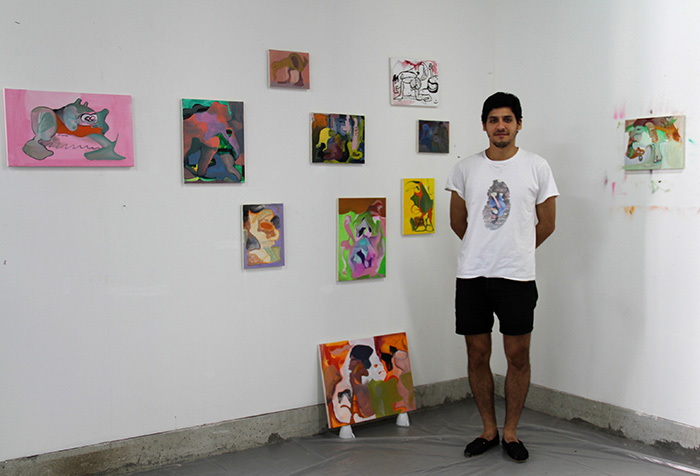 Views of studio, Triangle France, May 2015. © Photo Triangle France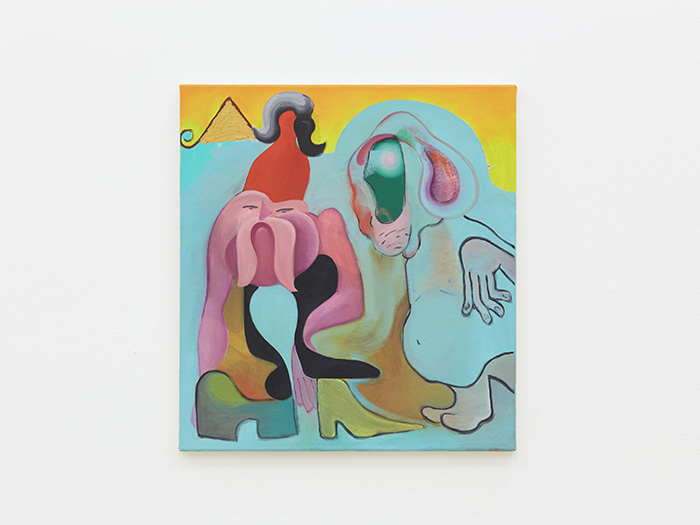 Subtle Patterns, 2013, Oil on canvas, 50 x 46 cm © Courtesy of the artist and Galerie Gregor Staiger
_
Thomas Merret
Lives and works in Paris
www.thomasmerret.com
World representation and its reproduction is the foundation for Thomas Merret's work; his approach is influenced by Walter Benjamin, Robert Filliou, Jean Luc Moulène and Jason Dodge. Photography is the primary source for his work. It specially questions photographic issues, and his research gradually takes form around them. However, he uses multiple mediums to address questions of printing, color and perception. His pieces are involved in long-term commitments of many years. They are strongly rooted in Art history and technology but he works through various forms of representation. The shape of the work is simple and in need of a system:
he invents an action that allows distance and control because what is important to him is what happens after the system is applied. The driving force of the work seems to be this persistent research of what currently exists "during the work" and "after the work". His series of photographs of the seas and a complete archive of maritime limits is a perfect illustration of a work in progress and a "project of a lifetime." It manifests the intense relationship of a gesture with an artwork by showing an imperceptible border and depicting only an unchanged horizon. The immense task undertaken by the artist gives additional value to each of the photographs.
Merret also photographed art reproductions from la collection du frère Clavel (2013), where he chose paintings that existed in different editions to show the difference in printing, and how an image can exist as an original and its reproductions simultaneously. The anthological signs of each piece brings us to strongly question the uniqueness of the work. The artist strongly comes back to a principle of reality. The shades of color and dye, set up by copying and printing, just reassure the vulnerability of reality. So, this reflexive and temporal dimension of Merret's work has always intended to put the viewer in the center of the work. It should also be said that his physical movements in the world power all of his theoretical research.
Thomas Merret is an artist based in Paris and graduated from the École Supérieure d'art in Clermont Métropole and from the e | m | a fructidor in Chalon sur Saône . His work was shown at the last Salon de la Jeune Creation and many group exhibitions including the IrmavepClub collective. He also recently participated in residency at Les Ateliers des Arques curated by Olivier Michelon. He is currently in residence at Triangle France, where he is working on new images of maritime limits, and new work on perception through a series of paintings.
Views of studio, Triangle France, May 2015. © Photo Triangle France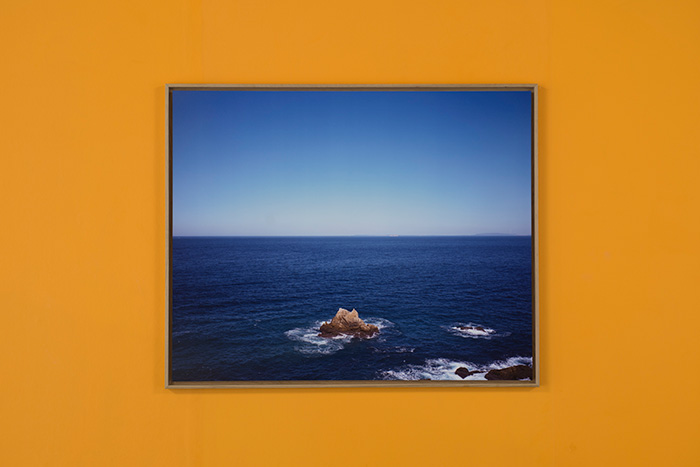 Exhibition view "Jeune Création 2014" Le CentQuatre / Paris
_
Gala Porras-Kim
Lives and works in Los Angeles, US
Gala Porras-Kim is a multi-disciplinary artist whose work questions how knowledge is acquired and tests the potential of the art object to function as an epistemological tool outside of its traditional, art historical context. Recent work examines the ultimate and literal signifier of culture: language, particularly its sounds. Her interests include artifacts containing undeciphered writing systems, creating an object-based ethnography that reflects on indigenous rights and the production of meaning. Specifically, she has been working on a project about the undeciphered Isthmian script, an inaccessible written form found on artifacts along the Papaloapan River in Mexico, and its link to the current development of a standardized dictionary of Zapotec languages in Oaxaca. This project highlights the successes and failures of attempting to decipher a language using mute objects that contain inaccessible meaning, and how the development of the written dictionary can provide a link to the past. 
Porras-Kim's work has been included in exhibitions at Commonwealth and Council, Thomas Solomon, Los Angeles Contemporary Exhibitions, Los Angeles, CA; The Bindery Projects, Minneapolis; 18th Street Art Center, Santa Monica, CA; Ex-Teresa Arte Actual, Mexico D.F; La Central, Bogota, Colombia; FOXRIVER, Singapore; and Dobaebacsa HQ, Seoul, Korea. She received a BA and MA from UCLA, MFA from CalArts, and attended the Skowhegan School of Painting and Sculpture. She is a 2013 California Community Foundation Fellow and a 2015 Creative Capital recipient.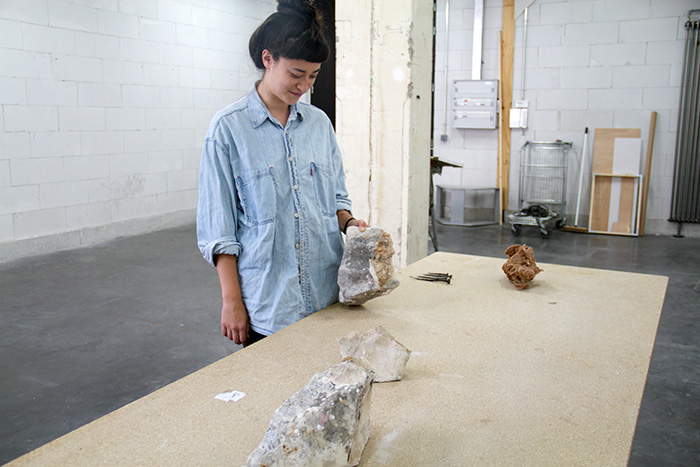 Views of studio, Triangle France, May 2015. © Photo Triangle France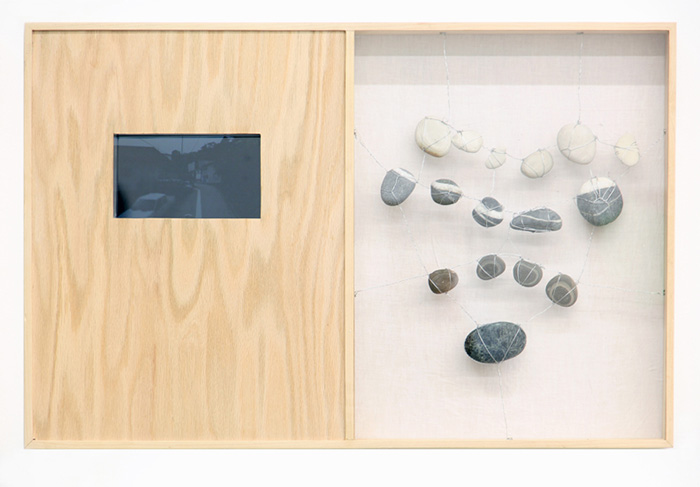 Towards Huautla, OX, 2012, Wood, stone, fabric, mirror, Google Maps video (15m,25s loop) 17"x 26"x 3"
_
_
IN RESIDENCY FROM JANUARY TO APRIL 2015
Triangle présente les drames 3D grillagés de Benjamin Blaquart, Kevin Gallagher et Camilla Wills.
Resident's exhibition
BENJAMIN BLAQUART
Lives and works in Paris and Bruxelles
www.blaquartbenjamin.com
Using the synthetics materials of artifice and new medias technologies to reuse them noticeably, Benjamin Blaquart creates transgender installations and objects: sculpture, website, video, music. These creations are defined as space-times that reuse and divert the worlds of digital and amusement parks artificial universes in a psychological way.
He takes interest in special effects and scripted spaces as malls, video games and churches, for their capacity to produce reality and also new perceptions of the body and psyche. Integrating their strategies, the spectator is submerged in immersive works between fear, humor and contemplation. Through symbolism and imagination, he links different universes (grotesque and science fiction, psychoanalysis and horror...) which were not supposed to cross each others and mutates them into an electronic baroque.
Going back and forth between analog and numerical, inside and outside, Benjamin Blaquart breaks off the aesthetics superficiality of entertainment to load them up emotionally and reveal pushed back element.
Graduated from the Villa Arson and La Seine research program (ENSBA), Benjamin Blaquart realized in 2014 a solo show at La Centrale Brussels art center and has participated in various international exhibitions like the Quai Branly (FR), Athen contemporary art center (USA), the Kunsthalle in Bonn (DE).??It prepares, along with architect Pierre De Brun, an architecture project mixing design, corporate identity and business language that will be exposed to Brussels current 2015.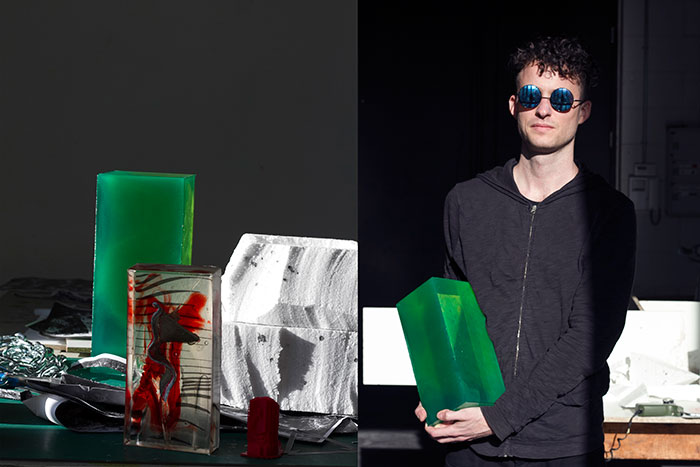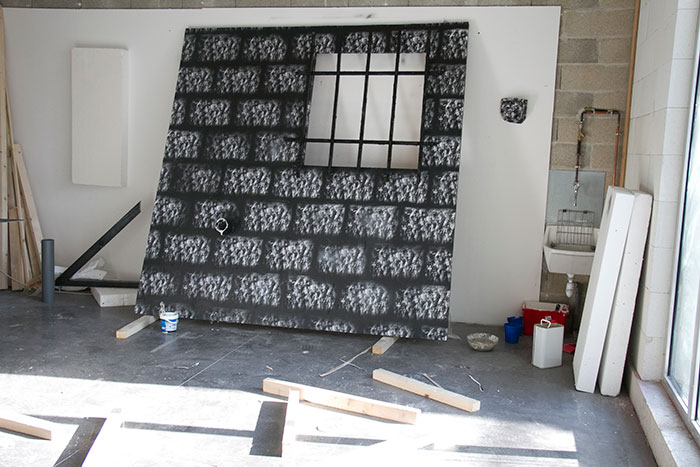 Views of studio, Triangle France, February 2015. © Photo Triangle France
KEVIN GALLAGHER
Born in 1986 in Chicago, US. Lives and works in Rotterdam, NL
http://www.kevingallagher.info/
Sculpture is an armature: it can be mounted, modulated, affixed, broken down into parts, recombined into new configurations. It is the hardware, like a skeleton, to give presence to effects. This process is transient, sensitive, time-based. To allow a sculpture a good life there must always be a latent element of this nod towards time. Not historical time or timeless time, but a festering time, a dripping time, pulsating, splashing, odorous. The most exciting moments for me in constructing works is allowing for this variable, something that will, can, and should change. This comes close to life, and maybe even intelligence.
Recently I have been visiting a bio-mimetic robot laboratory in Delft. I believe the way they think about bio-mimicry when constructing robots can provide a helpful guide for describing my own sculptural work. They break down the practice of bio- mimicry into three different categories: systems (eg. ecosystem), forms (eg. species) and processes (eg. photosynthesis). I find these categories to be a very helpful guide for considering my own practice and artistic production, especially when it comes to sculpture.
Kevin Gallagher (1986, Chicago) is an artist based in Rotterdam. Gallagher completed his Bachelors degree at the School of the Art Institute of Chicago (2009) and his Masters degree at the Piet Zwart Institute in Rotterdam (2013). Upcoming exhibitions include a solo show at Lodos Gallery, Mexico City and Prospects and Concepts at Art Rotterdam. Recent exhibitions include A Thousand Varied Uses, Nogueras Blanchard, Madrid (2014); An Evening in Three Acts, Galerie Fons Welters, Amsterdam (2014); Nothing Could Be Slow Enough, Nothing Last Too Long, TENT, Rotterdam (2013);  Three Artists Walk Into a Bar, De Appel, Amsterdam (2012). In 2013 he was awarded the Werkbijdrage Jong Talent  by the Mondriaan Fund.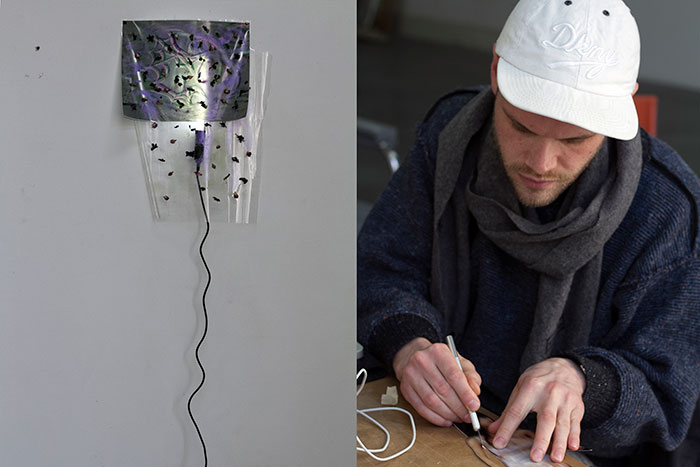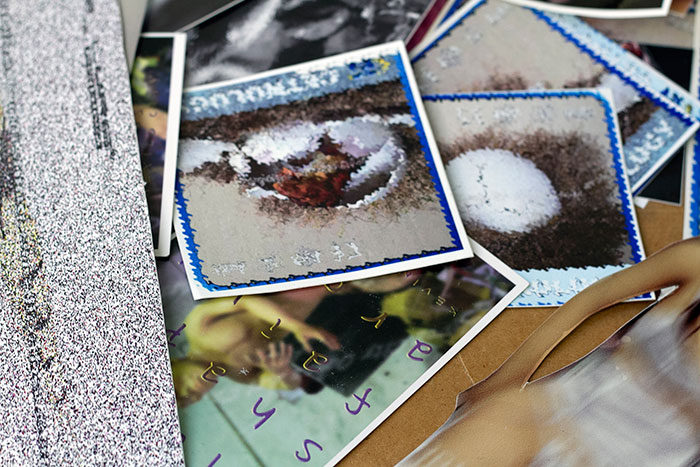 Vues d'atelier, Triangle France, février 2015. © Photo Triangle France
CAMILLA WILLS
Born in 1985, lives and works in United Kingdom.
Camilla Wills writes and works with video and print technologies. This year she is part of Le Commissariat at Treize (Paris) with Laetitia Paviani and Carl Phelipot. Their programme is 'BABY DOC presents' and considers crypto-currencies, sweating as distribution, family-life, growing up, stress, stuff that passes through the skin. Recently her work was included in 'My Vocabulary Did This To Me', South London Gallery, London, 'Voice ~ Creature of Transition', commissioned by If I Can't Dance... and Rietveld Academie, Amsterdam, and 'Bard Girls Can Fly', White Flag Projects, St. Louis (2014). In Spring 2015 she will publishLove Your Parasites in association with Paraguay Press. Loosely a book about motif, survivalism, unregulated circulation and the transactions of distribution. She edited Moyra Davey's book of essays I'm Your Fan (co-published with Camden Arts Centre, 2014); and from 2012-14 she worked at Book Works, London.
Understanding the port as a boundary but also a passage, where the status of the transitory and migratory assumes a form or neurological web. When we travel there is always the possibility of a slip in identity. The port is a place where an imagined community, that of the nation, is secondary to all the chance encounters of commerce. Perhaps the port and the Mediterranean sea can be understood as protean non-places for identity experiments. I will be actively looking for details and tensions where disembodied economic terms -- inflation and trade deficits, or Marxist concepts of alienation and abstraction --  have a very specific, visible effect on bodies and sites.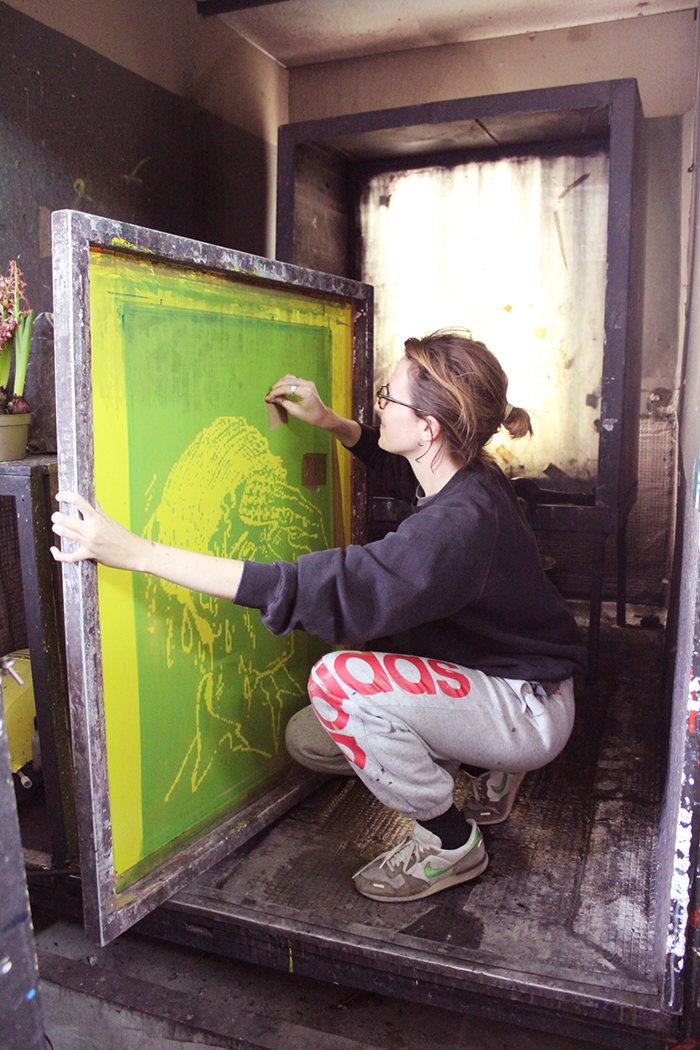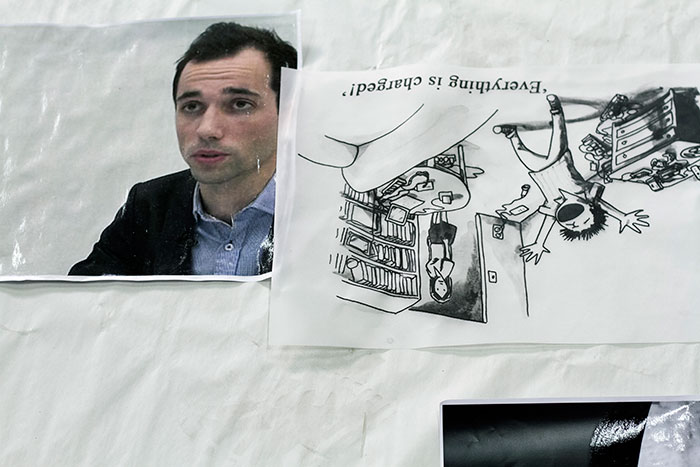 Vues d'atelier, Triangle France, février 2015. © Photo Triangle France
_
IN RESIDENCY FROM SEPTEMBER TO DECEMBER 2014
EVA BARTO
Born in 1987 in Nantes, Lives and works in Paris
evabarto.free.fr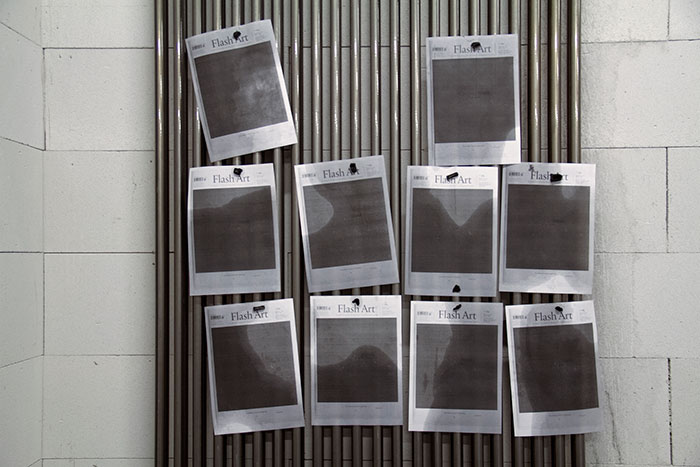 View of studio Triangle France, November 2014 © Photo Chloé Curci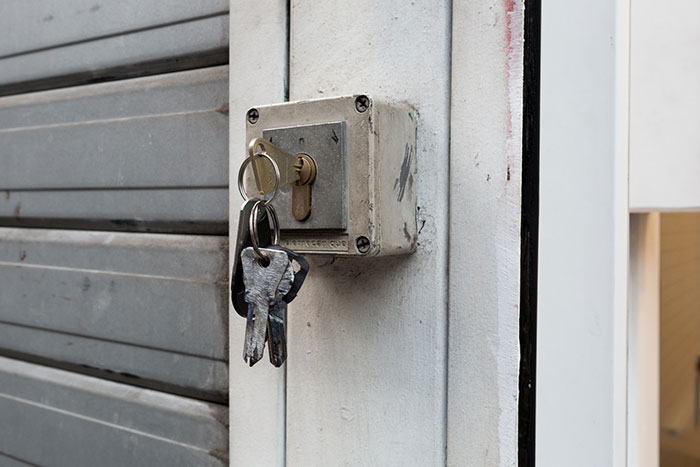 Trafic, 2014, clef affinée pour trousseau.  Puces de Saint Ouen, Stand 124, La Gad, Galerie Arnaud Deschin. © Photo: Romain Darnaud

PIERRE FISHER / JUSTIN MEEKEL
Born in 1983 in Paris, Born in 1986, lives and works in Paris.
From the Villa Arson and from the ENSAPC, Pierre Fisher and Justin Meekel decide in 2008 to form a duo which has give rise to several projects of publishing, performances and exhibitions. It is by means of the magazine Verdure - a project of edition that invited artists to work with internet images - that they began to work together.
In 2009, they proceed to an updating of the Guide of René Alleau's mysterious France of 1966: Verdure tour 2009 - Of Mysterious France, a itinerant project of edition which crossed all France. They collect then, like investigators of everything and nothing, prosaic facts and new mysteries.
Their performance, holds at first of the meeting as well as some continuous manufacturing of an edition(publishing) (8 booklets published from July 8th till August 13th) which will allow them, by the game of gift/ against gift , to favor the exchange with the met people.
Far from the scientific rigor to which their predecessor René Alleau could call yourself, they get away from the "systématisme" of some of the "artists-ethnologists" (such as Jeremy Deller and Alan Kane) who were able to inspire them. They lead their incursion in rurality with the biggest seriousness according to a heuristics of the drift the key precept of which could be: "opportunity makes the thief".
This project was presented on the occasion of INSIDERS to the CAPC of Bordeaux in 2010.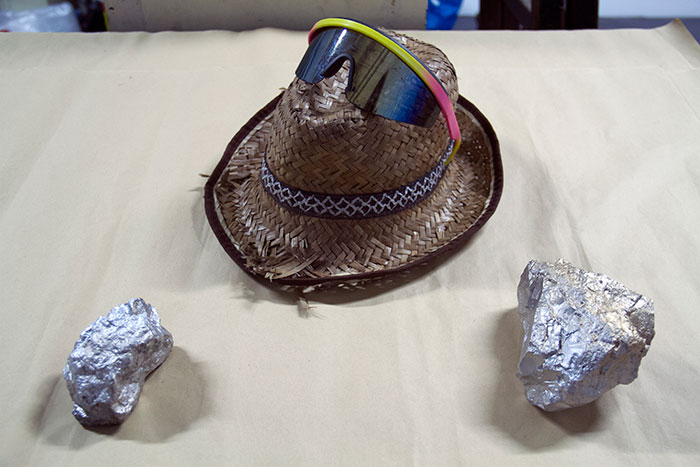 View of studio Triangle France, November 2014 © Photo Chloé Curci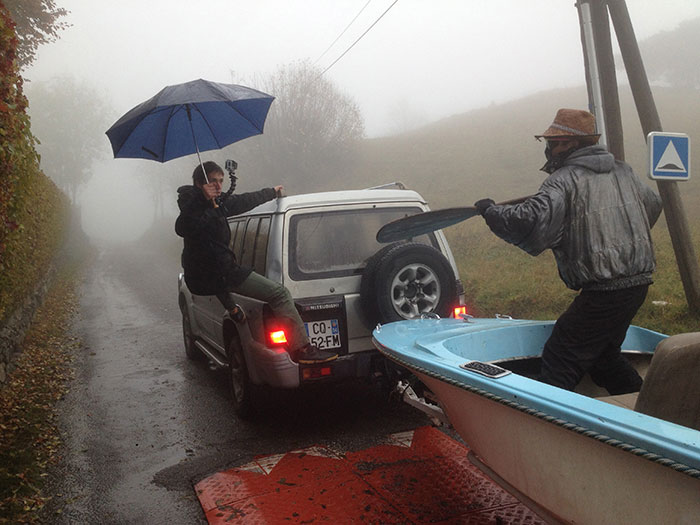 Making off Pacacosmos's film, November 2014

ALLISON GIBBS
Born in 1978 in Australia, lives and works in Glasgow
www.allisongibbs.com/
More about O.E.S.S programm here !
Working predominantly with 16mm film, video, publication and extra-sensory activity, Allison Gibbs devises methodologies for working by translating things into actions; like a constellation, a table or a psychic medium as a way of channeling and representing multiple points of philosophical, anecdotal, historical and visual reference through her practice.Her works materialise often as a result of research, writing and workshops in the form of events and scripted film installations.
Allison Gibbs is an Australian artist currently based in Glasgow, UK. She graduated with a Masters of Fine Art from The Glasgow School of Art in 2013, with an Erasmus exchange at The Piet Zwart Institute Rotterdam, NL. Recent exhibitions and projects include Let The Body Be Electric, Let There Be Whistleblowers, an exhibition with Allison Gibbs, Ken Jacobs and Joachim Koester at Dan Gunn gallery Berlin, curated by Heidi Ballet and Anselm Franke; Ruins, a group exhibition in Yellowknife, Canada; an adaptation of the scripted film work Spirits of Ecstasy (Murnau's Death Mask) for The Happy Hypocrite- Heat Island (issue 7 spring 2014 edited by Isla Leaver-Yap); Kelly, a collaborative exhibition with Jennifer Bailey, Tessa Lynch & Þorgerður Ólafsdóttir for Glasgow International 2014 and SPIRIT SHADOW SPECTRE BONES and PHANTOM (solo exhibition) at Intermedia, CCA Glasgow 2013. In 2014 Allison has undertaken residencies at Rupert Vilnius, Lithuania and Hospitalfield Arts Arbroath, Scotland and was shortlisted for the Lux/Glasgow International Film Festival Margaret Tait Award. In 2015 Allison will make an event and publication for Tenletters, Glasgow and will present a new film as part of Crossing The Lines: Artist Film programme, Glasgow International Film Festival.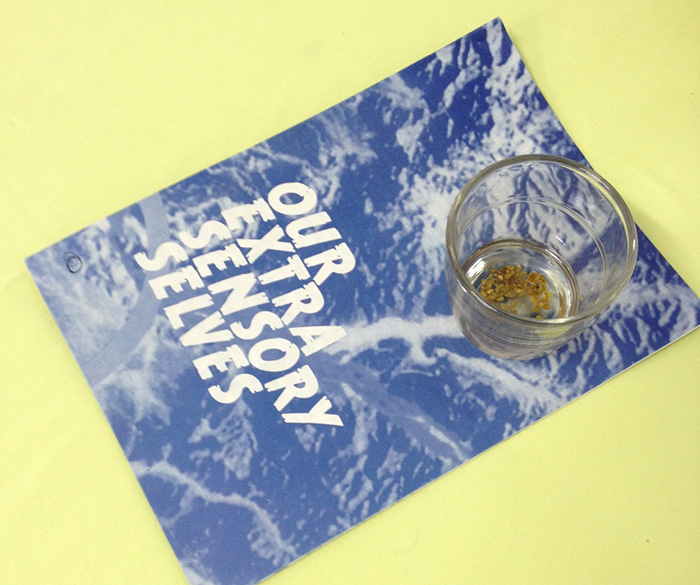 O.E.S.S session (detail)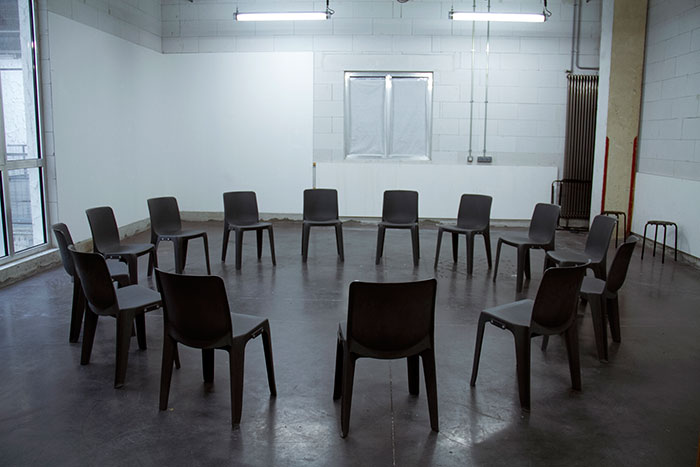 View of studioTriangle France, November 2014 © Photo Chloé Curci
_
RESIDENTS FROM MAY TO JULY 2014
IOSU ARAMBURU
Born in 1986, Lima, Pérou
http://iosuaramburu.com/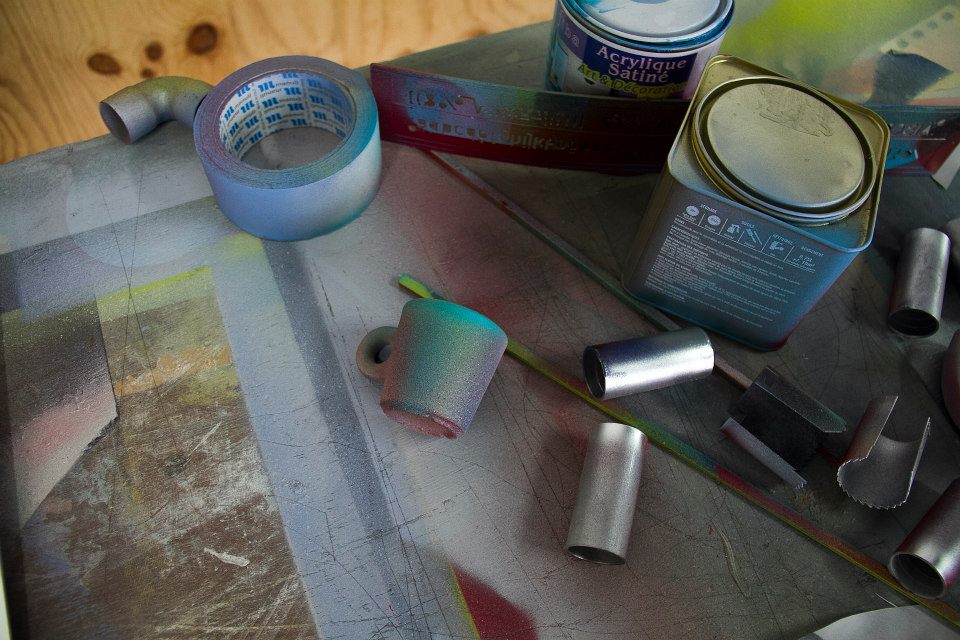 View of studioTriangle France, June 2014 © Photo Chloé Curci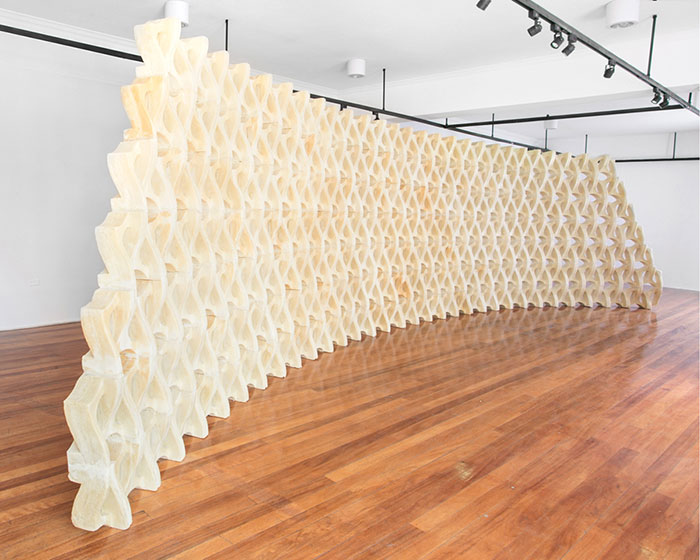 "Abstract sculpture" 2014 Polyurethane foam 1150 x 270 x 150 cm. Photo: Sebastián Abugattas
My practice is centred on an exchange of glances between modernity and its internal conflicts. I work with archival images and texts mainly about the modern architecture boom of the 1940's and 1950's in Latin America and especially in Peru. I try to make these images collide with each other; producing a series of new relationships that seek to reveal hidden aspects of the official speeches that loaded each image.
Iosu studied painting at the school of arts of the Pontificia Universidad Católica in Peru. He has shown his work in international exhibitions and art fairs. Among other prizes, he has won the Arcos Dorados Latin American painting contest during the ArteBA fair 2012 in Buenos Aires. He has been involved in several curatorial projects, mainly with artists of his own generation. He lectures at the Corriente Alterna school of visual arts. He lives and works in Lima. He is represented by 80M2 Livia Benavides Gallery, Lima.

MARIE MICHELLE DESCHAMPS
Born in 1980, Montréal. Lives and works in Glasgow, Royaume-Uni and Montréal.
http://www.mmdeschamps.net/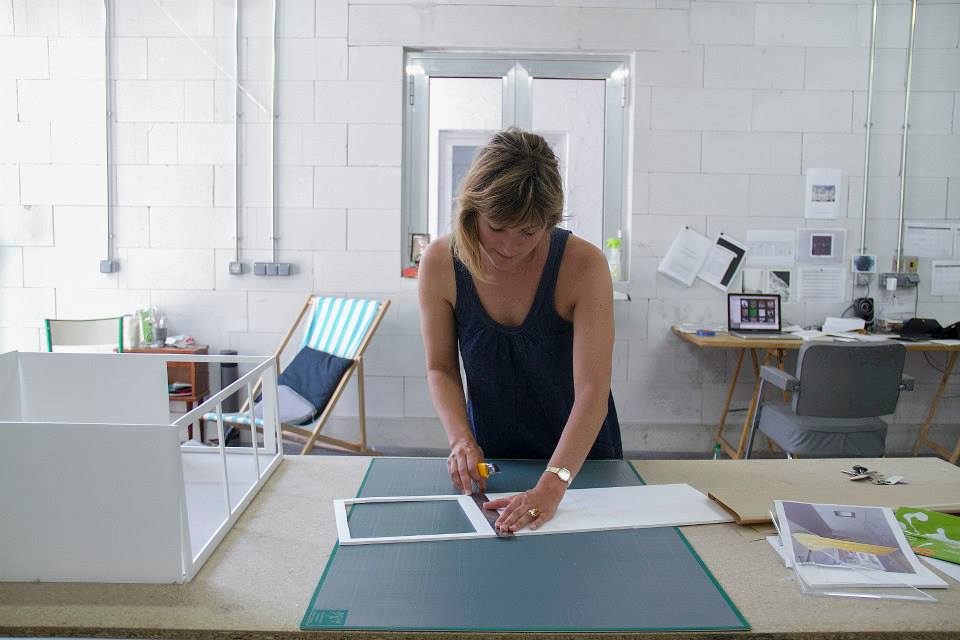 View of studioTriangle France, June 2014 © Photo Chloé Curci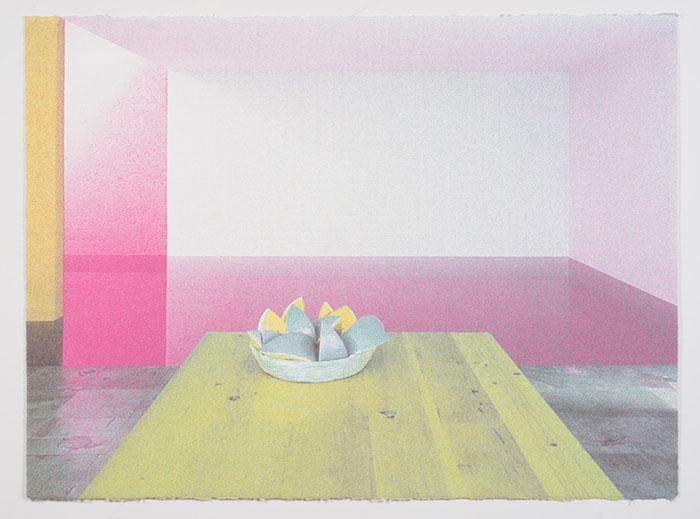 Marie-Michelle Deschamps' work explores the problematic nature of signification, as well as the fragile boundaries that organize the world. From letter to word, from word to image, and from book to object, her installations recall, allude to, and deconstruct language as a means of investigating the relationship between words and objects. More specifically, she interpret and manifest the gaps between language and text as lived physical experience. her installations are strange settings where sculptures and images dialogue in immersive ambiguous environments that are always accompanied by a written component where she presents metaphorical instructions that could potentially influence the experience of the viewer.
Marie-Michelle Deschamps (b. 1980) lives and works in Montreal and Glasgow, UK, where she graduated with an MA from the Glasgow School of Art in 2012.
Recent exhibitions include a two person presentation at the Sunday Art Fair in London, UK with Galerie Gregor Staiger, Zurich (2013); Valise, BQ, Berlin (2013), Germany; Routine Investigations, a duo with Justin Stephens at CCA Glasgow (2013); Standard, David Dale Gallery, Glasgow (2013); Master Readings, Espace Saint-Valentin, Lausanne, Switzerland (2013); Don't leave me this way, Kunstlerhaus Bethanien, Berlin (2012); Life-Size, articule, Montreal, (2011). Deschamps has upcoming solo exhibitions at Collective Gallery, Edinburgh; Galerie Gregor Staiger, Zurich; and Battat Contemporary Montreal, all in 2014. In November 2013, she was the artist in residence at Studio Voltaire, London.
LAUREN TORTIL
Born in 1986, live and work Lyon.
http://www.laurentortil.com/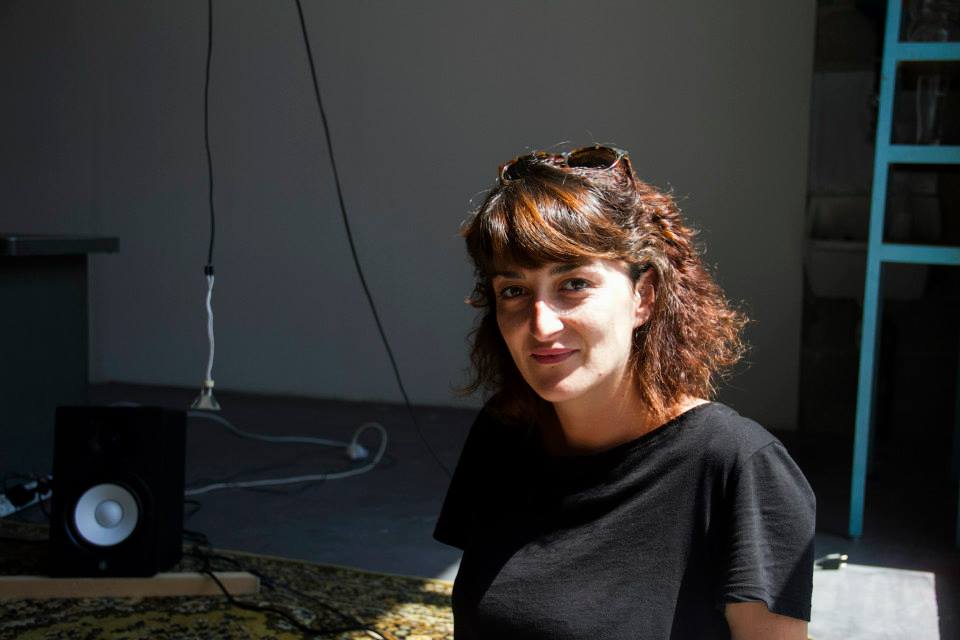 View of studioTriangle France, June 2014 © Photo Chloé Curci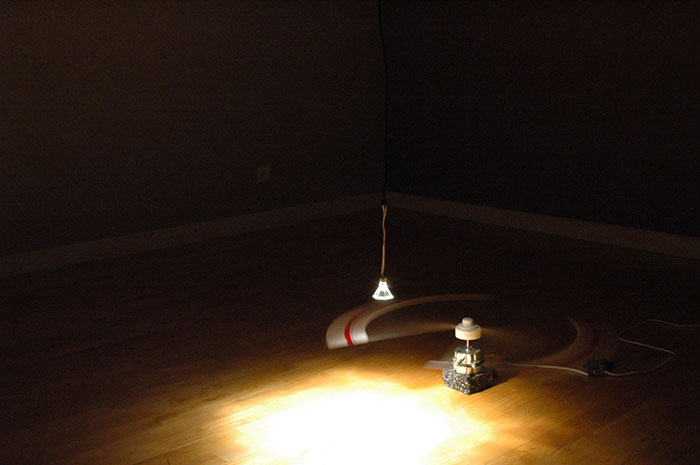 - Tu l'entends? - Qui? - Cassandre. (2014)
I wander. From a known place to another indistinct. There is always a starting point, a first breath and a crossing area : physical and mental experiences to share. It is not so much the end point that is important, but rather the perception of changes ; if I anticipate results following a defined path, I also wish to fore-take unpredictable trajectories. Aspiring for a goal and in the process awaiting the unexpected.
The unforeseen I am describing is best found in the unpredictability of sound, my material of choice. In fact, sound and its manifestations can rarely be controlled, and I search for the uncontrollable. The only power I give myself over the material is the power to create and define thedispositf, the installations or the listening situations to create some co-existences : a dynamic relationship between the space and the sound emitted and the perceiving bodies of the audience-actors in their own listening. What are the forms that we should propose for allowing a collective listening experience ? How can we make this personal experience a public one and how can the public encounter become distinctly personal? What approach to spaciality would allow the sound, the space and the listener to enter an active relationship and tend to a social event ?
My practice stems from readings gleaned along the way. From architectural acoustics, musicology to political philosophy, I take, I assemble, build, dream and test awaiting for meaning to emerge. I select space (or create it) for its symbolic, physical and acoustic qualities. Then, I opt for the sound source as initial presence, the action that I inflict it (permutation, transposition, relocation ...) and channels capture and transmission. Once the arrangement written, scenarios remain open and by the magic of the phenomenon, the sound rebuilds the space, the space contains the body, the body affects the sound and I tell stories : the sound is embodied and the author disappears - while the sound wanders. From a known place to another indistinct. There is always a starting point... [feedback]
After her diploma at Hear in 2010 in Strasbourg, where she hovers between two disciplines : sound art within the Phonon workshop led by Philippe Lepeut and design with Pierre Doze, she lefts France to integrate the Bezalel Academy of Art and Design in Israel / Palestine. There she directed research on the political nature of art and design. Back in France in 2011, she attended the Ensba Lyon, where she graduated with honors in 2013. She has participated in several group exhibitions, including Imaginez maintenant at the Pompidou Center in Metz, Vortex tour at la Chaufferie (Strasbourg), Barbur performing and Lost in the bubble in Israel / Palestine, and more recently at Sunset residence forExiste-t'île? with the group Manuel.
_
RESIDENTS FROM JANUARY TO APRIL 2014
.feat
Resident's exhibition
ISAAC CONTRERAS
Born in 1984, lives and works in Mexico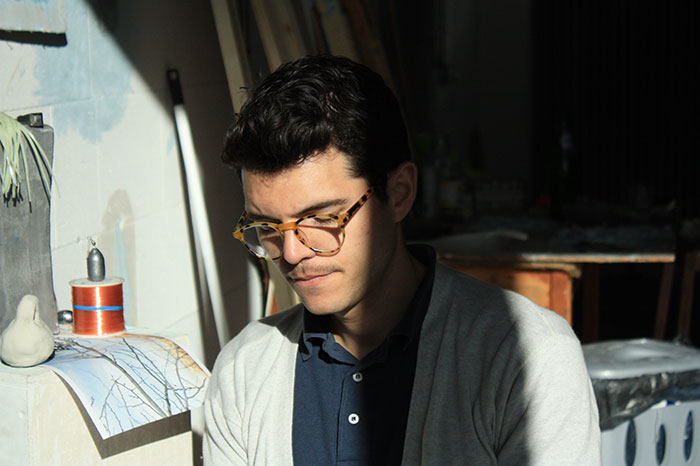 Isaac Contreras, view of studio, february 2014 © Photo Chloé Curci
ÉLÉONORE FALSE
Born in 1987 lives and works in Paris.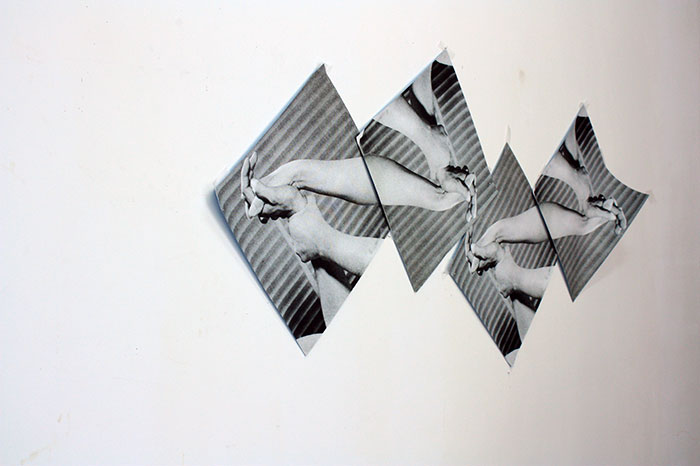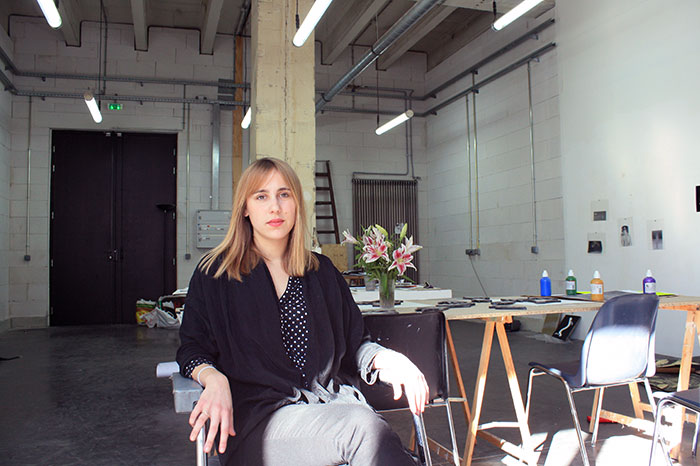 Éléonore False, view of studio, february 2014 © Photo Chloé Curci
THOMAS KOENIG
Born in 1983, lives and work in Vevey, Suisse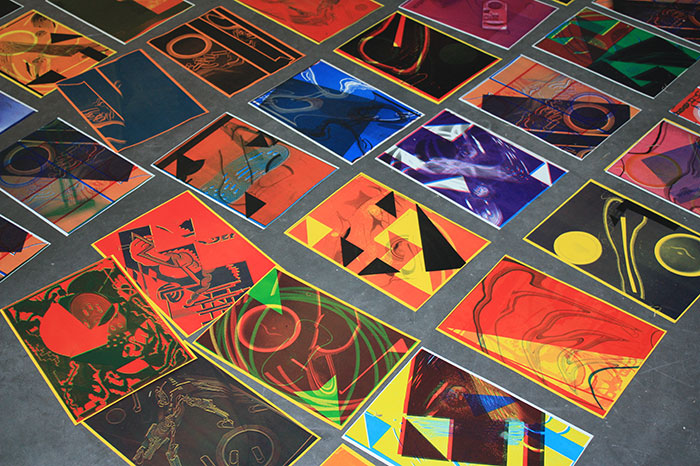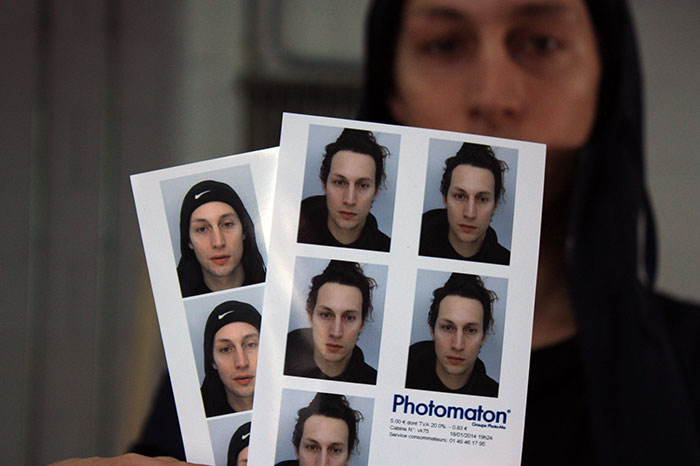 Thomas Koenig, view of studio, february 2014 © Photo Chloé Curci
_
RESIDENTS FROM SEPTEMBER TO DECEMBER 2013
MATHIS COLLINS (FR)
Born 1986, live and works in the mediterranean.
Mathis Collins' work is a seasonal theatre on tour with the rural and urban arts traditions of the mediterranean regions. His actors are the influences that these art forms generate on people's lives, and his stage designs are the weeps and silences that march with daily tragedies.
During the summer in the cork forests where are celebrated bark harvests and during winter when ablutions are done in bars by barrel's taps ; Mathis is an anthropomorphic public stage, drunk and silent. A stage to project the vision of one's own tragi-comédie, caricature and pamphlet.
Looking at the influences that art has on agriculture, craft, religion and tourism ; Forests, bars libraries and public fountains are places favoured by the artist, to reveal unknown artistic practices, while harvesting, drinking and cleaning it's laundry.
Bio
Recently, the work of Mathis Collins was shown at the Chalet Society in L'atelier des testeurs (2013), at the Centre d'art Edouard Manet de Gennevilliers in Les référents (2013), at 1M3 in Lausanne in a solo show, BARK (2012) and at Palais de Tokyo in collaboration with Cyril Verde in DYNASTY (2010).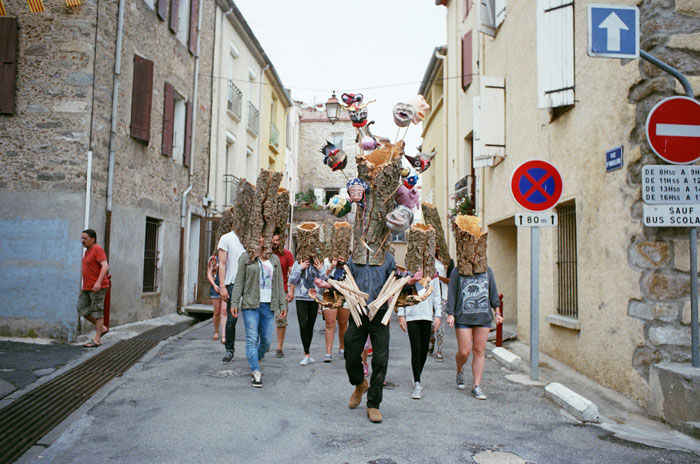 La fête de la récolte du liège de Maureillas (66) célébrée par des jeunes du village, 2013. Lambda Print, variables dimensions, Courtesy the artist.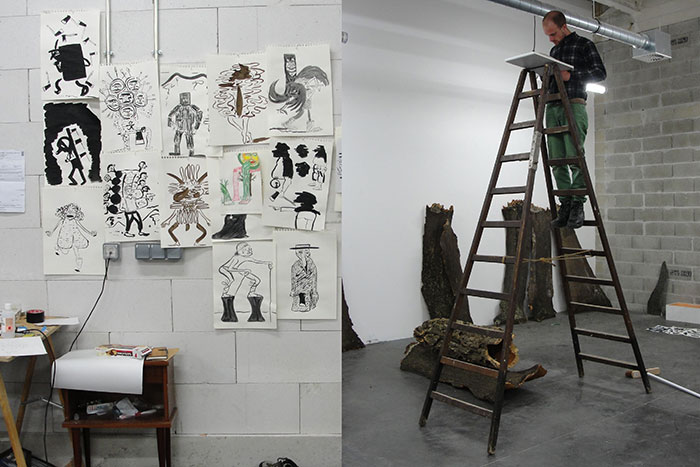 View of studio, November 2013 © Photo Chloé Curci
ALEXANDER MILLAR (GB)
Born in 1990, lives and works in Glasgow.
My work is an installation based practice that uses a variety of different elements, including video, photography and sculpture. I am interested in expressions of everyday monumentality and beauty, and in dislocating objects from their habitual context, I aim to expose some of the anxieties and desires that can underpin them. It is with a sense of humour and pathos that the work is most interrogative, while ideas around the theatre of the absurd and tableaux vivants are a continuing preoccupation of mine.
Frequently my aim is to re-animate an image through sculptural means, and in doing so, challenge its representative capabilities. What often results is a quite musical arrangement of both natural and designed forms.
Bio
Alex Millar (b.1990) is a Scottish artist that lives and works in Glasgow. He Graduated from Fine Art at The Glasgow School of Art in 2012 and currently has a studio in the west end of the city.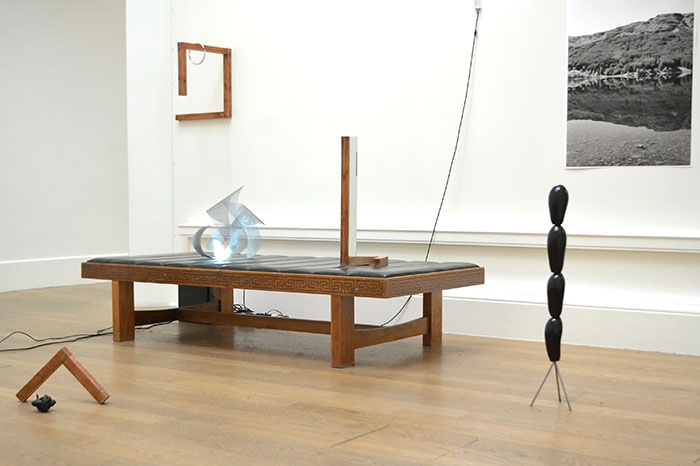 Alexander Millar, Wave 2013, Installation view - metal, wood, leather, lights, aubergines, mirror, looped video, print (2)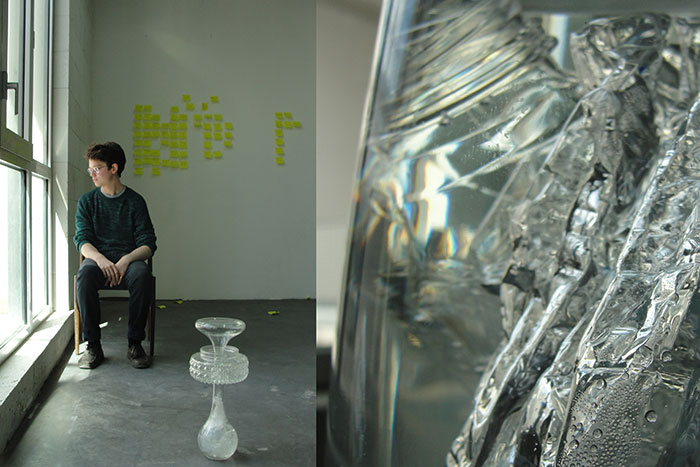 View of studio, November 2013 © Photo Chloé Curci
CATARINA OLIVEIRA (PT)
Born in 1984, lives and works in Lisbonne
Through films, performances and texts my work experiments with story-telling and (re)telling histories. I'm fascinated with how stories and images have the power of exposing us to poetics while simultaneously confronting us with slices of life, depictions of a social or individual reality. My works assemble different impressions, memories, allegories and thoughts, in montages of lapses, repetitions and motif variations that give rise to cyclical poly-vocal narratives.
I'm particularly interested in how contemporary western society understands and relates to time and memory. I have been investigating through my work how certain authorities and entities strive to perpetuate certain myths and how historical and cultural narratives are generated. Different authorities have found in progressive and dialectical forms of narrative a way to assert their agendas and secure their hegemony. In order to assure these forms as conductors of their authority it is necessary that the categories and entities they encompass are perceived as stable and unified truths. My practise is populated with characters, locations, objects and memories that aren't stable and fully crystallised entities, instead by fragmented ones or in flux. The narratives in my works rarely behave linearly, so that they can call attention to what the organisational and compositional models of story and history telling we have inherited might encompass. 
Bio
Catarina de Oliveira get a Master at Piet Zwart Institute (Rotterdam, NL) en 2012; recently her work was shown at Parkour (Lisbonne, PT), Serralves Museum (Porto, PT), The Watermill Center (NY, US), Bonheur Theater (Rotterdam, NL), and at HEAD (Genève, CH), she get a Grant from Fondation Calouste Gulbenkian.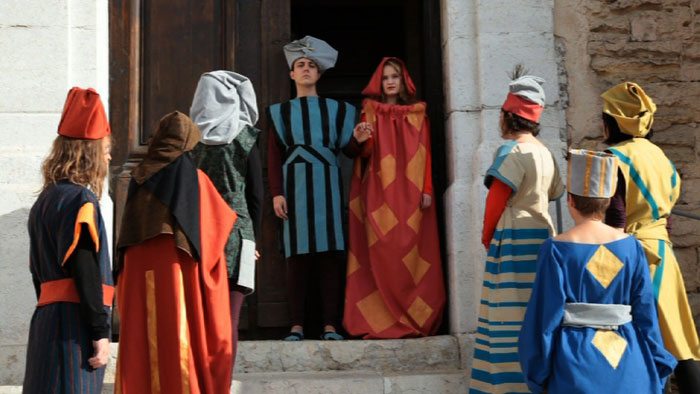 Le Couple Silencieux (2014) HD, color, sound. Co production Fondation Calouste Gulbenkian.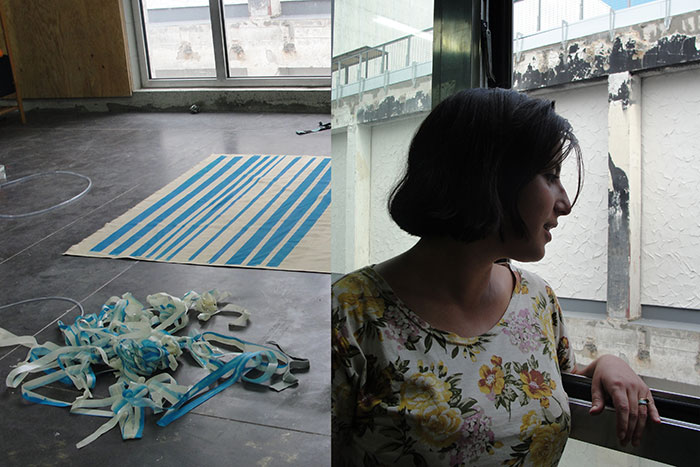 View of studio, November 2013 © Photo Chloé Curci
_
MAY TO JULY 2013
RACHAL BRADLEY (UK)
Born in 1979, lives and works in Glasgow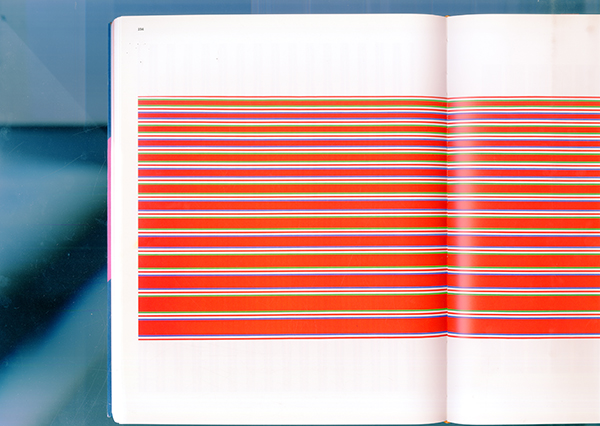 Rachal Bradley, Out of Season 6, 2012, Digital c-type print on Di-bond, 150 x 106.9 cm
"Rachal Bradley was born in Blackpool, UK. She works mostly with photography, video and writing. Her image-making and writing have an analytical approach, which she enjoys. Most recently her work was included in Interiority Complex, Cubitt, London, Strohwitwe, 24 St.Vincent's Crescent, Glasgow, That is the Dawn, Galerie Gregor Staiger, Zurich and LABOUR, Kunsthall Oslo, (all 2012). She has studied Fine Art at Goldsmiths College, California Institute of the Arts, Glasgow school of Art and Law at the University of Bristol. With artist Matthew Richardson she recently co-founded and runs OHIO, a gallery in Glasgow."
CYRIL VERDE (FR)
Born in 1986, lives and works in Issy Les Moulineaux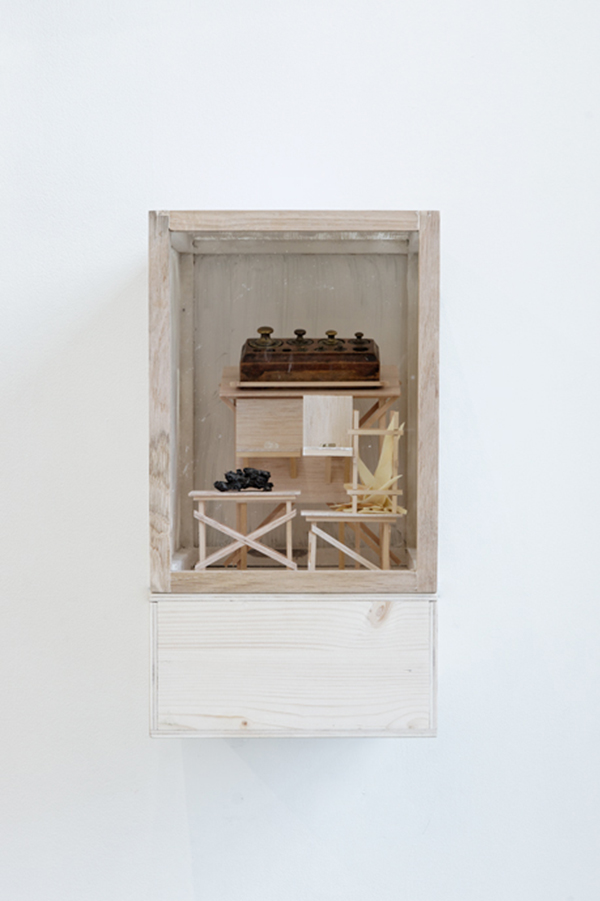 Cyril Verde et Aurélien Mole, Objets incomplets/Diagnosis, sugar, coffee, silver, galalithe, wood and glass, 2013
"Cyril Verde's work is an exploration of time and energy organization methods. The shapes he develops are the result of minute choices, in his macro-curatorial practices (scheduling, connecting with possible collaborators, etc.) as well as in the management of more specific activities (protocols, choice of tools, etc.). He is particularly interested in the scripting of work through editorial means such as the patent, academic workbooks, user manuals, and so on. Since 2012, he has dedicated some effort to drafting instructions which, when activated, engender sculptures, situations, exhibits; ephemeral incarnations of a homogeneous editorial form tending toward the convergence of the project, the protocols and the archive. Conceived to be read, understood, and interpreted, the collection of these "instructions" establishes a specific work frame and the outline of an annotated catalog in constant progress."
LIAM WITTER (UK)
Born in 1988, Lives and works in Newcastle

Liam Witter, Snow Day Actions. January 2011
"Liam's practice manifests through the public interventions he makes. These consist primarily of subversive actions that take place in an urban environment. His aim is to explore how to translate large subjects such as Urban Development, Regeneration and Public Art into actuality. For Liam visual art is a non-verbal communication to let a viewer experience the conjunction point between the two types of experience. The artworks he makes represent history with a form of fluidity, using the study of proxemics; human-spatial interactions in relation to culture, to produce a dialogue between Erfahrung (Experience document by fact) and Erlebnis (Lived experience).
He is particularly interested in spatial transformations through events both, staged and spontaneous, preferring to base an artwork around a particular event that encroaches itself on an urban environment and document the ways in which they manifest through human interaction. The interpretation of events results in a monument to lived experience."
_
JANUARY/APRIL 2013
OLIVER BRAID (UK)
Born in 1984, Lives and works in Glasgow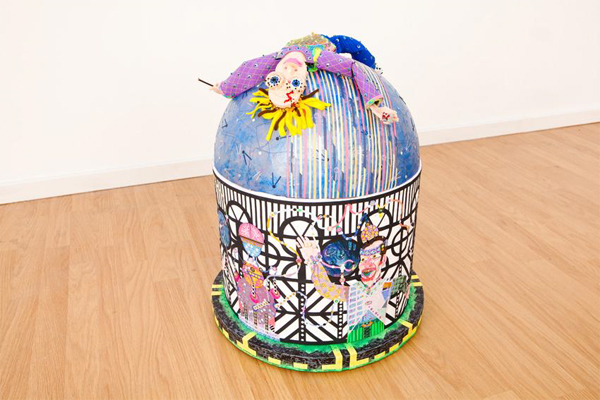 Oliver Braid, Predictions, Cardboard, paper, paint, pencil crayon, embroidered foam, felt and foam core. 2010.
"With my recent work I am aiming to advance as an artist who uses practical tactics to handle the study of happiness.
Stimuli for these soundings come from affection, buoyancy and camaraderie – accentuating these themes to evaluate their contribution to the production and motivation of creative inspiration, and explore their conceivable critical currency.
Formerly I have partitioned my practice through two divergent strategies: 'objects'- static artworks attempting to articulate social situations through representation - and 'projects' - a more candidly engaged approach, such as a collaboration or curatorial enterprise.
Currently I am investigating fresh routines to reconcile these segregated procedures."
See also Oliver Braid's blog here
JEAN-ALAIN CORRE (FR)
Born in 1981, lives and works in Lyon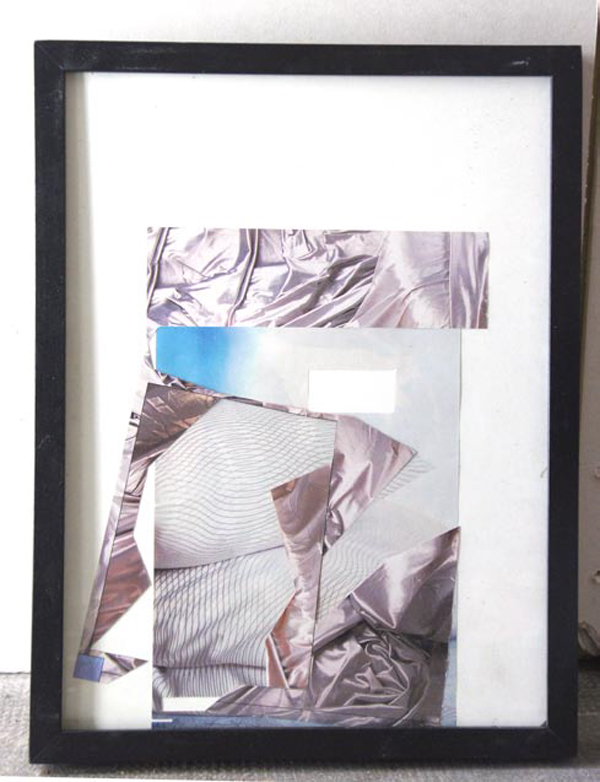 Jean-Alain Corre, empty geometries (liste 10 et 11), 2012; 0,40 x 0,30 m; Collages encadrés
"Johnny is a title for a set of works which I like seeing as a kind of serial. Johnny is not a copy. It is not an avatar either. It is a character without scenario. His wanderings allow me to create, to collect, to allocate forms resulting from our pre-industrial daily surroundings".
HYE-SOON SEO(KR)
Born in 1980, lives and works in Tarbes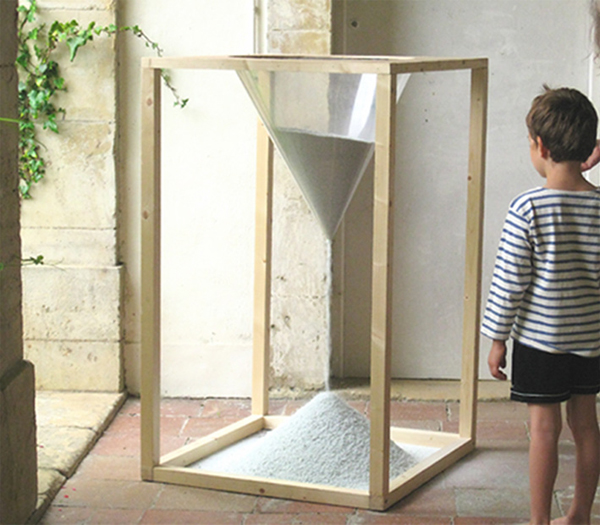 Hye-Soon Seo, 10'17", 2010, 127cm x 80cm x 80cm, porcelaine, bois, rhodoïd
"I realize sound pieces which play with our senses (hearing and sight) where noises, silence and voice in different acoustic contexts. They rely on hearing perceptions, short-lived aspects, contemplations, reflections and memories through forms, objects or phenomenons. All this restores the sound experience to a space of imagination."
_
SEPTEMBER/DECEMBER 2012
BOBBY NIVEN (UK)
born in 1981, lives and works in Glasgow.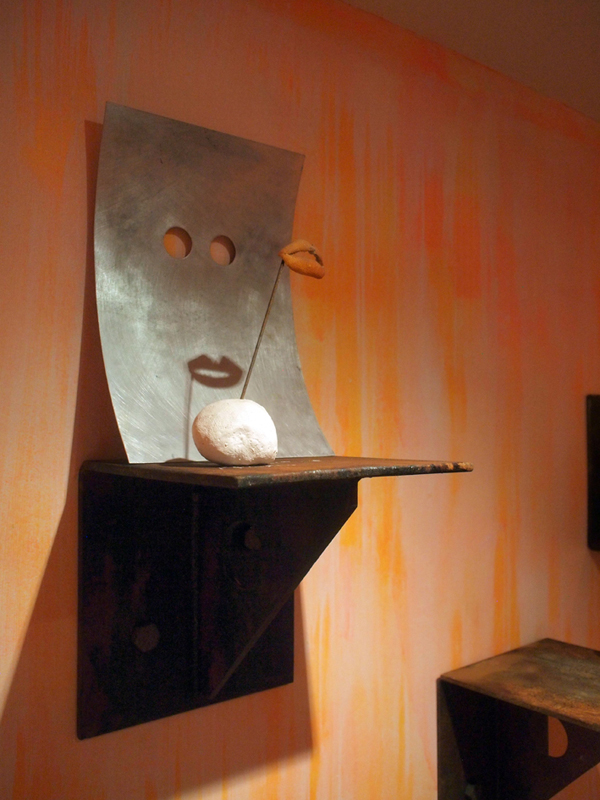 Bobby Niven, Orange room, untitled, 2012, mixed media
" My practice to date has been concerned with the processes of mimesis, misrecognition, simulacrum and entropy. Until recently my work had been predominantly sculpture based, revealing these psychological repercussions of these different forms of transformation through a combination of found, perturbed and sculpted objects. I am interested in the concept of inform and the process of undoing objects and ones preconceptions of them, disturbing the distinction between the animate and the inert. Over the past two years I have produced three film works, the most recent of which sees the marriage of the film work with the sculpture work. Making investigations into entropic places using a combination of film, artefacts and sculpture, drawing influence from the stories and histories of places and using them as starting points for projects.
My sculptures are part primitive, part modern and bring together animated, anthropomorphic objects alongside more solemn, abstract structures. The layering of found and sculpted objects provides the space for a playful and humorous combination of anthropomorphic objects and abstract structures, developing motifs that can repeated and distorted in scale and form. The process of layering variations of objects is very much an experiment into the possibility of challenging the way we read objects. I'm interested in how the relationship between film and object affects the relationship between viewer and object. " B.N
LAURIE CHARLES (BE)
Born in 1987, lives and works in Brussells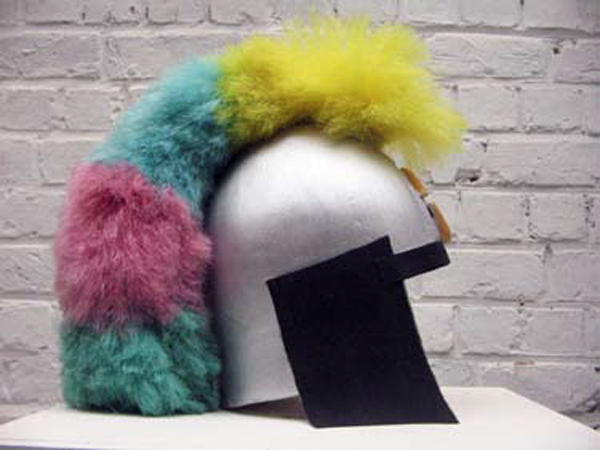 Laurie Charles, The return bling bling of the Middle Age, carton, bois, mousse polyuréthane, cuir, moquette, plumeau synthétique, atelier à Komplot, 2012
Coming from a Youtube generation molded by home-made videos, I re-appropriate the leading and popular historical figures on an old tune High and Low, by resuscitating them in small philosophic transgenres theaters. The artist, as the philosopher, fights with his devils and his ghosts. My videos, noticeable as an " art for the camera ", are similar to sampled performances in a audiovisual collage made up of a juxtaposition or an overprint of referential layers. I operate a translation through time and History, towards a closed and enigmatic place where the camera runs. That's why I often use a setting often representing a space strongly associated at the idea of isolation (forest, cemetery, cave).
JULIE VAYSSIÈRE (FR)
Born in 1979, lives and works in Paris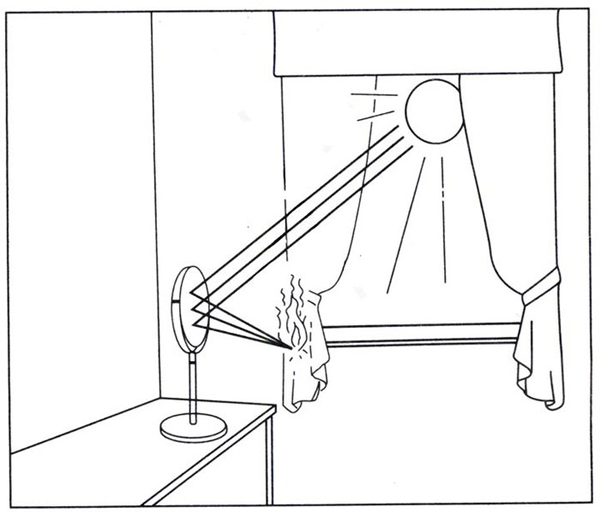 Julie Vayssière, Le miroir, peinture murale, 2011
Julie Vayssière sets up discreetly and siniously a universe of images and stories where the characters and the places remain frozen in an eternal regret, when they are not simply mute or characterless. They become then worthy of interest by their autonomous propensity to speak about nothing in particular but to talk about our society, which changes constantly of interest in unsatisfied desires. All the left behind by advertising and commercial seduction are the favorite protagonists of Julie: losers (or winners: no importance) in television quiz shows, potential suburbs inhabitant, Sunday buyers of furniture in malls area, schoolchildren skipping school in shopping complex... Places of artificial desire, fake joy: they take here dying tones, wear sorry smiles. And her texts, unlikely cruel, of a menacing neutrality, in the style of Houellebecq or of Douglas Coupland, sculpt, cut, pinch dreams and hopes, lives and setbacks, of the Humanity. Devices are often simple, poor. They refuse spectacular because they speak about its failure, but still even announcing the possibility to live.
_
2011
Andreas Fuhrer, Hayan Kam Nakache, Hélène Juillet, Olivier Dollinger, Roxane Borujerdi, Samuel Moncharmont, Samir Ramdani, Yannick Langlois, Marzia Corinne Rossi, Luca Monterastelli, Nicolas Pelzer, Dominique Hurth
_
2010
Monica Restrepo, Christian Newby, Jean-Baptiste Bouvet, Flore Josserand, Grégoire Motte, Nana Oforiatta-Ayim, Catalina Niculescu, Kirsty Roberts, Mireille Blanc
_
2009
Emmanuelle Lainé, Kara Uzelman, Charlotte Cochelin, Adrien Vescovi, Tim Braden, Marc Dittrich, Anne Lise Le Gac, Dominique Gilliot, Lynette Yadom, Androa Mindre Kolo.
_
2008
Anna Fasshauer, Çigdem Mentesoglu, Clark Walter, Colombe Marcasiano, Halida Boughriet, Matthew Atkinson, Moussa Sarr, Yann Géraud
_
LISTING OF PREVIOUS ARTISTS IN RESIDENCY FROM 1996 TO 2007
Since it's creation, triangle has been able to discover young emerging artists who are know leading an international career. discover here the complete listing.