2017 ARTISTS IN RESIDENCE
_
FROM JANUARY TO MID-APRIL 2017
Arthur Eskenazi
Lives and works in Paris, FR
arthureskenazi.com
The work of Arthur Eskenazi is multiple and protean, not attaching itself to any particular discipline but considering them all as territories with particular topographies that we would have to cross.
Performance, dance, theater, scenography, but also video, installation, drawing, writing or painting represent like a great planisphere with porous and moving boundaries depending on the body that passes through them, the specific situations which it makes the experience and which can only be transmitted by telling the story. But which one?
The question of discourse on the work takes then an important place in it ambiguous relation that it talks between lie and truth. But behind it is actually hiding the means of production. If it is the discourse that allows the artist to work (grant files, calls for projects, application for residence ...) if it is still him who fix the value of the work done (since a work of Art today is judged only by the credibility of relations - and the artist invents - that the artistic object maintains with his discourse) which space remains it for the transmission of artistic experience, which one can not be summed up in word, but in gestures, temporality, or quality of address?
To take this discourse as "pre-text" to the creation of a form, to the creation of an experience that can not be anything other than the temporality necessary to the appearance and transmission of an event, historical as well as artistic.
Arthur Eskenazi is a graduate of the Ecole Nationale Superieure des Beaux-Arts in Paris in 2012 and a master's degree in exe.r.ce from the Center Chorégraphique National de Montpelier in 2015.
In 2012, in collaboration with Jennifer Lauro-Mariani, he set up the project of dance "The IPSE" on the occasion of the "Danse Elargie du Théâtre de la Ville et du Musée de la Danse" (Special Mention of the Jury). With proven experience, "IPSE" will thereafter develop into two other versions: in 2013 for the Festival Petites Formes (D)Cousues au Point Ephémère in Paris and in 2014 for the Festival Les Hivernales in Avignon. At the same time, he co-wrote this year with Elsa Eskenazi the play "A la sarbacane" which they stage, and assists the director Jessica Dalle as playwright and stage designer for the play "Walpurg-Tragédie" (Théâtre de la Cité Internationale, December 2016).
In 2015, he founded during a residence in Pact Zollverein a multi-disciplinary Franco-German research group, the aim of which was to make artists work with different mediums and questions. He regularly performs for performances and choreographic pieces.
His plastic work was presented in several collective exhibitions in France, Germany and Japan.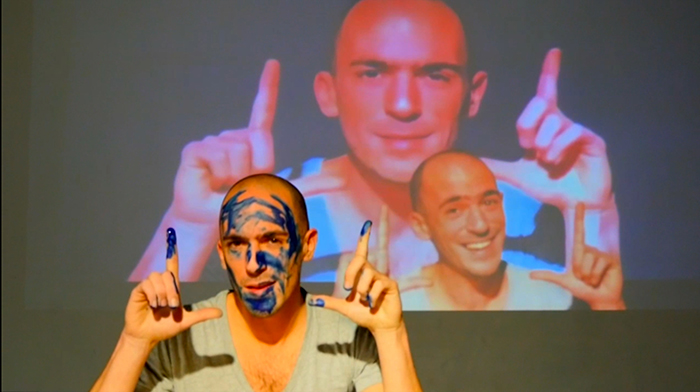 Arthur Eskenazi, ciné-fils, vidéo (4'03), 2016
Gina Folly
Lives and works in Basel, CH
www.ginafolly.ch
Gina Folly multimedia work embracing sculpture, photography, drawings, film, and installation, she subjects objects and symbols to minimal contextual shifts and critically thematizes the promises that our striving for greater naturalness and productivity in an increasingly technologized environment holds out. The domestication and imitation of natural phenomena play an important role for Folly. As a result, animals and plants occur repeatedly in her works as motifs or materials and looking for a confrontaion between humans and their natural surrounding. These relations and exchanges are emphasised in the way Folly uses, alters and mixes industrial production processes with artisanal or even homemade techniques.
Gina Folly is born in 1983 in Zürich. She graduated in Master of Art in Fine Arts, Zhdk, Zürich in 2014. Since 2013 she's running the artist space Taylor Macklin in Zürich together with Selina Grüter and Michèle Graf www.taylormacklin.com. Recent exhibitions include: Domestic Problems, Almanac, London, 2016(Solo); New Conditions,
Ermes-Ermes, Roma, 2015 (2015);Ströme, Duoshow with Mandla Reuter, SALTS, Birsfelden, 2015 (Solo); L'état parfait, Freymond-Guth Fine Arts, Basel, 2016; Adrift on a Plastic Island, Galerie Bernhard, Zürich, 2016; 13. Triennale Kleinplastik 2016, Fellbach ,2016; Some of my best friends are germs, Le Doc, Paris, 2016;NATURAL INSTINCTS, Les Urbaines 2015, Lausanne, 2015; Some Gallerists, ML Artspace, The Duck, Berlin, 2015; Summer Group Show organized by Matt Moravec & Taylor Trabulus, Germantown, NY, 2015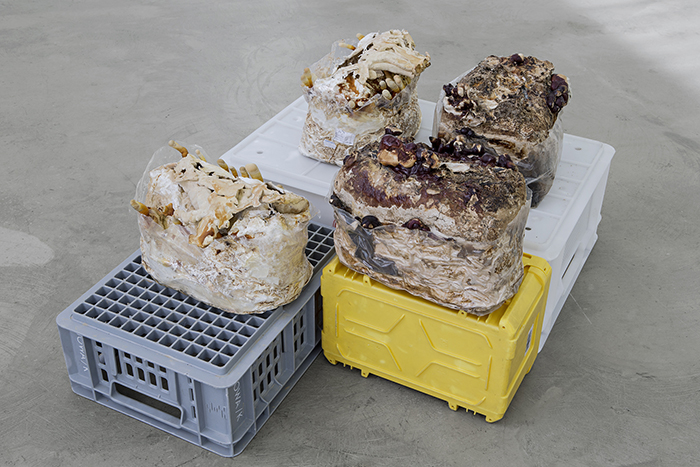 Gina Folly, Unfinished business, (Ling Zhi) I - IV, chinease anti-aging mushroom spawn for immortality, 4 plastic crates, dimensions variable, 2016.
Tiziana La Melia
Lives and works in Vancouver, CA
tizianalamelia.com

Tiziana La Melia is an interdisciplinary artist working in painting, installation, film and writing. To date, La Melia's work has explored through painting, installation and writing, the relationship between proprioceptive experience and the way that thought becomes form; language digresses; things become subjects, subjects become things; hyphens, metonymy, stutters, and slime form a mutating and nonlinear poetics. Her work is populated by angelfish, losers, dropouts, and spinsters—who are preoccupied by fate, weather, health, time, food, perfume, writing, technology and pets. The characters in the work evoke an agency that is both fixed and malleable. Titles and form evoke theatrical structures to navigate the slippage between objects and language, plotting to blur the dialectic between the utilitarian and the lyrical.
Born in 1982, in Palmero (IT). Her work has been exhibited, screened and performed in Los Angeles, New York, Toronto, Stockholm, Nevers, Montreal, and Vancouver. Her writing has appeared in C Magazine, The Organism for Poetic Research, Pyramid Power, The Capilano Review and Poetry is Dead. Forthcoming activities include a solo exhibition at 8-11 (Toronto) and Anne Baurrault (Paris). La Melia was awarded the 2014 RBC Painting Prize. In 2017 a book of poetry will be published by Talon Books, Vancouver.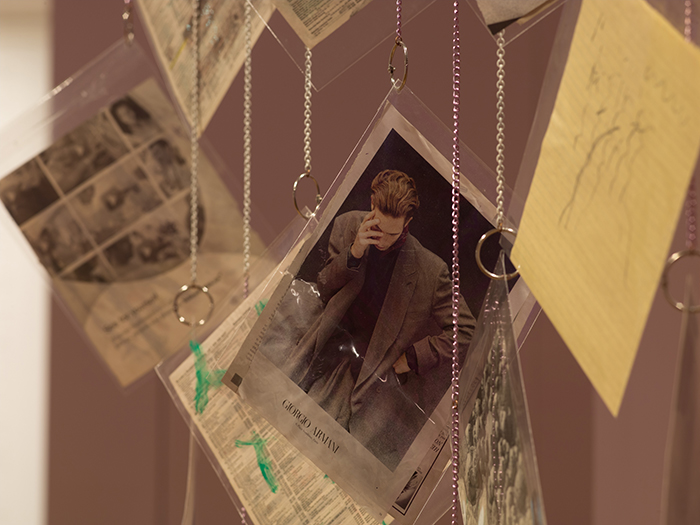 Tiziana La Melia, Yellow Pages Improv, steel, metal chain, spraypaint, crystal sleeves, binder loops, magazine cutouts, phonebook pages, oil paint, dimensions variable, 2011-2014.
_
FROM APRIL TO JULY 2017
Madison Bycroft
Lives and works between Rotterdam, the Netherlands, and her hometown Adelaide, South Australia
maddog.hotglue.me
Madison Bycroft is an artist working in video, performance, sculpture, sound and text. She explores empathic, animist, and linguistic methodologies through which to approach, become attuned to, invoke and be with the unknown. Of particular interest, is the fine line between closed (reductive) and open (enabling) speech. What practical possibilities can the mystical language of unsaying and the paradox offer? How can the middle voice - a verb form both active and passive - be re-instated in speech and action, in a way that queers the subject, makes it plural, and renegotiates lines of relation? How can we translate without capture? Bycroft performs different selves, challenging the idea of a unique subject authoring her own actions, and instead situates herself as a responsive multiplicity.
Madison Bycroft is a recent graduate of the Piet Zwart Institute of Fine Art, in Rotterdam, which she attended with the support of the Anne and Gordon Samstag Scholarship. Since 2016, along with Natalia Sorzano and Kari Robertson she runs GHOST, a platform for new collaboration and facilitation.
Bycrofts Australian exhibitions include: "CatDog" - Greenaway Gallery, "Primavera: Young Australian Artists" at the MCA in Sydney, "Synonyms for Savages", The Australian Experimental Art Foundation and It Division - Contemporary Art Centre of South Australia. International exhibitions include "Creatures of the Mud" - Westfälischer Kunstverein in Muenster, "Translating Medea", Yellow Brick, Athens, "The Blue Grey Wall" - Physics room, Christchurch, and a showing at Microscope Gallery as part of residency at the ISCP in Brooklyn, New York.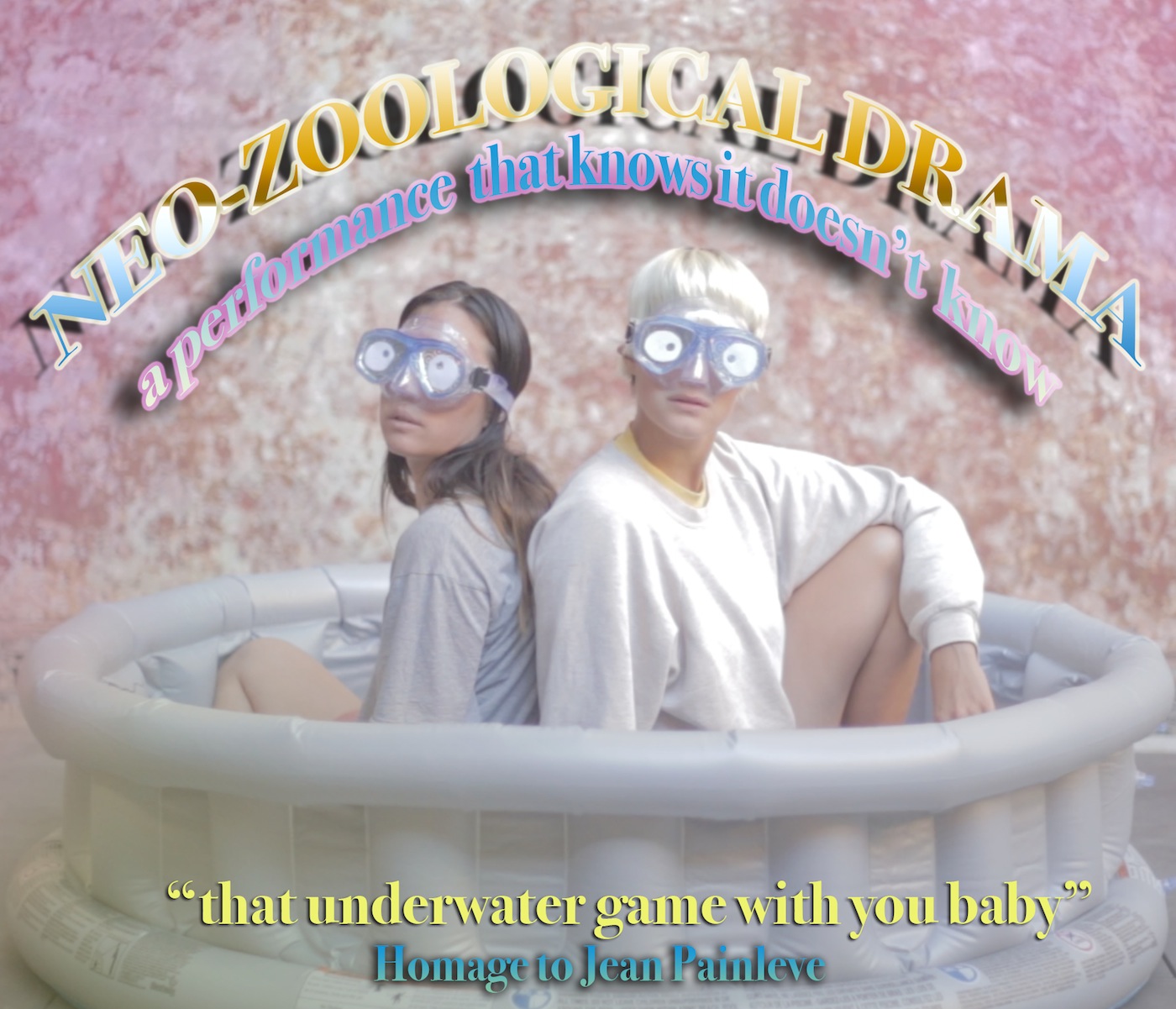 Camille Dumond
Lives and works in Geneva, Switzerland
camilledumond.fr
Camille Dumond's projects question the occupation of territories and its representations. She takes the process of inversion as a work method. Her work evokes one after the other a workplace, a garden, a park, an exhibition, a bar, a place of filming of film, sometimes fictitious, that she speaks about through the realization of objects or stories which transforms or reproduce it. She is interested in the protagonists of these places, in the ideology linked to the fabrication of endemic objects. Her practice includes films, sculptures, installations, events. She performs mainly by the prism of the camera, and is interested in transforming the exhibition space as a place of collective life, like a film set. She recently studies stand-up comedy texts, in order to treat it outside of the field of entertainment. She has just finished her first short film "People's Park" (2017), a 9-minute experimental fiction whose scenario takes its distant roots in the creation of the eponymous park in 1969 in Berkeley, California. The film knows several broadcast formats, including a long version and a loop version.
Camille Dumond studied at Ecole Supérieure des Beaux-Arts de Nantes, then at HEAD Genève, where she graduated in the work.master 2014. In 2015, she had her first solo exhibition at Quark, Geneva (as recipient of the Quark prize 2015), and took part to the exhibition of the laureates of the Geneva city prize at Geneva's Centre d'Art Contemporain. She won the award Bourses Déliées from the FCAC (Fonds cantonal d'art contemporain) and in 2016 showned an early version of her project "People's Park" at Halle Nord in Geneva (for which she is also releasing a publication). She has been invited to several projects and exhibitions such as "Labor Zero Labor" in Triangle France, "Motion and Infinite Lawns" in Geneva, and was artist in residence at Mains d'Oeuvres in Saint-Ouen right before her residency at Triangle.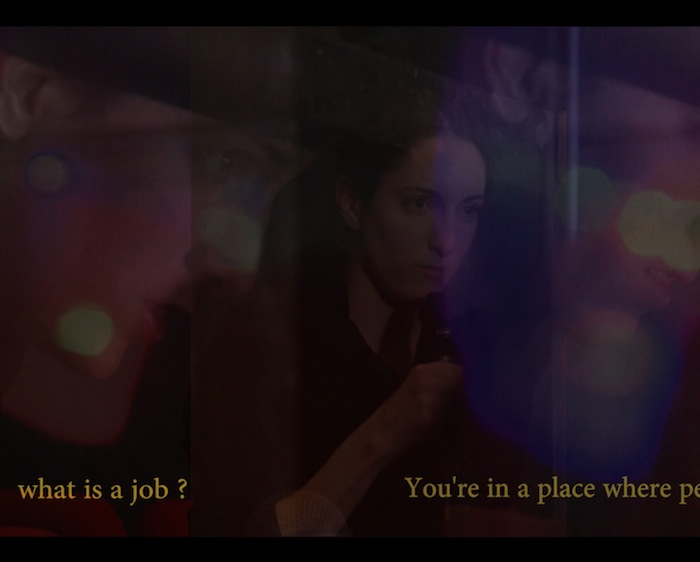 Credits: F.A.T.T.O.M. - food4less, performance, exhibition "Motion" at LiveInYourHead, 2016. HEAD - Genève and La Fabrique d'expositions, Montréal.
Liv Schulman
Lives and works in Paris and Lyon.
livschulman.com
Writing is the driving force behind the work of the Argentinian artist Liv Schulman. She produces filmed fictions and, theatrical performances, as well as novelistic and journalistic writing.
She has thus successively published various diaries with evocative titles: Pobre, Feo y Elegant [Poor, Ugly and Elegant], Algo Mejor que Nada [Something's Better Than Nothing] and El Flasherito. In her films and performances Schulman introduces characters offering long-winded speeches, interchangeable ventriloquist-like ectoplasms of those dislocated monologues which borrow from the vocabularies of art, liberal economics, critical theory, and psychotherapy. Merging with one another, these distinct forms of discourse become absurd and crazy tools of a paranoid interpretation of the social world, based on the alienation of bodies, the devaluation of identities, and the complexities of desire for meaning. A caustic sense of humour, combined with an acerbic analysis of the conventions of language, enables the ludicrousness of parody to co-exist with a disenchanted idea in her work
Texte: Incorporated Les ateliers de rennes.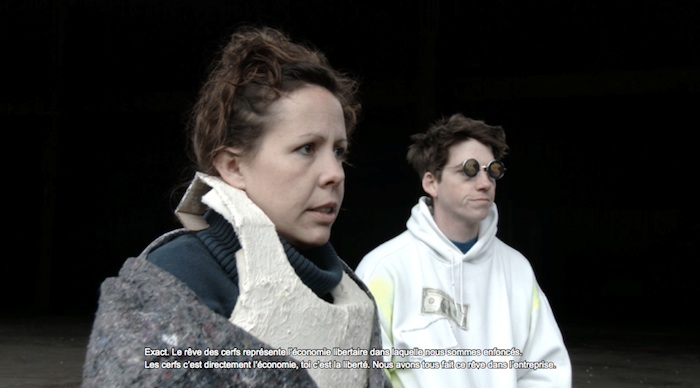 Credits: Liv Schulman, "Assemblée Générale", 2016. Production: Les Ateliers de Rennes - Biennale d'Art Contemporain.
_
IN RESIDENCY FROM SEPTEMBER TO DECEMBER 2017
Maya Beaudry (CA)
Lives and works in Vancouver (CA).
www.mayabeaudry.com
Maya Beaudry (b. 1988 Vancouver) works predominantly in sculpture and installation, exploring the concept of interiority as it relates to domestic architecture and the symbiotic relationship of mental states and living spaces. Her most recent work has centred on the architectural prevalence of the rectangle as a shape for containment and the corporeal experience of inhabiting geometric space as an organically shaped organism. She is interested in both the act of building and the "softening" of the built environment, approaching textiles, upholstery and furniture as a kind of membrane between bodies and architecture.
She holds a BFA from Emily Carr University and an MFA from the California Institute of the Arts. In 2016 she received the Felix Gonzales Torres Grant to construct a free-standing studio on an island in British Columbia, the first step towards a long-term project of operating a small residency. She is the founder of Sunset Terrace, an artist-run space in Vancouver and the recipient of the Hnatyshyn Foundation prize for emerging artists. Recent exhibitions include "Period Pieces: A Sunset Terrace Retrospective" at Projet Pangee in Montreal, "Ambivalent Pleasures" at the Vancouver Art Gallery, and "Enter the Fog" at The Rooms, St. John's, Newfoundland. She holds a BFA from Emily Carr University and an MFA from the California Institute of the Arts.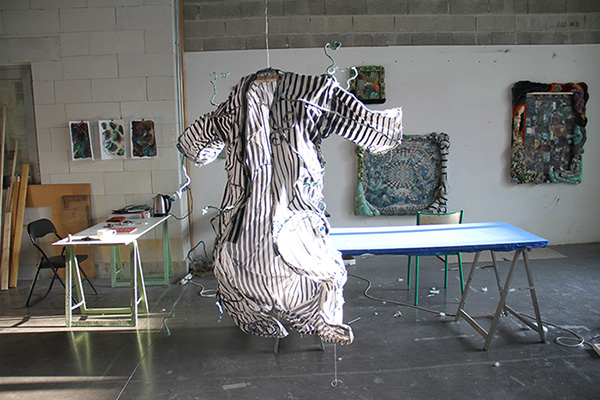 Adam Lewis Jacob (GB)
Lives and works in Glasgow (GB)
I'm interested in developing situations for shared authorship, in which I explore filmmaking as a space for relinquishing total control, incorporating traces of process and performance, amidst a surplus of objects, information, images and stuff. Currently I am interested in exploring the intersections between Spiritualism and Anarchism. Through this research I have started to combine different styles of filmmaking, creating dream-like portals as triggers for psychedelic experiences. While my work is predominantly moving image based, I often make installations that incorporate the material used to create the film. This can include altered lighting, objects, sound and animation.
Adam Lewis Jacob is graduated from the MFA programme at the Glasgow School of Art in 2015 during which he studied on exchange at Piet Zwart Institute and in 2011 was selected for the Mountain School of Arts program in Los Angeles. In 2016, Adam was the recipient of the Superlux research award alongside Elizabeth Murphy. Recent exhibitions include: Emotional Need, Collective, Edinburgh, ANITPHON, Kochi-Muziris Biennale 2016, India, Double Parrhesia, Catalyst, Belfast and FFWD, Duolon Museum of Contemporary Art, Shanghai. Adam is co-founder of exhibition space Celine and until May 2017 was a committee member at Transmission Gallery.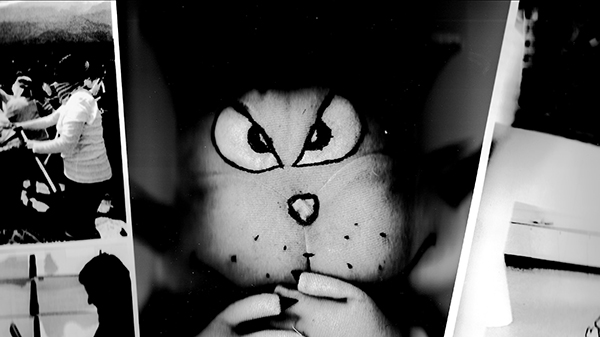 Anoucha Oler (FR/CH)
Lives and works in Brussels (BE)
Her practice brings together sculpture, writing and performance within videos in which the narratives often focus on the encounter between the characters that she creates and a disruptive material environment. Objects and individuals refuse to function as planned leading the characters to ponder about how this refusal to co-operate will affect their lives. Actors then engage in inquiring with impetuosity how, what and of whom are they made of. Through their speculative narratives and implicit to their playful and idiosyncratic attitude, they question the way that power circulates in shared and constructed spaces and its impacts on the construction of the self. So far in her work, numerous investigators explored affects, caring, sociability and living together.
Born in 1988, Saint Malo (FR) Lives and Works in Brussels (BE).
She holds an MFA from the Piet Zwart Institute in Rotterdam and was part of the post-master program of the Lyon's School of Arts in 2014/2015. Recent solo and two-person shows include Out of Place Artefacts, Galería Javier Silva, Valladolid (SP) with Amélie Bouvier (2016) ; Thingness? at Cooper Gallery (UK); Irma, Wisconsin, Present Works in Milwaukee (2015) ; I Smoked a Cigarette, Wondered About the Colour and Looked at You Once More in AiR-Jakobstad (FI) with Marion Jaulin (2014) and It Is Forbidden To Feed The Sculptures, Kölnischer Kunstverein/OG2, Cologne (2013).
Since 2010 she showed her works amongst group exhibithions at apes&castles, Bruxelles (BE), MOTinternational, Bruxelles (BE), Frac Île de France / Le Plateau, Paris (FR), Le Magasin-CNAC, Grenoble (FR), La Villa Arson, Nice (FR), The Front Gallery, New-Orleans (USA), De Appel, Amsterdam (NL), Tent, Rotterdam (NL), LIVEINYOURHEAD, Geneva (CH).