2016 ARTISTS IN RESIDENCE
_
FROM JANUARY TO APRIL 2016
Wicked Problem
Residents' exhibition.
Virgile Fraisse
Lives and works in Paris, FR
virgilefraisse.com
In response to an anthropologist method, Virgile Fraisse's work invests communication's protocols by film and installation. By criticizing neo-liberal strategies, his films investigate cultural influences of transcontinental relationships, for example through an image of a submarine fiber optic cable's deployment (SEA-ME-WE, 2015), or through absorption mechanisms and extension of occidental patterns (as in Situations Suivantes, 2014, with the South African community's Americanization process). Therefore, how to measure possibilities to counter the colonization of images circulation? With a pastiche tone, parodying the film format becoming then playgrounds, characters embodies contradictory positions one after the other.
Pursuing this dialectical logic with an in situ dimension, the installations convoking architect gestures shape our physical access to information; the installations require the audience to take position.
Born in Paris in 1990, Virgile Fraisse studied at Otis College (Los Angeles, 2013) and is graduated from École Nationale Supérieure des Beaux-Arts in Paris with jury honor (2014).
His work has been shown in collective exhibitions including Wicked Problem, Friche la Belle de Mai (Marseille, 2016) ; 61e Salon de Montrouge (Montrouge, 2016) ; Les Réalisateurs, Galerie Paradise (Nantes, 2016), 8 plus ou moins 2, Galerie Mansart (Paris, 2016), LOOP Festival Discovery Award (Barcelone, Madrid, Johannesburg, Istanbul, Malaga, Rub i, Athènes, 2015-2016) ; Les Voyageurs, Palais des Beaux-Arts (Paris, 2015) ; Snake Road, Bolsky Gallery (Los Angeles, 2014).
He has been awarded the Video Prize of Fondation des Beaux-Arts de Paris for his film SEA-ME-WE (part 1). Virgile Fraisse is preparing video series for the film program LABOR ZERO LABOR, Circa TV by Benjamin Valenza at Friche la Belle de Mai (Marseille, 2016). He also is preparing his first solo show at Clark House Initiative, Mumbai (India, 2016) and will be part of the upcoming Hors-Piste festival at Centre Georges Pompidou museum (Paris, 2017).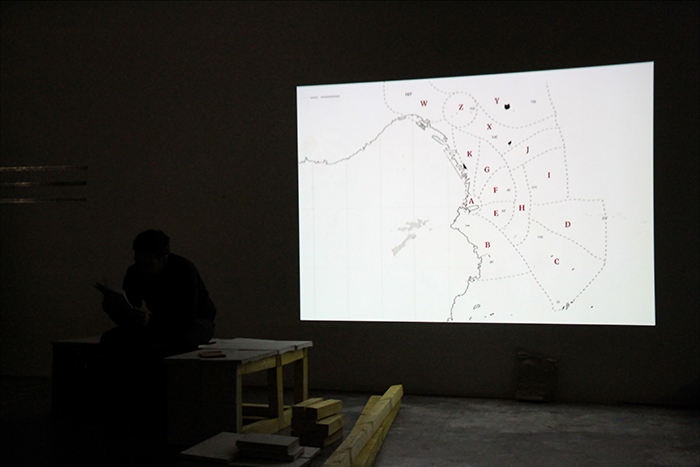 Virgile Fraisse, Scénarios d'occupation, programme pour deux performances, 2016, Crédit photo © Photo Triangle France.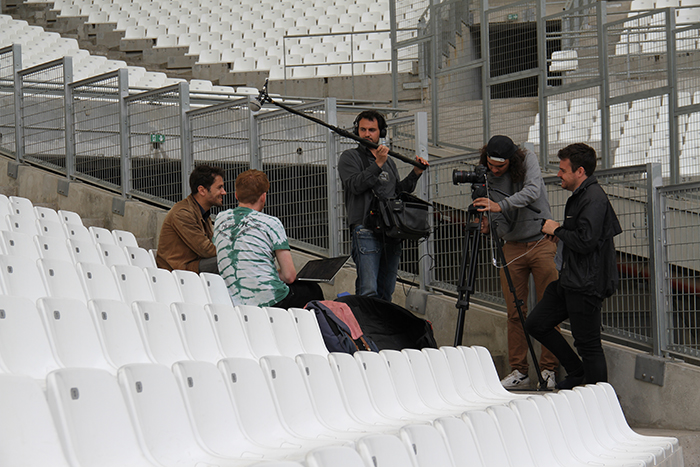 Virgile Fraisse, Crédit photo © Triangle France
Dan Walwin
Lives and works in Amsterdam, UK/NL
www.danwalwin.co.uk
Dan Walwin's works pay acute and visceral attention to details and detritus, channelled and contained inside hybrid and potentially uncomfortably ill-fitting forms. These evoke associations with pop culture, scientific research and speculative fiction, while employing scale and imitation as means to structure the atmosphere of a viewer's encounter with the work.
Dan Walwin (1986, Frome, UK), studied at Goldsmiths College, London from 2004-2007, and was resident artist the Rijksakademie van beeldende kunsten, Amsterdam from 2012-2013. His work will be included in the exhibitions Inflected Objects #2: Circulation - mise en séance, De Hallen, Haarlem and Dorothea van Stetten Art Award, Kunstmuseum Bonn in 2016. Recent solo exhibitions were Winds at Cell project space, London, and Sun room, P/////AKT, Amsterdam in 2015. Group shows and presentations include VISIO Next Generation Moving Images, CCC Strozzina, Florence, 2013, 2014, Cosmos Carl, online, in 2015, Marl Media Art Awards, Skulpturenmuseum Glaskasten Marl, Out There - Video Art, New media & Photography on Landscapes in Public Space, Maastricht in 2014, Interzones, Wexner Center for the Arts, Ohio State University, Columbus, USA, UTOPIA, Stedelijk at Trouw: Contemporary Art Club, Trouw, Amsterdam in 2013, and End Times, South London Gallery, London, in 2012.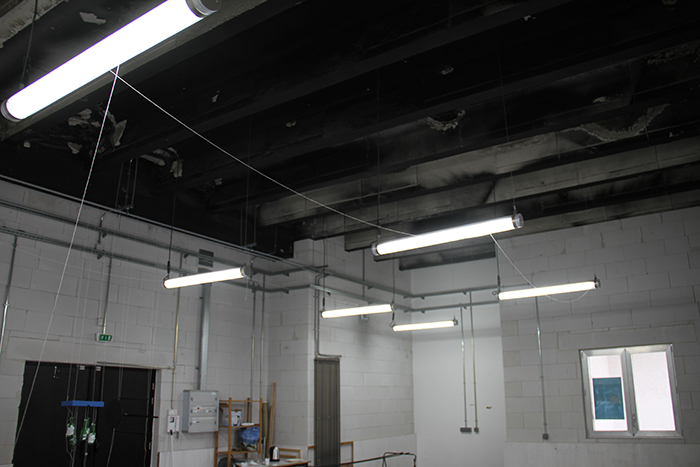 Dan Walwin, studio's view2016, Crédit photo © Dan Walwin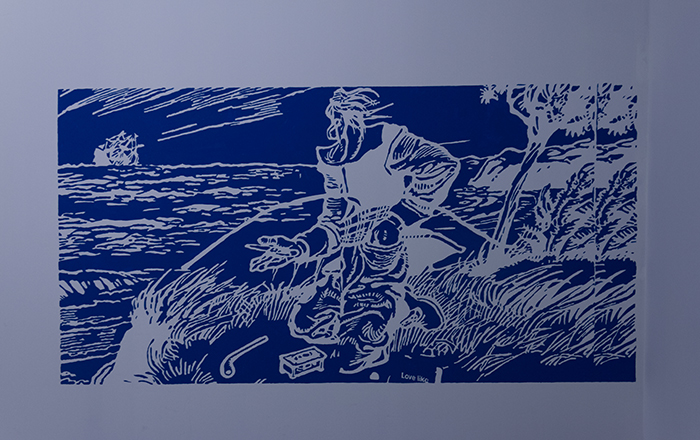 Dan Walwin, 2016, Crédit photo © Dan Walwin
Lauren Hall
Lives and works in Glasgow, UK
lauren-hall.com
Lauren Hall's practice involves making exhibitions and writing. She offers objects under the assumption that they all have agency; exhibitions want an audience, pop music wants to be loved, myopia wants us to look closely, paperweights want the centre of the earth. The objects of disease and wellness are as important as the objects she places together herself, and those she has fabricated commercially. She relies on self-manufactured coincidence and anomaly to think through psychological measurement, biopharmaceuticals, leisure pursuits, and musical education. She views culture as an evolutionary adaptation which fosters empathy and builds social cohesion. Her exhibitions are about looking; often using 3D glasses, contact lenses and opera binoculars to attend to how humans pay attention.
Lauren Hall (b. 1983, Kitchener, CA) lives and works in Glasgow and received an MFA from Glasgow School of Art in 2014. Recent exhibitions include That's Genetic, 16 Nicholson St., Glasgow, Life Like, Transmission, Glasgow, Comfortably Warm, Friends, as part of Glasgow International, Archive Fever!, Canadian Clay & Glass Gallery, Waterloo, and superpositions: New Wight Biennial, UCLA, Los Angeles. Readings of her work have been performed as part of National Bedtime, BALTIC 39, Newcastle, Gnommero: Multiplicity, CCA, Glasgow, Artists' BookMarket, Fruitmarket Gallery, Edinburgh. She has forthcoming solo presentations at Voidoid Archive, Glasgow, and ESP, Toronto.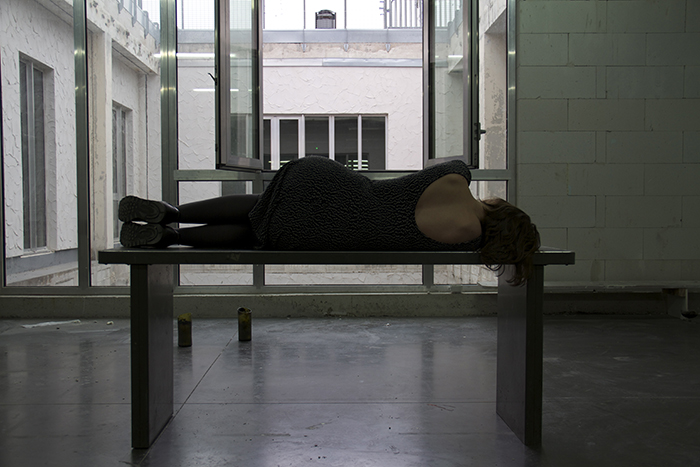 Lauren Hall, studio's view 2016, Crédit photo © Lauren Hall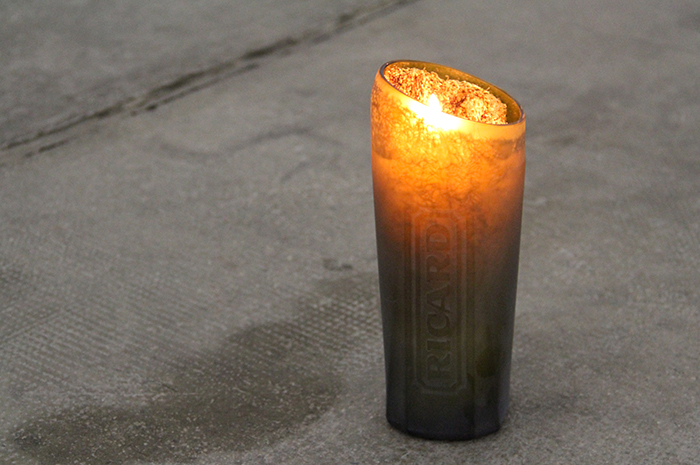 Lauren Hall, Radical 200, 2016, Crédit photo © Triangle France
_
FROM APRIL TO JULY 2016
David Perreard
Lives and works in Paris, FR
www.davidperread.com
David Perreard réalise de courtes vidéos, qu'il met en scène à la manière d'un marionnettiste.
Les narrations qu'il compose prennent leurs sources dans les scènes du quotidien dont on pourrait être le témoin inopiné. Au milieu de ces situations familières et identifiables, les techniques s'hybrident et les règles semblent être sabotées. Une voix de femme sous alcool, sur carcasse de manga japonais - une Youtubeuse, magicienne l'air de rien - piégés dans une Bar Mitsva infernale. Chacun prend conscience de son mode d'existence et tente d'exister. Pas toujours facile de cohabiter quand l'ensemble forme un mutant. Les personnages cherchent leur place, les images aussi et cette hybridité instable, annonce avec humour un chaos presque imminent.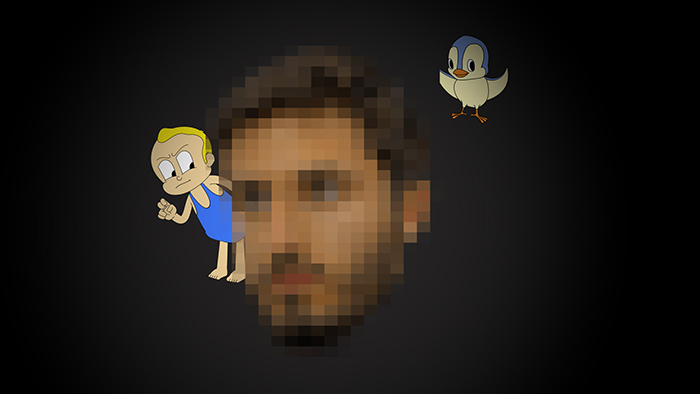 David Perreard, studio's view, Crédit photo © David Perreard.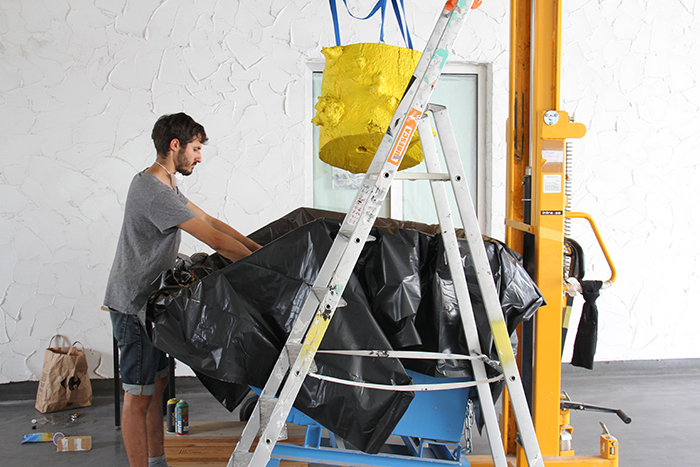 David Perreard, studio's view, Crédit photo © Triangle France
Davide Stucchi
Lives and works in Milan, IT
www.davidestucchi.com
Stucchi's research is devoted to the exploration of the artwork 'materiality' along an interest in the strategies of vision which allows to subvert its object hood. Stucchi defines himself as a 'sculptor' even if a large part of his practice unfolds as minimal interventions: engraving leather with fire; shaping in forms spaghetti pasta; accumulating dust, etc. All these interventions, in one way or another, avoid any possibility of conveying the work through traditional channels as for example the photographic documentation of it. Stucchi's practice never stops to surprise thanks to the use self-referentiality and secret meanings, blurring the lines between viewer, work, meaning and the various contexts of reference in which enacts.
He has graduated at the Academy of Fine Art of Brera of Milan in 2011. Visiting student at the Royal Academy of Fine Art in Antwerp in 2010. Recently his work has been shown at Taylor Macklin in Zurich, with a show titled What's left unsaid, says it all curated by Mattia Ruffolo, but also in Sant' Ilario Pavillion in Genoa with NENA curated by Francesco Garutti and MACRO Museum in Rome with Oggetti traditi. He has also been featured in numerous group exhibitions such as the exhibition Basic Instinct curated by Attila Fattori Franchini  at Seventeen Gallery in London, In Real Life curated by Luca Lo Pinto, presented at Galerie Christine König in Wien. In 2013, he spent the year in residency at the Cité internationale des Arts in Paris and at Fondazione Pastifficio Cerere in Rome.
During his residency in Triangle France, Davide Stucchi has realized one sculptur with Marseille soap, which will be shown at the International Fair of Contemporary Art ART-O-RAMA, 2016.
We warmly thank our partner, the Savonnerie Fer à Cheval for its support.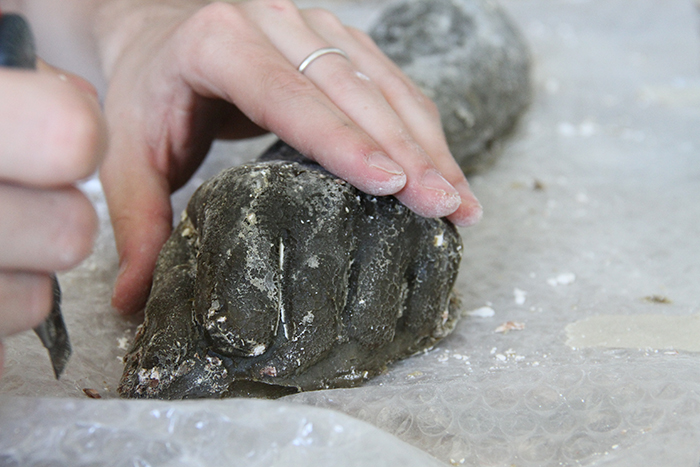 David Stucchi, studio's view, Crédit photo © Triangle France.
Beny Wagner
Lives and works in Berlin et Maastrich, DE, US, IL
benywagner.net
Beny Wagner is an artist and writer with a focus on moving image. Whether in film, writing, discussion through collaboration and performance, Wagner combines things both found and created to ask questions about the possibilities for contemporary and future narrative forms. His practice is driven by an interest in the intersections of perception, language and material. Having grown up between cultures (Germany, America, Israel) he is fascinated by how language shapes collective perception. He contemplates moments of transition in histories of perception in attempts to question and understand contemporary structures of representation. Avoiding overtly political themes, he instead focuses on the understated shifts found in material histories, labor processes, and modes of representation. His current work is focused on the relationship between digestion and perception.
Beny Wagner (1985, German, American, Israeli) graduated from Bard College, New York, in 2008 with a degree in Liberal Arts. He is currently a resident at the Jan van Eyck Academy, Maastricht, NL. He has exhibited internationally, with solo exhibitions at Import Projects (Berlin), Future Gallery (Berlin), Kleine Humboldt Galerie (Berlin), White Columns (New York), and has participated in group exhibitions, in Venice Biennial, Zürich, New York, Berlin, Toronto, Montreal, Tokyo as well a workshops with Harun Farocki (Rio de Janeiro), HIAP (Helsinki). He is the recipient of the Sol Lewitt Award, and Nelson B. Delevan Award. His work has been featured in Artforum, Spike Magazine Quarterly, Frieze Magazine and Kaleidoscope Press. He has published essays in 60Pages and Block Magazin.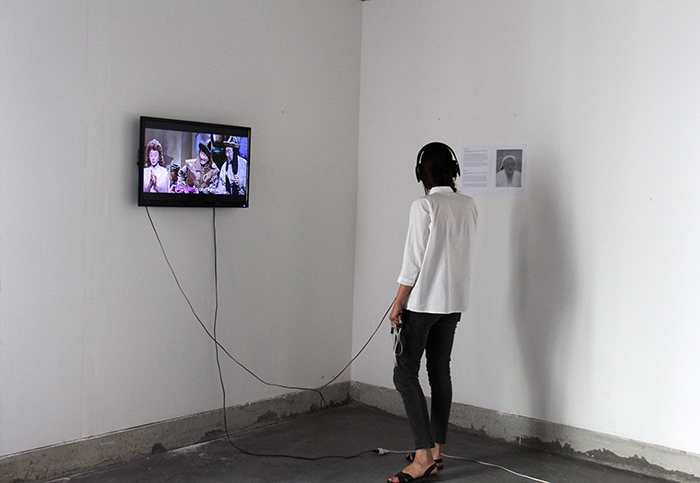 Beny Wagner, studio's view, Crédit photo © Triangle France.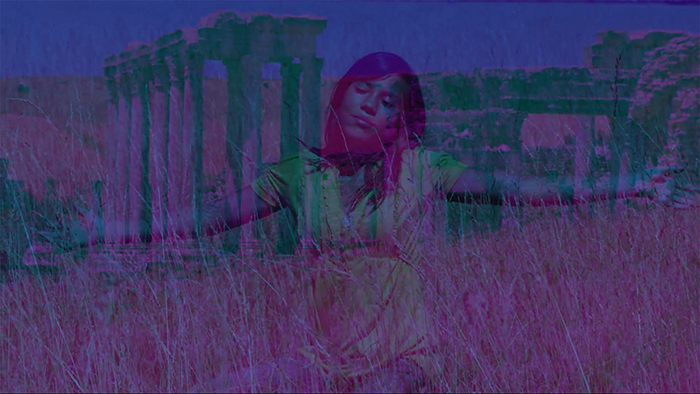 Beny Wagner, Eye Farm, FULL HD video, 23 min 38 sec, 2016
_
FROM SEPTEMBER TO DECEMBER 2016
Hannah James
Lives and works in Glasgow, UK
Hannah James' work addresses the relationship(s) we have with ourselves, each other, non-human animals, and environments. She is interested in particular moments where balances of power, control and manipulation are brought into question: moments that result in positions of trust, vulnerability and fear being compromised. How identities are formed, perceived and challenged are reoccurring interests within her research and production. James explores these concerns through her theoretical address of topics such as the phenomenology of perception, pedagogical structures, gender relations, domestic and captive animals and competitive activities. These ideas are realised through sculpture, installation, film and text.
Hannah James (b.1985, Nottingham) lives and works in Glasgow. She graduated from The Piet Zwart Institute, Rotterdam in 2014. Recent exhibitions include: Every woman is an animal, The Arboretum, Rotterdam, 2016 (solo); Heads, Pracownia Portretu, Lodz, 2016 (solo); Left Hand to Back of Head, Object Held Against Right Thigh, The Bluecoat, Liverpool, 2016; Hybrids, Celine, Glasgow, 2016; Can't you see how big those snails are? Chert, Berlin, 2015 (solo); wow! Woven? Entering the (sub) Textiles, Kunstlerhaus, Graz, 2015; The Museum of Unconditional Surrender, Tent, Rotterdam, 2015; breaking A skin, weaving A sense, Cole, London, 2014 (solo). Hannah is represented by Chert, Berlin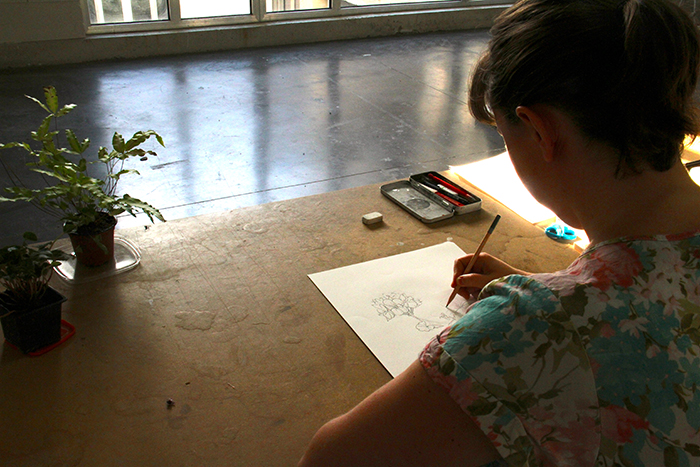 Hannah James, view of studios, November 2016.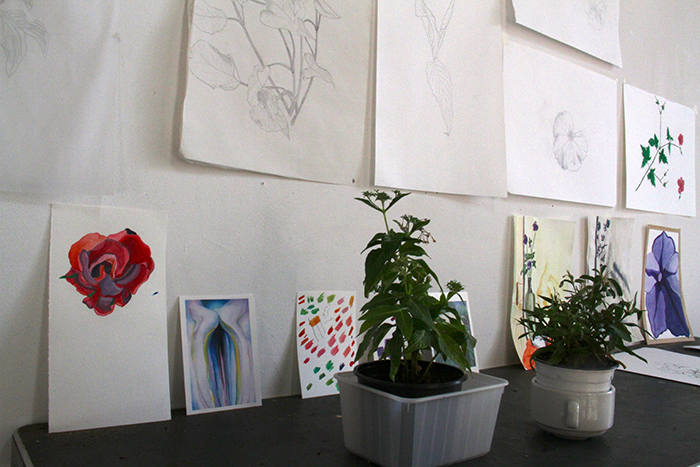 Hannah James, view of studios, November 2016.
Matthew McQuillan
Lives and works in London, UK
matthewmcquillan
Working across written text, performance and installation, McQuillan's practice combines found material and personal experience to focus on the overlooked; the nature of rubbish on a Los Angeles Street, a gesture of dismissal in a botched youtube selfie or a character's attachment to a missing, cherished pet, for example. These details harbour ambiguous, and sometimes conflicting affects, such as care, anxiety, inertia and hysteria which the artist looks to question, in relation to personal and wider social relations. His practice often draws on situations and scenarios of suspended agency; in which a subject's ability to act is obstructed or blurred. I recent years, McQuillan's work has widened to include organising exhibitions and thematic events, as another means to explore and test ideas.
Born 1982, (Bristol, UK) McQuillan graduated with an MFA from Goldsmiths University in 2010. He is based in London and currently teaches at London Metropolitan University. Recent exhibitions / events include 'Rough House', at The glue Factory (part of Glasgow International); 'A Public Resource', Cubitt (London, UK); 'Bottom Natures', GCP (London, UK); 'Concerning the Bodyguard', The Tetley, (Leeds, UK); 'Soft Evidence', Legion TV (London, UK) and 'Winter Escape', The Common House, (London, UK).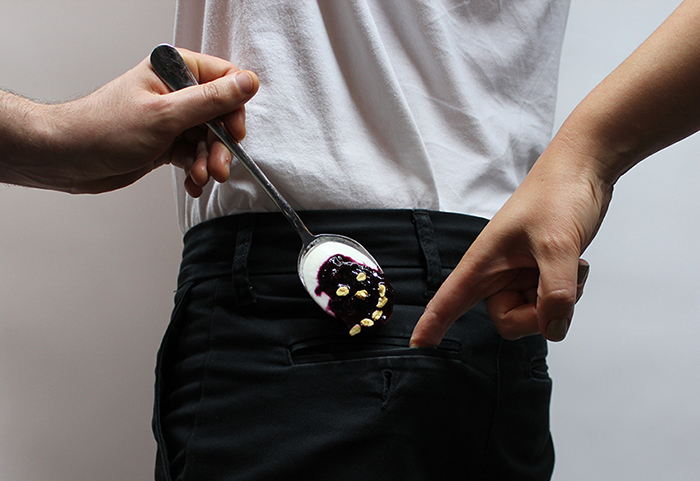 Matthew McQuillan, 'Promissory Note', working image for forthcoming video, 2016.
Matthew McQuillan, view of studios, November 2016.
Timothy Simonds
Lives and works in New York, US
timothysimonds.com
In a world of phonemes without consonants, articulation is something applied, not seen/expected/found.
 
My work occurs at moments lost between selfishness and selflessness. I see this tangle as playing a part not only in my own being and care for others, but also between individuals and institutions, and within cultures of architecture, food, and health. I create objects, set up scenarios, and perform texts that treat object, body, space, and written language as interchangeable; to illustrate desires to care for and control oneself and others. I am drawn to question the branding of wellness, methods of bodily maintenance, and relationships in childrearing. I use materials and imagery that appear homogeneous, such as processed deli meats, hair-conditioner, cat litter, Grape-Nuts™ cereal, MDF, baby fat, aluminum, and potatoes.
Tim Simonds received his MA in Performance Studies (2013) and a dual BA in Architectural Studies and Performance Studies (2011) from Brown University. In the past few years he has taught theory and writing to both architectural design and sculpture students at Pratt Institute. Selected solo exhibitions, group shows, performances and collaborations include: In Corners at Cathouse FUNeral (2015); limb at Water Street Studio (2014); House of Orange, curated by Wilma Projects (2016); High Density, Oblique Function, curated by Tabitha Piseno at Proxy (2015); Losing Oneself Without Getting Lost, curated by Jordan Carter at A+E Studios (2015); MYMEOGRAPH and Deux Vacances, as a part of Transient Theme, a month-long opera conceived by Bethany Ides at Knockdown Center (2014); and And Learn to make a body of a Limb, a performance hosted by the installation Gymnasia 4:00 AM, by Goldberg/Hertz/Peters/Schrader, at Cleopatra's (2013). He has shared his critical writing, "The Limbs of Language: Prepositions as an Architectural Medium," as a part of Embodying Cognition symposium (2016) at Pratt Institute, "Parts of Speech" (2015), a lecture, at Ecole Polytechnique Federale Lausanne, "The Burrow: Architecture as the Medium of Passing," as a part of Performing Philosophy symposium (2014) at Brown University, and "The Architecture of the Burrow" as a part of Performing Architecture symposium (2012) at Princeton University.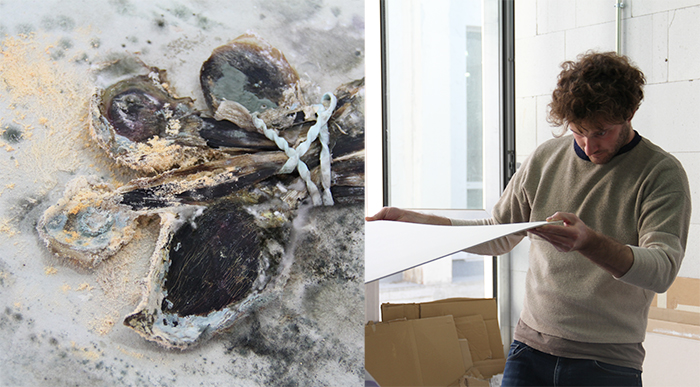 Timothy Simonds, view of studio, November 2016.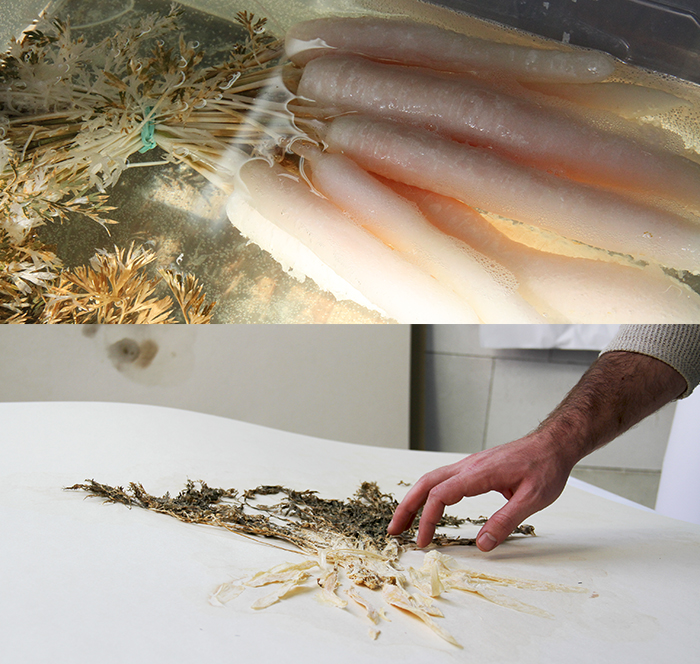 Timothy Simonds, view of studio, November 2016.