2013 ARTISTS IN RESIDENCE
_
FROM JANUARY TO APRIL 2013
OLIVER BRAID (UK)
Born in 1984, Lives and works in Glasgow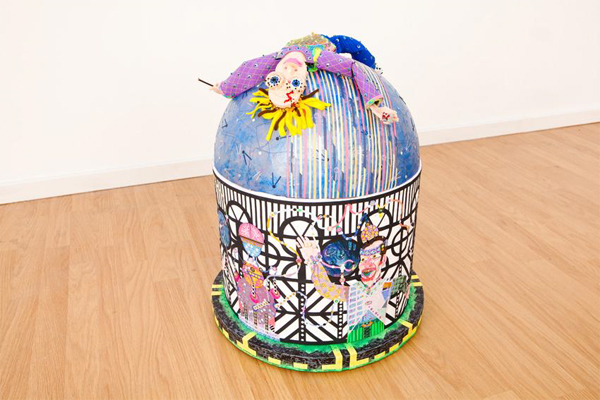 Oliver Braid, Predictions, Cardboard, paper, paint, pencil crayon, embroidered foam, felt and foam core. 2010.
"With my recent work I am aiming to advance as an artist who uses practical tactics to handle the study of happiness.
Stimuli for these soundings come from affection, buoyancy and camaraderie – accentuating these themes to evaluate their contribution to the production and motivation of creative inspiration, and explore their conceivable critical currency.
Formerly I have partitioned my practice through two divergent strategies: 'objects'- static artworks attempting to articulate social situations through representation - and 'projects' - a more candidly engaged approach, such as a collaboration or curatorial enterprise.
Currently I am investigating fresh routines to reconcile these segregated procedures."
See also Oliver Braid's blog here
JEAN-ALAIN CORRE (FR)
Born in 1981, lives and works in Lyon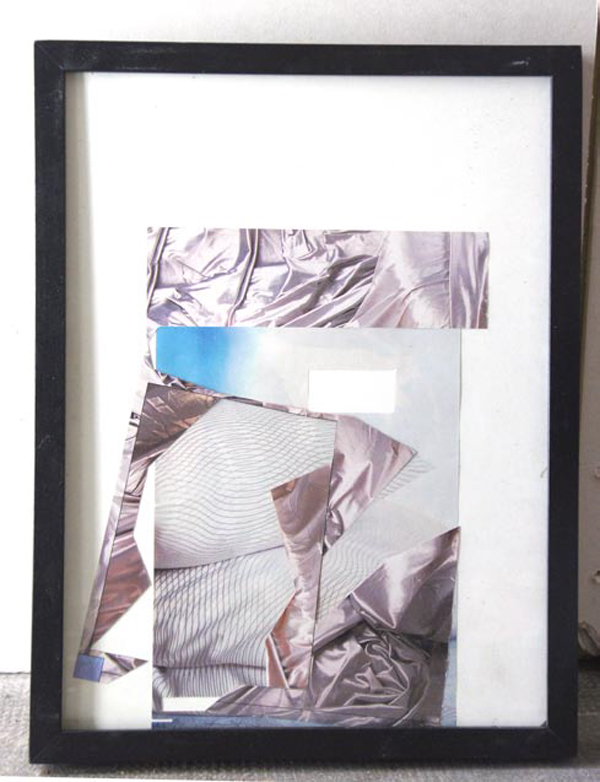 Jean-Alain Corre, empty geometries (liste 10 et 11), 2012; 0,40 x 0,30 m; Collages encadrés
"Johnny is a title for a set of works which I like seeing as a kind of serial. Johnny is not a copy. It is not an avatar either. It is a character without scenario. His wanderings allow me to create, to collect, to allocate forms resulting from our pre-industrial daily surroundings".
HYE-SOON SEO (KR)
Born in 1980, lives and works in Tarbes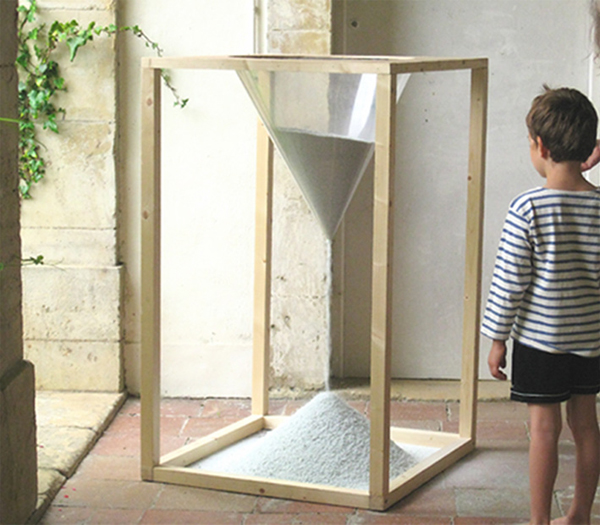 Hye-Soon Seo, 10'17", 2010, 127cm x 80cm x 80cm, porcelaine, bois, rhodoïd
"I realize sound pieces which play with our senses (hearing and sight) where noises, silence and voice in different acoustic contexts. They rely on hearing perceptions, short-lived aspects, contemplations, reflections and memories through forms, objects or phenomenons. All this restores the sound experience to a space of imagination."
_
FROM MAY TO JULY 2013
RACHAL BRADLEY (UK)
Born in 1979, lives and works in Glasgow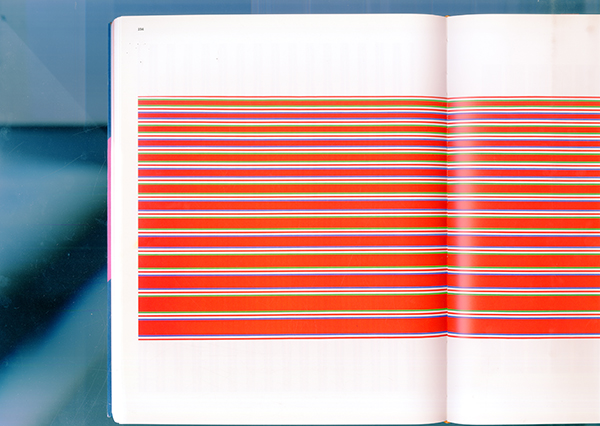 Rachal Bradley, Out of Season 6, 2012, Digital c-type print on Di-bond, 150 x 106.9 cm
"Rachal Bradley was born in Blackpool, UK. She works mostly with photography, video and writing. Her image-making and writing have an analytical approach, which she enjoys. Most recently her work was included in Interiority Complex, Cubitt, London, Strohwitwe, 24 St.Vincent's Crescent, Glasgow, That is the Dawn, Galerie Gregor Staiger, Zurich and LABOUR, Kunsthall Oslo, (all 2012). She has studied Fine Art at Goldsmiths College, California Institute of the Arts, Glasgow school of Art and Law at the University of Bristol. With artist Matthew Richardson she recently co-founded and runs OHIO, a gallery in Glasgow."
CYRIL VERDE (FR)
Born in 1986, lives and works in Issy Les Moulineaux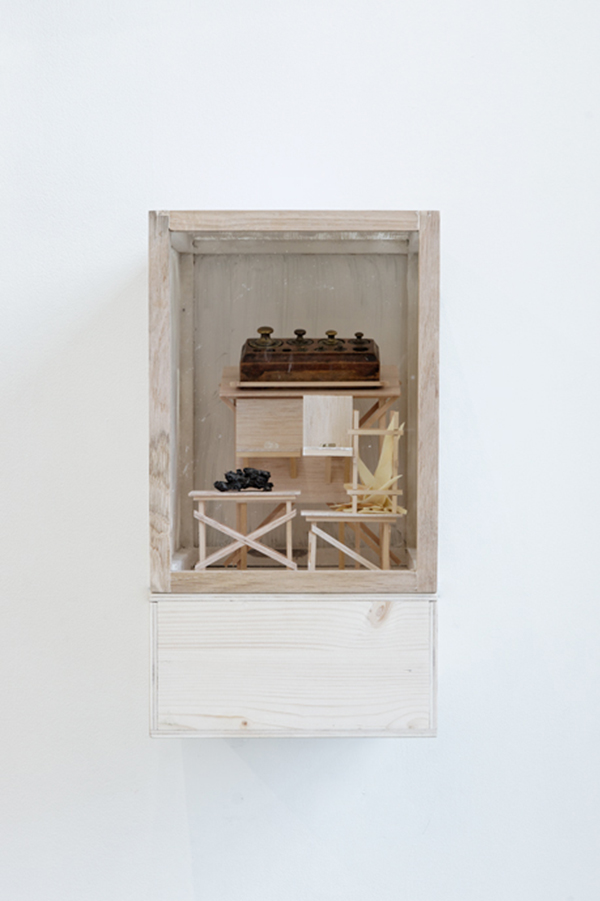 Cyril Verde et Aurélien Mole, Objets incomplets/Diagnosis, sugar, coffee, silver, galalithe, wood and glass, 2013
"Cyril Verde's work is an exploration of time and energy organization methods. The shapes he develops are the result of minute choices, in his macro-curatorial practices (scheduling, connecting with possible collaborators, etc.) as well as in the management of more specific activities (protocols, choice of tools, etc.). He is particularly interested in the scripting of work through editorial means such as the patent, academic workbooks, user manuals, and so on. Since 2012, he has dedicated some effort to drafting instructions which, when activated, engender sculptures, situations, exhibits; ephemeral incarnations of a homogeneous editorial form tending toward the convergence of the project, the protocols and the archive. Conceived to be read, understood, and interpreted, the collection of these "instructions" establishes a specific work frame and the outline of an annotated catalog in constant progress."
LIAM WITTER (UK)
Born in 1988, Lives and works in Newcastle

Liam Witter, Snow Day Actions. January 2011
"Liam's practice manifests through the public interventions he makes. These consist primarily of subversive actions that take place in an urban environment. His aim is to explore how to translate large subjects such as Urban Development, Regeneration and Public Art into actuality. For Liam visual art is a non-verbal communication to let a viewer experience the conjunction point between the two types of experience. The artworks he makes represent history with a form of fluidity, using the study of proxemics; human-spatial interactions in relation to culture, to produce a dialogue between Erfahrung (Experience document by fact) and Erlebnis (Lived experience).
He is particularly interested in spatial transformations through events both, staged and spontaneous, preferring to base an artwork around a particular event that encroaches itself on an urban environment and document the ways in which they manifest through human interaction. The interpretation of events results in a monument to lived experience."
_
FROM SEPTEMBER TO DECEMBER 2013
MATHIS COLLINS (FR)
Born in 1986 in Paris where he lives and works.
Mathis Collins' work is a seasonal theatre on tour with the rural and urban arts traditions of the mediterranean regions. His actors are the influences that these art forms generate on people's lives, and his stage designs are the weeps and silences that march with daily tragedies.
During the summer in the cork forests where are celebrated bark harvests and during winter when ablutions are done in bars by barrel's taps ; Mathis is an anthropomorphic public stage, drunk and silent. A stage to project the vision of one's own tragi-comédie, caricature and pamphlet.
Looking at the influences that art has on agriculture, craft, religion and tourism ; Forests, bars libraries and public fountains are places favoured by the artist, to reveal unknown artistic practices, while harvesting, drinking and cleaning it's laundry.
Recently, the work of Mathis Collins was shown at the Chalet Society in L'atelier des testeurs (2013), at the Centre d'art Edouard Manet de Gennevilliers in Les référents (2013), at 1M3 in Lausanne in a solo show, BARK (2012) and at Palais de Tokyo in collaboration with Cyril Verde in DYNASTY (2010).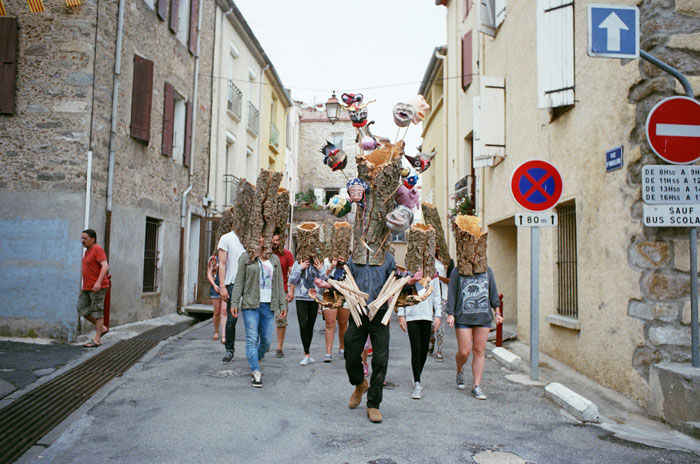 La fête de la récolte du liège de Maureillas (66) célébrée par des jeunes du village, 2013. Lambda Print, variables dimensions, Courtesy the artist.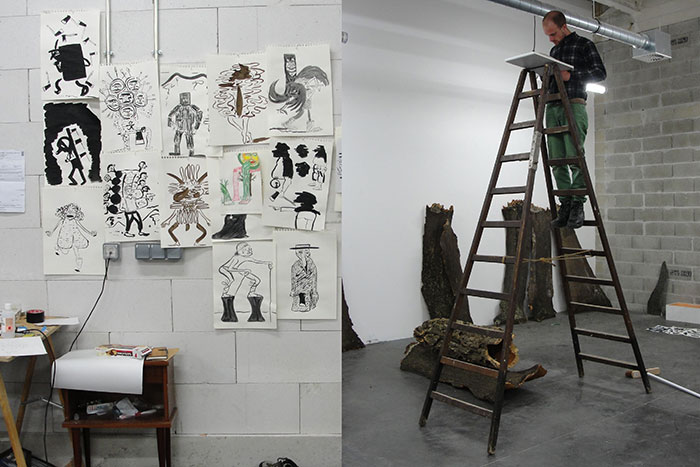 View of studio, November 2013 © Photo Chloé Curci
ALEXANDER MILLAR (GB)
Born in 1990, lives and works in Glasgow.
My work is an installation based practice that uses a variety of different elements, including video, photography and sculpture. I am interested in expressions of everyday monumentality and beauty, and in dislocating objects from their habitual context, I aim to expose some of the anxieties and desires that can underpin them. It is with a sense of humour and pathos that the work is most interrogative, while ideas around the theatre of the absurd and tableaux vivants are a continuing preoccupation of mine.
Frequently my aim is to re-animate an image through sculptural means, and in doing so, challenge its representative capabilities. What often results is a quite musical arrangement of both natural and designed forms.
Bio
Alex Millar (b.1990) is a Scottish artist that lives and works in Glasgow. He Graduated from Fine Art at The Glasgow School of Art in 2012 and currently has a studio in the west end of the city.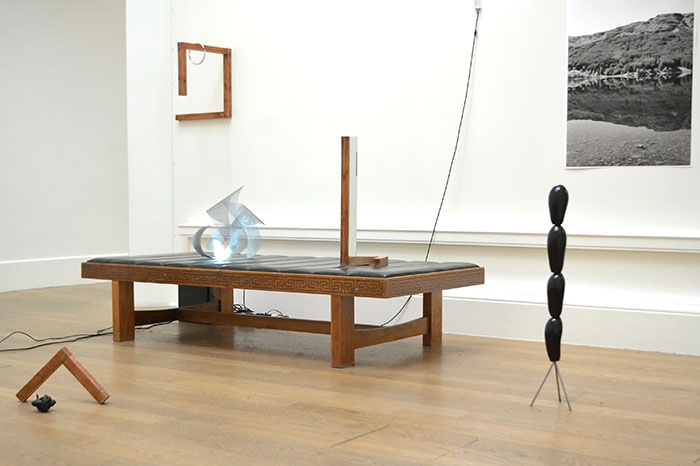 Alexander Millar, Wave 2013, Installation view - metal, wood, leather, lights, aubergines, mirror, looped video, print (2)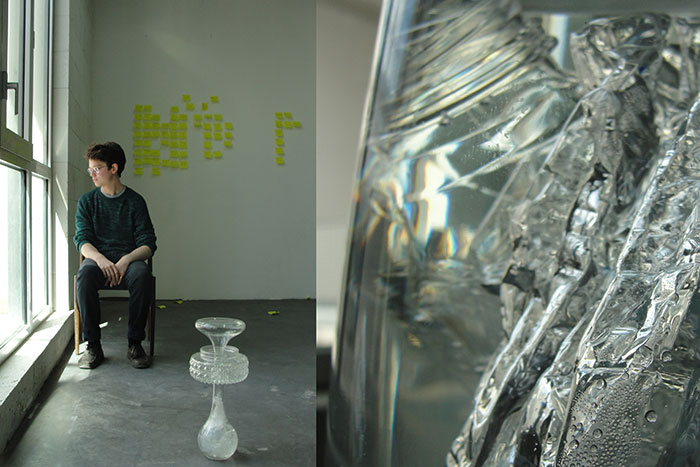 View of studio, November 2013 © Photo Chloé Curci
CATARINA OLIVEIRA (PT)
Born in 1984, lives and works in Lisbonne
Through films, performances and texts my work experiments with story-telling and (re)telling histories. I'm fascinated with how stories and images have the power of exposing us to poetics while simultaneously confronting us with slices of life, depictions of a social or individual reality. My works assemble different impressions, memories, allegories and thoughts, in montages of lapses, repetitions and motif variations that give rise to cyclical poly-vocal narratives.
I'm particularly interested in how contemporary western society understands and relates to time and memory. I have been investigating through my work how certain authorities and entities strive to perpetuate certain myths and how historical and cultural narratives are generated. Different authorities have found in progressive and dialectical forms of narrative a way to assert their agendas and secure their hegemony. In order to assure these forms as conductors of their authority it is necessary that the categories and entities they encompass are perceived as stable and unified truths. My practise is populated with characters, locations, objects and memories that aren't stable and fully crystallised entities, instead by fragmented ones or in flux. The narratives in my works rarely behave linearly, so that they can call attention to what the organisational and compositional models of story and history telling we have inherited might encompass. 
Catarina de Oliveira get a Master at Piet Zwart Institute (Rotterdam, NL) en 2012; recently her work was shown at Parkour (Lisbonne, PT), Serralves Museum (Porto, PT), The Watermill Center (NY, US), Bonheur Theater (Rotterdam, NL), and at HEAD (Genève, CH), she get a Grant from Fondation Calouste Gulbenkian.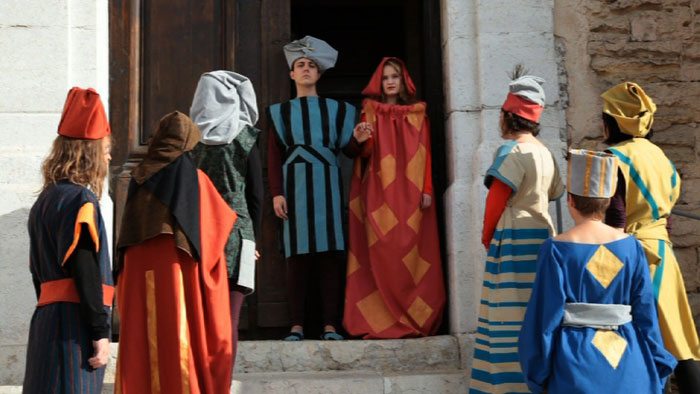 Le Couple Silencieux (2014) HD, color, sound. Co production Fondation Calouste Gulbenkian.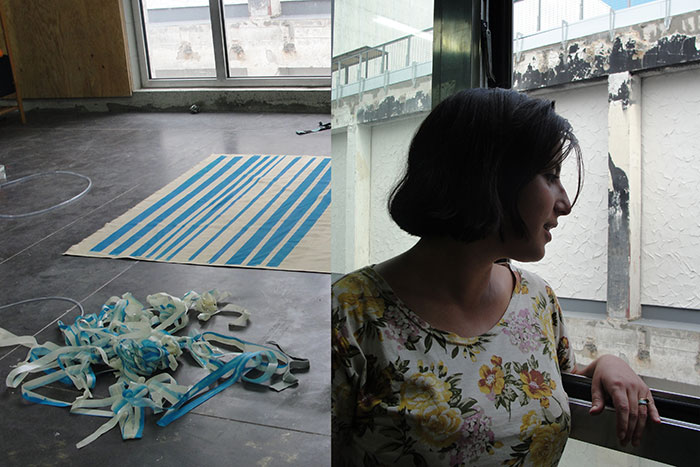 View of studio, November 2013 © Photo Chloé Curci