2019 ARTISTS IN RESIDENCE
Simon Asencio addresses invisible choreographies, often using substitution and aporia as means to develop, circulate and present his work.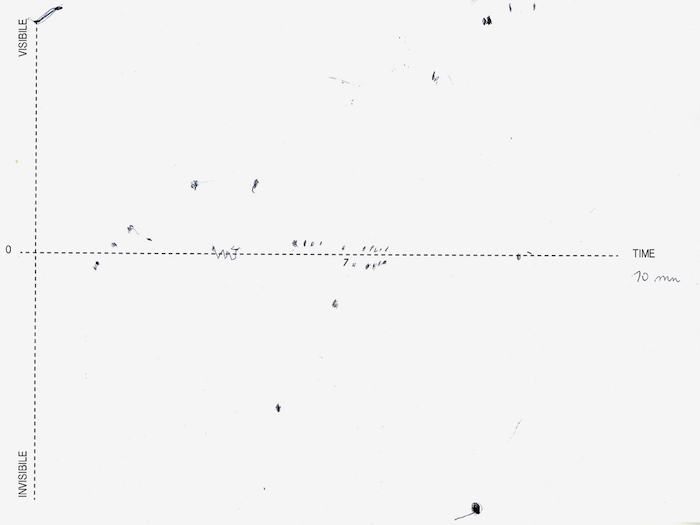 Simon Asencio, Alpha Series: The Invisibility Practice, Drawings made by witnesses during a practice session of invisibility in Strasbourg, 2013
Florent Audoye's artistic practice is guided by essential questions regarding the codification systems that govern our lives and our relations with the institution (...)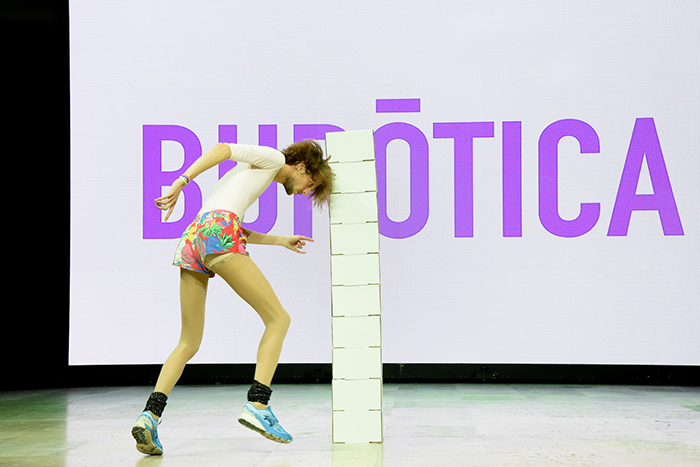 Florent Audoye, Burotica II (action), Performative installation in 3 acts during 3 days, Festival DO DISTURB #4, Palais de Tokyo, Paris, 2018. © Laurent Kapelski
Taking quotidian surroundings such as architecture, urban design or fashion as departure, Christiane Blattmann's sculptural practice aims to dissolve clear disciplines of creation and challenges the autonomy of those fields.
Christiane Blattmann received the support of the Goethe Institut Marseille for her residency.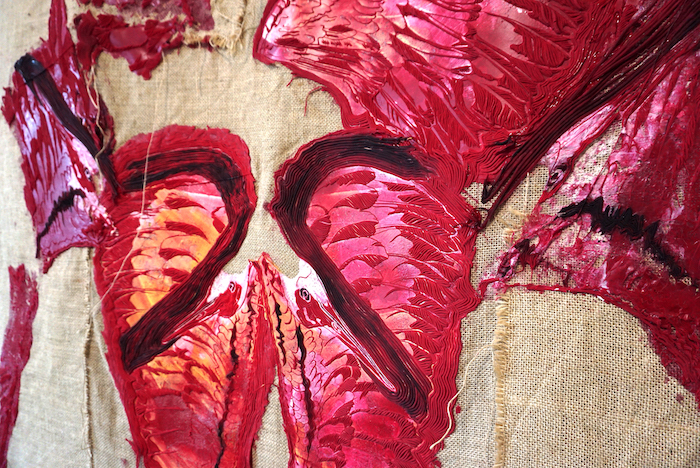 Christiane Blattmann, Hear (detail), silicone, pigment, jute, exhibition view, The Community, Paris. Collection Svenja und Mark Lüdemann. Photo: Aurélien Mole.
Shirley Bruno's films and video works draw from her Haitian heritage preserving and radicalizing her ancestral traditions and mythology. She creates modern myths that expose the slippery spaces between the material and metaphysical world, documentary and fiction, between collective memory and history.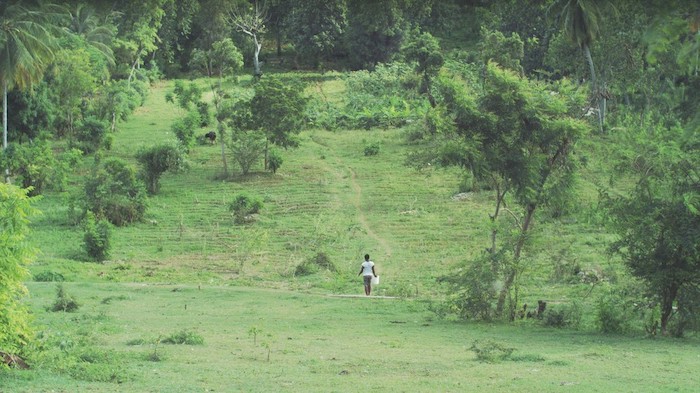 Shirley Bruno, Tezen, film, 2016.
Estel Fonseca's work is a visual representation of the connection between body, spirit and emotion as a whole, going from the body's shapes to spirit and emotion (...)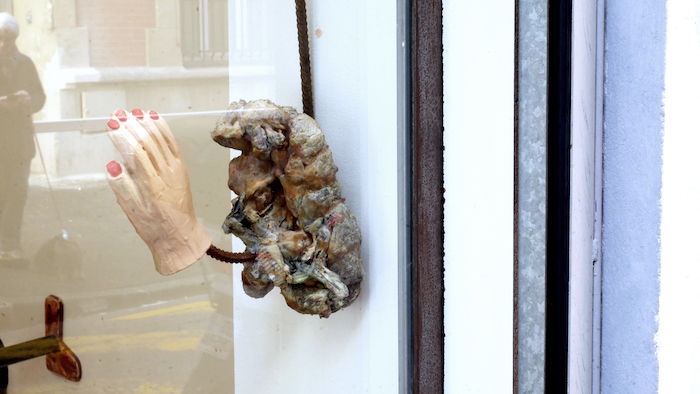 Estel Fonseca, MAMMIFÈRES À FREIN (detail), terra cotta, paper mache, ex-voto, painting, et steel, exhibition view AUTOMNE HIVER INTERSAISON, Galerie du Tableau, Marseille, 2019 © Estel Fonseca
_
DOROTA GAWEDA & EGLÈ KULBOKAITÈ
In our work we address feminist inspired theory and fiction, technology-driven emancipation and discursiveness of space. We work within a variety of media, starting with performance through installation, fragrance, sculpture to video (...)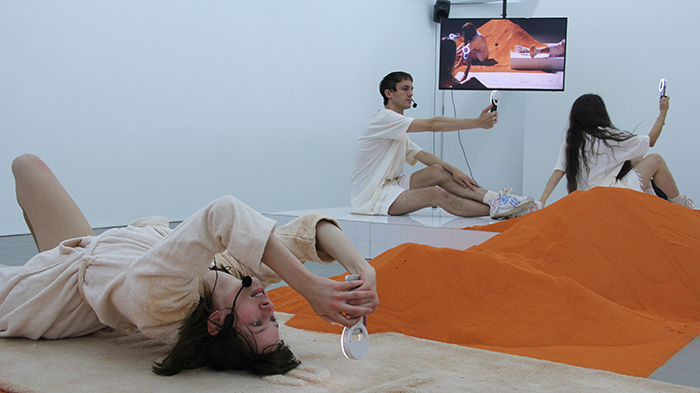 Dorota Gaweda & Eglè Kulbokaitè, YGRG 14X: reading with a single hand V, solo exhibition and performance at Cell Project Space, London, 2018.
Julian Hou's practice involves the development of audio fictions that integrate music with spoken language, hand made costume and printed clothing, as well as pattern-based digital collages rooted in drawing and design (...)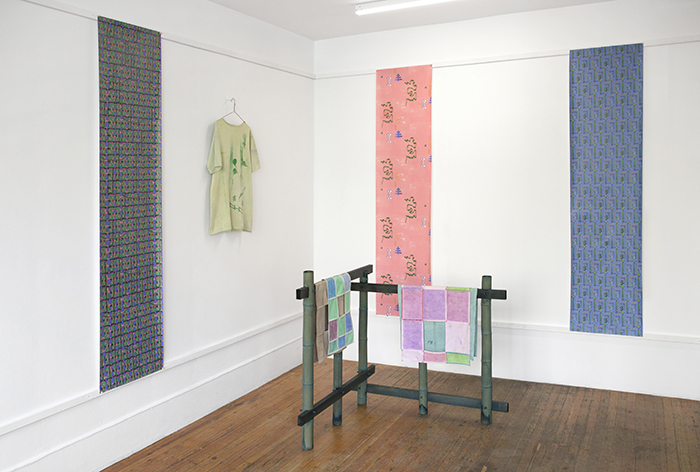 Julian Hou, Dreamweed, installation view, Unit 17, Vancouver, 2018
_
ANNE LISE LE GAC
With Arthur Chambry
Anne Lise Le Gac's residency at Triangle France - Astérides in partnership with festival Parallèle, Marseille.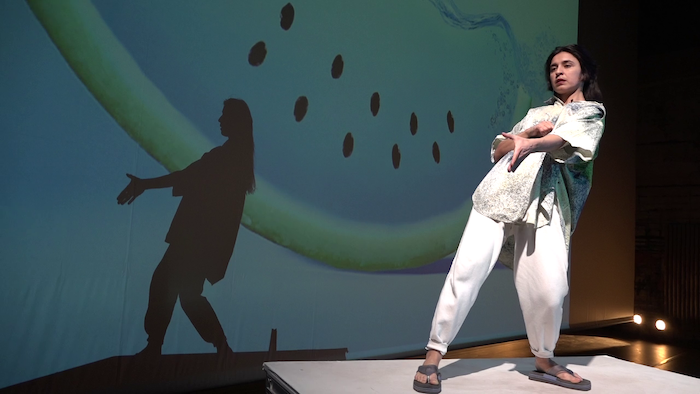 La Caresse du Coma ft. ANGE 92Kcal, Festival Parallèle, Montévidéo, Marseille, 2018. © Caroline Barc
Fleur Melbourn makes films and installations that explore humanities' exposure to malevolence at the hands of power (...)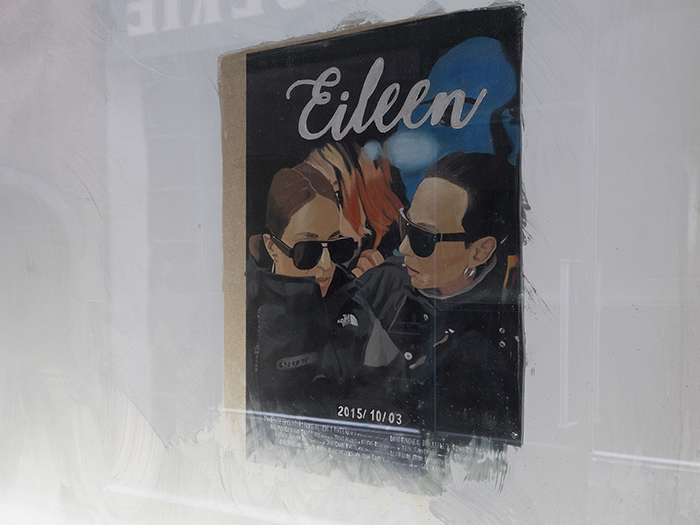 _
JEANNE MOYNOT & ANNE-SOPHIE TURION
In partnership with Festival Actoral, Marseille
Together, Jeanne Moynot and Anne-Sophie Turion move freely from the white cube to the black box, by creating installations, performances and shows.
Josèfa Ntjam works with video, writing, installation and photomontage, creating possible's worlds, or futuribles*. A world where body dosent' be anymore, plants in revolt, and universes where volcanoes stand alongside coral clouds, in the shadow of palm grove.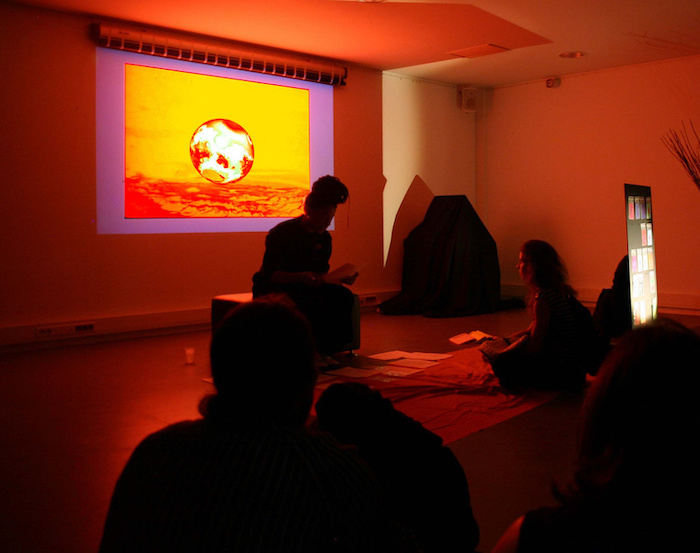 Josèfa Ntjam, Plants in revolt, performance, 90 min., Artothèque de Strasbourg, 2018
_
BEN SAINT-MAXENT
In partnership with OÙ, Marseille.
Ben Saint-Maxent develops projects as many contributions to his researches on the history of the making of exoticism.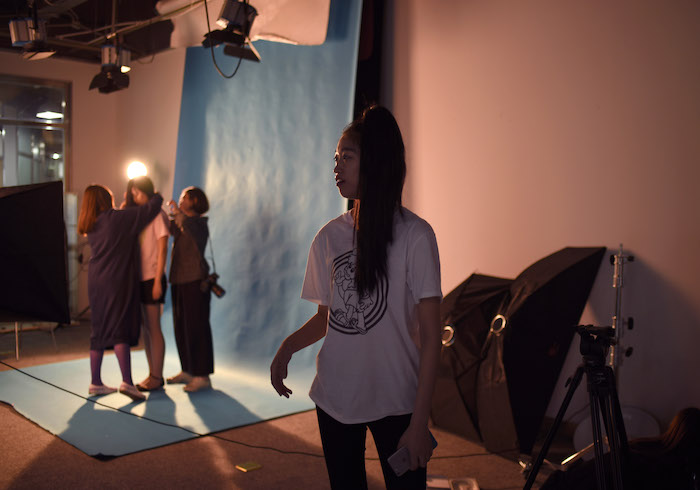 Ben Saint-Maxent, Loot It, performance with Tanguy Beurdeley and Gaël Canton, 2016, SIVA, Shanghai
Eothen Stearn is welcomed as part of the international exchange program between Glasgow Sculpture Studios and Triangle France - Astérides.
A 7 years old exchange program realized in partnership with Glasgow Sculpture Studios, with the support of the Foreign Relations Office of the Marseille City Council.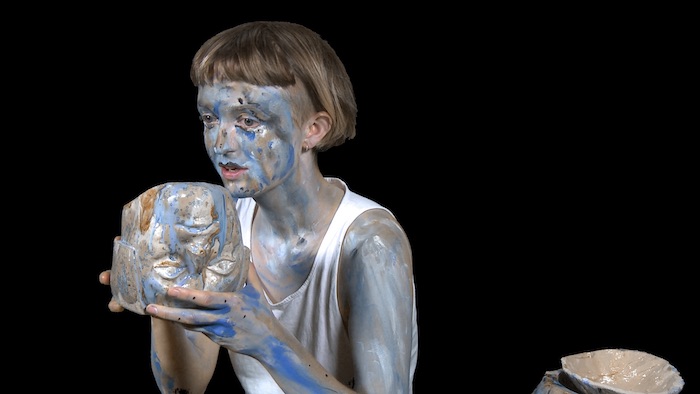 Eothen Stearn, Janus head series, ongoing, ceramics, performance to camera.