2015 ARTISTS IN RESIDENCE
_
FROM JANUARY TO APRIL 2015
Les drames 3D grillagés
Resident's exhibition
BENJAMIN BLAQUART
Lives and works in Paris and Bruxelles
www.blaquartbenjamin.com
Using the synthetics materials of artifice and new medias technologies to reuse them noticeably, Benjamin Blaquart creates transgender installations and objects: sculpture, website, video, music. These creations are defined as space-times that reuse and divert the worlds of digital and amusement parks artificial universes in a psychological way.
He takes interest in special effects and scripted spaces as malls, video games and churches, for their capacity to produce reality and also new perceptions of the body and psyche. Integrating their strategies, the spectator is submerged in immersive works between fear, humor and contemplation. Through symbolism and imagination, he links different universes (grotesque and science fiction, psychoanalysis and horror...) which were not supposed to cross each others and mutates them into an electronic baroque.
Going back and forth between analog and numerical, inside and outside, Benjamin Blaquart breaks off the aesthetics superficiality of entertainment to load them up emotionally and reveal pushed back element.
Graduated from the Villa Arson and La Seine research program (ENSBA), Benjamin Blaquart realized in 2014 a solo show at La Centrale Brussels art center and has participated in various international exhibitions like the Quai Branly (FR), Athen contemporary art center (USA), the Kunsthalle in Bonn (DE).??It prepares, along with architect Pierre De Brun, an architecture project mixing design, corporate identity and business language that will be exposed to Brussels current 2015.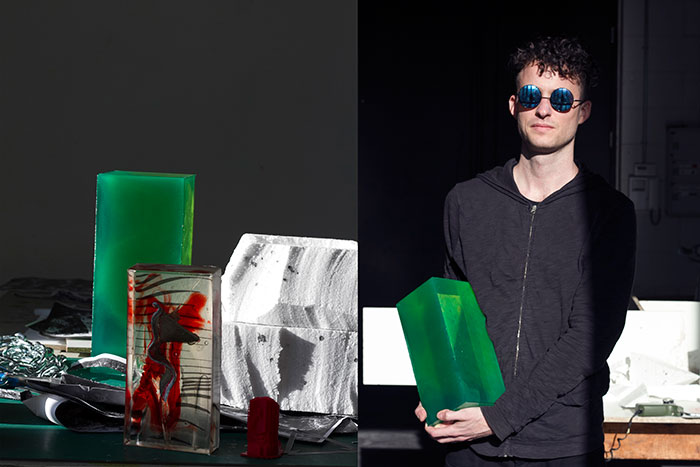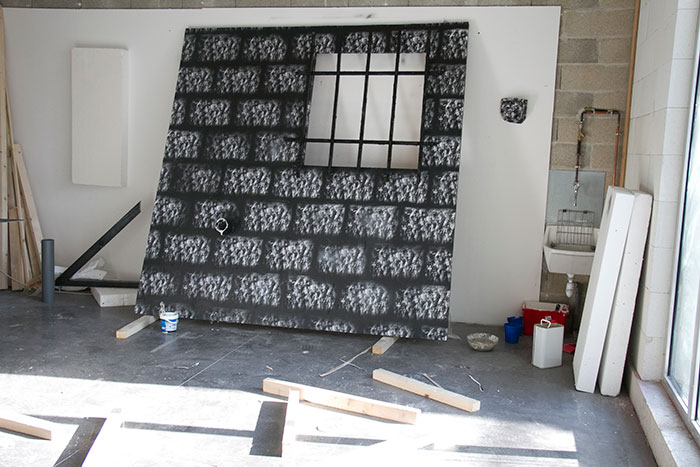 Views of studio, Triangle France, February 2015. © Photo Triangle France
KEVIN GALLAGHER
Born in 1986 in Chicago, US. Lives and works in Rotterdam, NL
http://www.kevingallagher.info/
Sculpture is an armature: it can be mounted, modulated, affixed, broken down into parts, recombined into new configurations. It is the hardware, like a skeleton, to give presence to effects. This process is transient, sensitive, time-based. To allow a sculpture a good life there must always be a latent element of this nod towards time. Not historical time or timeless time, but a festering time, a dripping time, pulsating, splashing, odorous. The most exciting moments for me in constructing works is allowing for this variable, something that will, can, and should change. This comes close to life, and maybe even intelligence.
Recently I have been visiting a bio-mimetic robot laboratory in Delft. I believe the way they think about bio-mimicry when constructing robots can provide a helpful guide for describing my own sculptural work. They break down the practice of bio- mimicry into three different categories: systems (eg. ecosystem), forms (eg. species) and processes (eg. photosynthesis). I find these categories to be a very helpful guide for considering my own practice and artistic production, especially when it comes to sculpture.
Kevin Gallagher (1986, Chicago) is an artist based in Rotterdam. Gallagher completed his Bachelors degree at the School of the Art Institute of Chicago (2009) and his Masters degree at the Piet Zwart Institute in Rotterdam (2013). Upcoming exhibitions include a solo show at Lodos Gallery, Mexico City and Prospects and Concepts at Art Rotterdam. Recent exhibitions include A Thousand Varied Uses, Nogueras Blanchard, Madrid (2014); An Evening in Three Acts, Galerie Fons Welters, Amsterdam (2014); Nothing Could Be Slow Enough, Nothing Last Too Long, TENT, Rotterdam (2013);  Three Artists Walk Into a Bar, De Appel, Amsterdam (2012). In 2013 he was awarded the Werkbijdrage Jong Talent  by the Mondriaan Fund.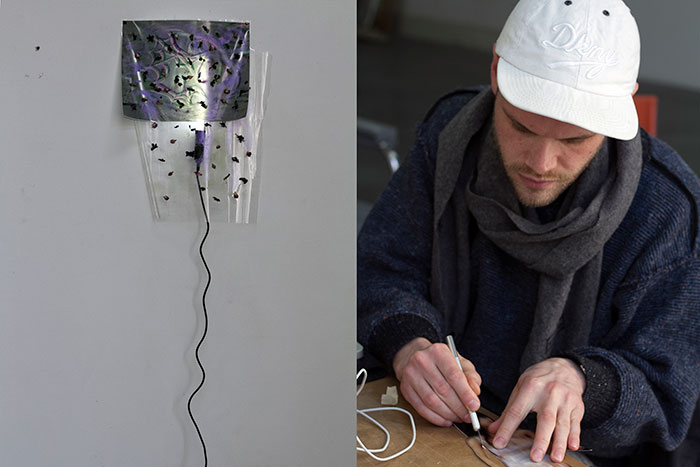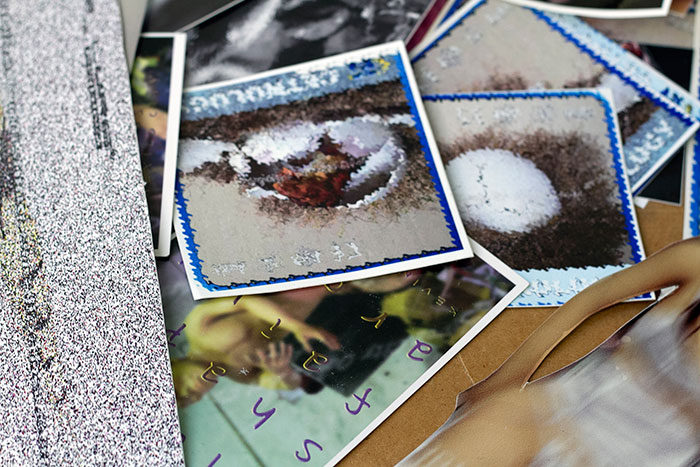 Vues d'atelier, Triangle France, février 2015. © Photo Triangle France
CAMILLA WILLS
Born in 1985, lives and works in United Kingdom.
Camilla Wills writes and works with video and print technologies. This year she is part of Le Commissariat at Treize (Paris) with Laetitia Paviani and Carl Phelipot. Their programme is 'BABY DOC presents' and considers crypto-currencies, sweating as distribution, family-life, growing up, stress, stuff that passes through the skin. Recently her work was included in 'My Vocabulary Did This To Me', South London Gallery, London, 'Voice ~ Creature of Transition', commissioned by If I Can't Dance... and Rietveld Academie, Amsterdam, and 'Bard Girls Can Fly', White Flag Projects, St. Louis (2014). In Spring 2015 she will publishLove Your Parasites in association with Paraguay Press. Loosely a book about motif, survivalism, unregulated circulation and the transactions of distribution. She edited Moyra Davey's book of essays I'm Your Fan (co-published with Camden Arts Centre, 2014); and from 2012-14 she worked at Book Works, London.
Understanding the port as a boundary but also a passage, where the status of the transitory and migratory assumes a form or neurological web. When we travel there is always the possibility of a slip in identity. The port is a place where an imagined community, that of the nation, is secondary to all the chance encounters of commerce. Perhaps the port and the Mediterranean sea can be understood as protean non-places for identity experiments. I will be actively looking for details and tensions where disembodied economic terms -- inflation and trade deficits, or Marxist concepts of alienation and abstraction --  have a very specific, visible effect on bodies and sites.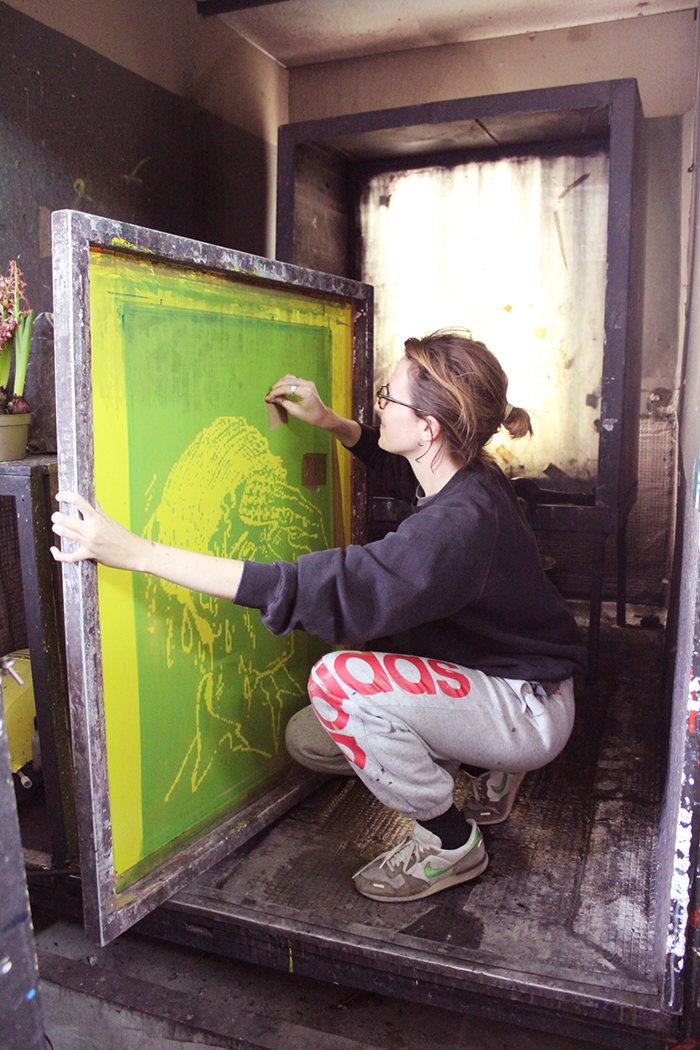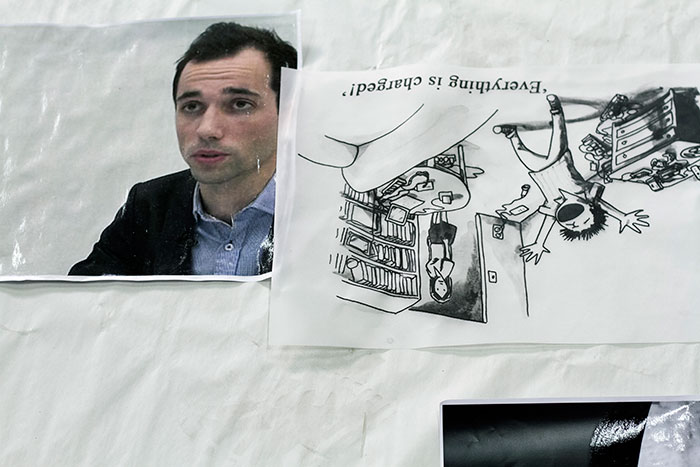 Vues d'atelier, Triangle France, février 2015. © Photo Triangle France
_
FROM APRIL TO JULY 2015
Vittorio Brodmann
Lives and works in Zurich, CH
His work seems inspired by the tv-reality and the celebrity culture. This is particularly visible in his paintings, through his caricatures and grotesque scenes represented. His paintings resemble real shows, make us travel in spooky spaces embellished by figures to disarticulated body. His paintings transforme herself and to transport us to imaginary worlds, however influenced by today's era.
Vittorio Brodmann also practice the performance, and takes to heart his role as comic, expressing a more complicated position of comedy.
His approach is based on experiences, the situations encountered, that he transpose into its work.
The Vittorio Brodmann artistic training is quite traditional. He has been in the High School of Art of Zurich and in School of Art and Design in Geneva where he received his BFA. His work has been shown at Leslie Fritz gallery in New York, but also in New Jerseyy art center in Basel. He has also been featured in numerous group exhibitions such as the exhibition D.R.E.S.S.I.N.G. curated by Paul Pieroni, presented at Space in London. In 2011, he was awarded the ZKB Art in Zurich.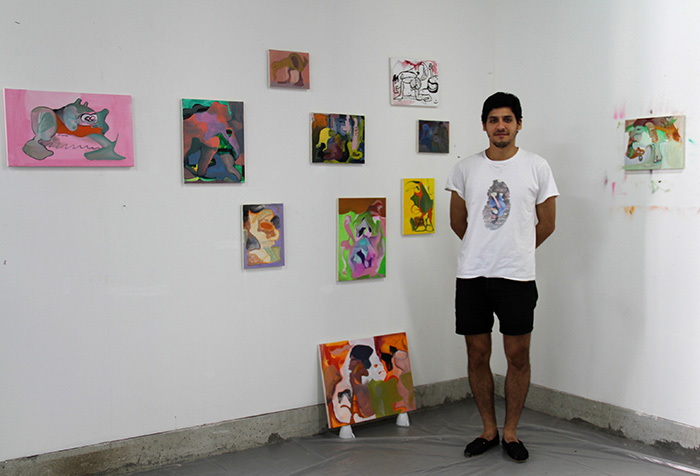 Views of studio, Triangle France, May 2015. © Photo Triangle France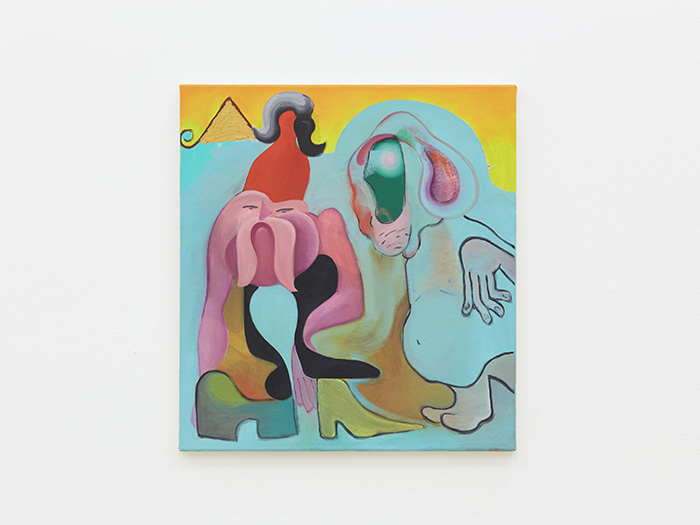 Subtle Patterns, 2013, Oil on canvas, 50 x 46 cm © Courtesy of the artist and Galerie Gregor Staiger
Thomas Merret
Lives and works in Paris
www.thomasmerret.com
World representation and its reproduction is the foundation for Thomas Merret's work; his approach is influenced by Walter Benjamin, Robert Filliou, Jean Luc Moulène and Jason Dodge. Photography is the primary source for his work. It specially questions photographic issues, and his research gradually takes form around them. However, he uses multiple mediums to address questions of printing, color and perception. His pieces are involved in long-term commitments of many years. They are strongly rooted in Art history and technology but he works through various forms of representation. The shape of the work is simple and in need of a system:
he invents an action that allows distance and control because what is important to him is what happens after the system is applied. The driving force of the work seems to be this persistent research of what currently exists "during the work" and "after the work". His series of photographs of the seas and a complete archive of maritime limits is a perfect illustration of a work in progress and a "project of a lifetime." It manifests the intense relationship of a gesture with an artwork by showing an imperceptible border and depicting only an unchanged horizon. The immense task undertaken by the artist gives additional value to each of the photographs.
Merret also photographed art reproductions from la collection du frère Clavel (2013), where he chose paintings that existed in different editions to show the difference in printing, and how an image can exist as an original and its reproductions simultaneously. The anthological signs of each piece brings us to strongly question the uniqueness of the work. The artist strongly comes back to a principle of reality. The shades of color and dye, set up by copying and printing, just reassure the vulnerability of reality. So, this reflexive and temporal dimension of Merret's work has always intended to put the viewer in the center of the work. It should also be said that his physical movements in the world power all of his theoretical research.
Thomas Merret is an artist based in Paris and graduated from the École Supérieure d'art in Clermont Métropole and from the e | m | a fructidor in Chalon sur Saône . His work was shown at the last Salon de la Jeune Creation and many group exhibitions including the IrmavepClub collective. He also recently participated in residency at Les Ateliers des Arques curated by Olivier Michelon. He is currently in residence at Triangle France, where he is working on new images of maritime limits, and new work on perception through a series of paintings.
Views of studio, Triangle France, May 2015. © Photo Triangle France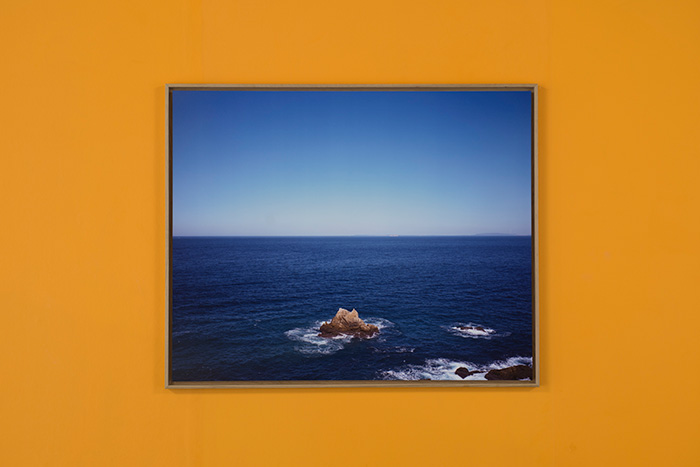 Exhibition view "Jeune Création 2014" Le CentQuatre / Paris
Gala Porras-Kim
Lives and works in Los Angeles, US
Gala Porras-Kim is a multi-disciplinary artist whose work questions how knowledge is acquired and tests the potential of the art object to function as an epistemological tool outside of its traditional, art historical context. Recent work examines the ultimate and literal signifier of culture: language, particularly its sounds. Her interests include artifacts containing undeciphered writing systems, creating an object-based ethnography that reflects on indigenous rights and the production of meaning. Specifically, she has been working on a project about the undeciphered Isthmian script, an inaccessible written form found on artifacts along the Papaloapan River in Mexico, and its link to the current development of a standardized dictionary of Zapotec languages in Oaxaca. This project highlights the successes and failures of attempting to decipher a language using mute objects that contain inaccessible meaning, and how the development of the written dictionary can provide a link to the past. 
Porras-Kim's work has been included in exhibitions at Commonwealth and Council, Thomas Solomon, Los Angeles Contemporary Exhibitions, Los Angeles, CA; The Bindery Projects, Minneapolis; 18th Street Art Center, Santa Monica, CA; Ex-Teresa Arte Actual, Mexico D.F; La Central, Bogota, Colombia; FOXRIVER, Singapore; and Dobaebacsa HQ, Seoul, Korea. She received a BA and MA from UCLA, MFA from CalArts, and attended the Skowhegan School of Painting and Sculpture. She is a 2013 California Community Foundation Fellow and a 2015 Creative Capital recipient.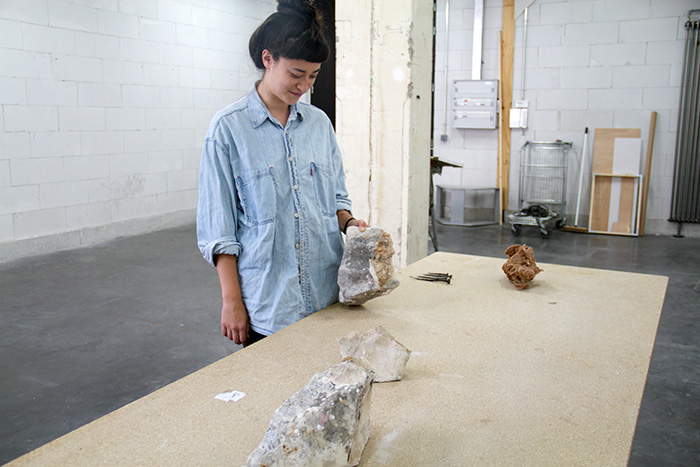 Views of studio, Triangle France, May 2015. © Photo Triangle France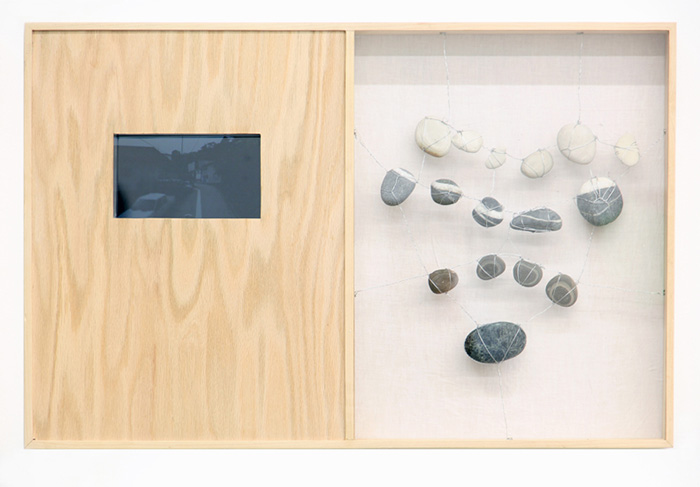 Towards Huautla, OX, 2012, Wood, stone, fabric, mirror, Google Maps video (15m,25s loop) 17"x 26"x 3"
_
FROM SEPTEMBER TO DECEMBER 2015
Morgan Courtois
Lives and works in Paris, FR
To explain his work, he refers to the movie making-of Passion of Jean-Luc Godard where he explain that he built this movie from a picture : a woman who comes out a car with a lily of the valley bouquet. Felini meant a lot as well because Morgan Courtois first wanted to be in the movie business .
"For the last things I did in Hamburg : there was two lamps which are usually used in horticulture in order to recreate a light spectrum specific to each seasons. A wintery for the growing period and heatwave for the blossoming. The mobile was composed by gelatin as well as worn ready-made. The wintery is called Berezina, named in reference to the battle and to a funny anecdote saying how the napoleonic troops ended up carrying the sumptuous dresses from their several looting to keep them warm from the russian cold. I imagined what could of been the elements of this procession. The summery mobile foot (Snuck) came the day before my departure. It's a failure that I wound up by appreciate. It is painting with food coloring bought in the Hamburg indian neighborhood (Steindamm), the winter lamp pot also comes from this neighborhood which was next to my studio. We ended up by listening indian music, very stimulating to work."
Morgan Courtois is currently obsessed by Christina dance in Exotica of Atom Egoyan and he is thinking about producing a sculpture on Leonard Cohen song's Everybody Knows inspired from this dance. Meanwhile he's making paintings inspired by the Warburg method with Berezina illustrations, paintings of Marco Polo's "Livre des merveilles", medieval print, shots of Aguirre et la colère de dieu movie…. and he's thinking a lot about the raft slow degradation during the movie like a background image for the exhibition in october.
Born in 1988 in Abbeville, Morgan Courtois lives and works in Paris. After graduating from the Valenciennes Beaux-Arts, he majored in the Lyon ENSBA where he obtain the Paris Award. In 2014 he found  "Pauline Perplexe" with Kevin Bogey, Florent Dégé and Sarah Holveck : a suburb pavillon both studio and exhibition space. He recently participated to Heartbreak hotel, Hochschule für bildende Künste, Hamburg; to Liste, Bâle with Balice Hertling, Les trépignements du Fakir, Parc Saint Léger off-site, Pougues les Eaux ; Sweating as Distribution, Treize, Paris; Faire des fleurs, Florence Loewy, Paris; Family Matters, De la Charge, Bruxelles. He currently preparing an exhibition with Sylvie Auvray to Balice Hertling, New York.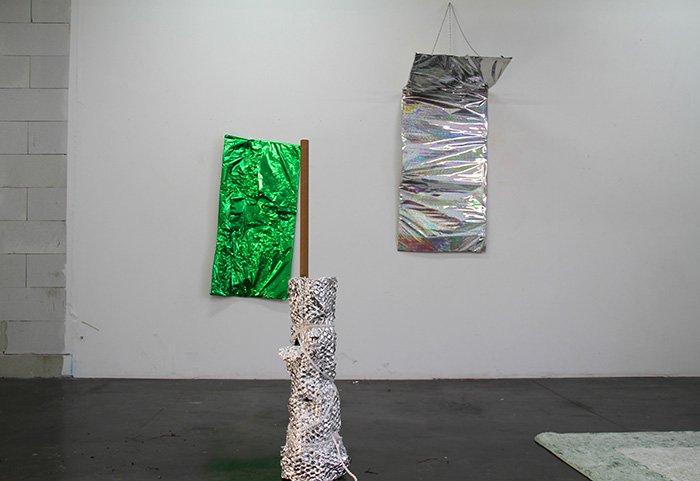 Views of studio, Triangle France, October 2015. © Photo Triangle France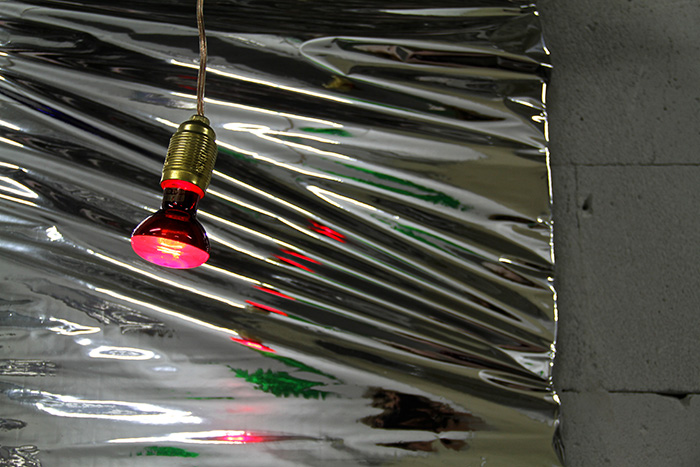 Views of studio, Triangle France, October 2015. © Photo Triangle France
Cecilia Jonsson
Lives and works in Bergen, NO
www.ceciliajonsson.com
Cecilia Jonsson is an interdisciplinary artist whose research addresses the tensions between the mineral domain and living entities. Informed by methods used in the natural sciences, her works are often site-related, artistic interpretations of empirical material. Exploring the raw materials that create our experience of the world, from their origins deep in the ground, to extraction, transformation and global exploitation. Jonsson lives and works in Bergen, Norway.
Previous solo exhibitions include Paradoxes of a Diamond, the Natural History Museum, Musei Civici, Venice, Italy; The Iron Ring, Atelier Nord, Oslo, Norway and the Seed of Metals, Cirkulationscentralen, Malmö, Sweden. She has been part of group exhibitions in venues such as Disseny Hub Barcelona, Barcelona, Spain; Kunsthall Grenland, Porsgrunn, Norway; Mauriziano, Reggio Emilia, Italy; V2_ Rotterdam, The Netherlands and Museum of Contemporary Art, Roskilde, Denmark. Jonsson received her MFA from the Bergen National Academy of the Arts in 2012 and completed the Nordic Sound Art master program the same year. In 2014 she earned Second Prize in VIDA 16.0 Art and Artificial Life International Awards for her project The Iron Ring.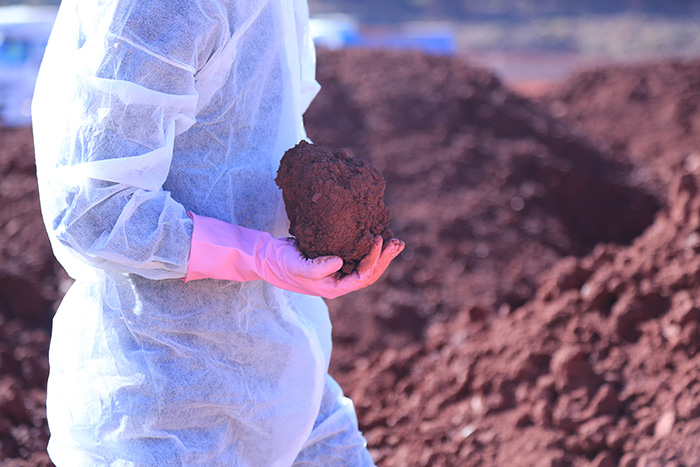 Views of residency, Triangle France, October 2015. © Photo Triangle France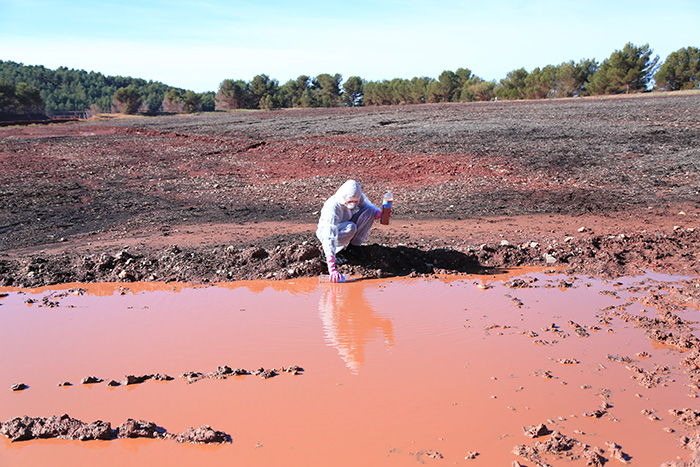 Views of residency, Triangle France, October 2015. © Photo Triangle France
Rachel Levine
Lives and works in Glasgow, UK
Levine's work concerns sculpture as both a method of research and as a medium. She employs methods of production and reproduction to interrogate cultural perceptions of objects, materials and matter in order to examine the structures of politics, histories and economics present within, and projected on to them. Within her works and installations she layers processes and materials such as; casting objects and augmenting them from their 'natural' materialities and forms, flattening and manipulation of perspective in metal cut outs, and contrasting the real and the fake within installations. She tries to question the use-value of objects by removing or subverting the material function that provides their 'usefulness' or deliberately adding or subtracting from their material value.
Rachel Levine lives and works in Glasgow. Levine graduated in 2013 from The Glasgow School of Art with a BA (Hons) Sculpture. Selected solo exhibitions include Material Anxiety Curated by Debra Lenard 2015; Café Concrete The Hayward Gallery London, Soft Chaos Intermedia Gallery The Center for Contemporary Arts Glasgow, and Here, Create Distance, Tension it… Feel the Flex. One Royal Terrace, Glasgow 2014. Group exhibitions include Fold Up, Snap On The Pipe Factory, Glasgow International Visual Art Festival, Hydrapagena The Botanic Gardens, Glasgow International Art Festival, Vernissage The Royal Standard, Liverpool, Dear Green ZKU, Berlin 2014; RSA New Contemporaries The Royal Scottish Academy, Edinburgh 2013. Residencies include Are We Looking at Dead Birds? The Banff Centre, Alberta, Canada 2014; Emerging Artist Residency The Scottish Sculpture Workshop, Scotland 2013 Home Workspace Program: Creating and Dispersing Universes that Work without Working, led by Anton Vidokle and Jalal Toufic Ashkal Alwan, Beirut, Lebanon.
Views of studio, Triangle France, October 2015. © Photo Triangle France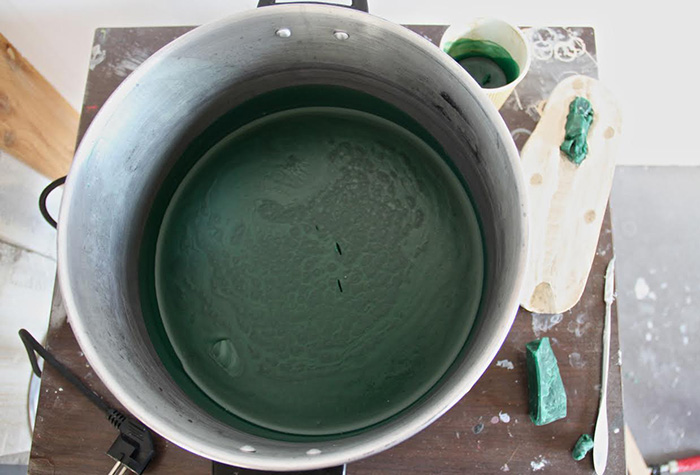 Views of studio, Triangle France, October 2015. © Photo Triangle France