ARTIST IN RESIDENCE
_
JOSÈFA NTJAM
Born in 1992 in Metz (FR). Lives and works in Aubervilliers (FR).
ntjamjosefa.com
Josèfa Ntjam works with video, writing, installation and photomontage. A world where the body doesn't exist anymore, where plants are in revolt, an universe where volcanoes stand alongside coral clouds, in the shadow of palm groves.
For several years, Josèfa Ntjam works with performed reading as an artistic medium. Embodying writing, taking words out of the mouth using "flesh-as-a-password" (chair-mot-de-passe*).
Linked with science fiction, Josèfa Ntjam develops a speculative work about cosmos as a protection zone. From the image of a ship, as Sun Ra or Battle Star Galactica, this « indefinitely moving » piece of land will remain for Josèfa this prospective place where stories, objects and images take shape.
* Futuribles is a neologism created by Bertrand de Jouvenel componed by the words futures and possibles.
* chair-mot-de-passe is an expression created by Congolese novelist Sony Lab'ou Tansi (1947-1995)
Josèfa Ntjam studied in several art and design colleges, in Amiens and Dakar (Cheikh Anta Diop University) and is graduated from l'Ecole Nationale Supérieure d'Art, Bourges (FR) and Ecole Nationale Supérieure d'Art, Paris-Cergy (FR).?Her works and performance have been shown in several venues as: Bétonsalon, Paris (2018) ; CAC Brétigny, invited by The Cheapest University (2018) ; Mac Val, with Black(s) to the Future's collective (2017) ; Artothèque, Strasbourg (2018) ; Grands Voisins, Paris, with the curatorial collective Diamètre (2017).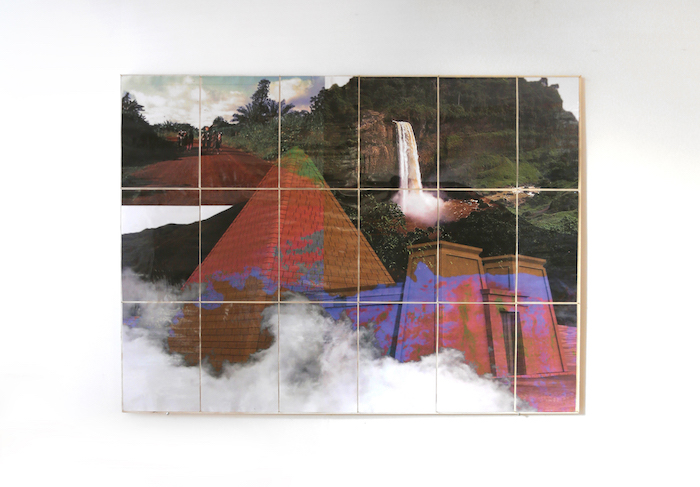 Josèfa Ntjam, Mont Cameroun, photomontage, lamination on offset printing, nails, 150 x 200 cm, 2018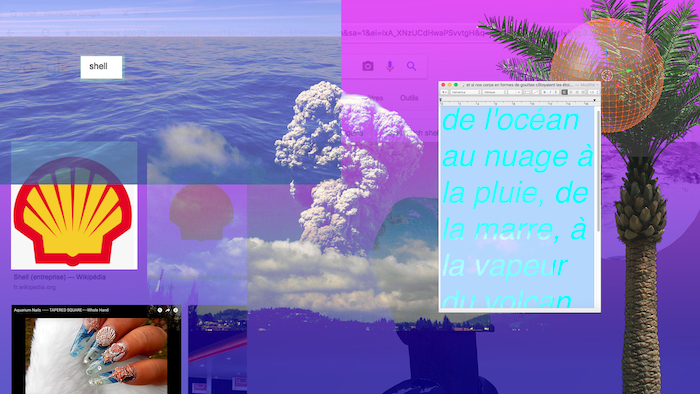 Josèfa Ntjam, Hilombi #2, photomontage, 2018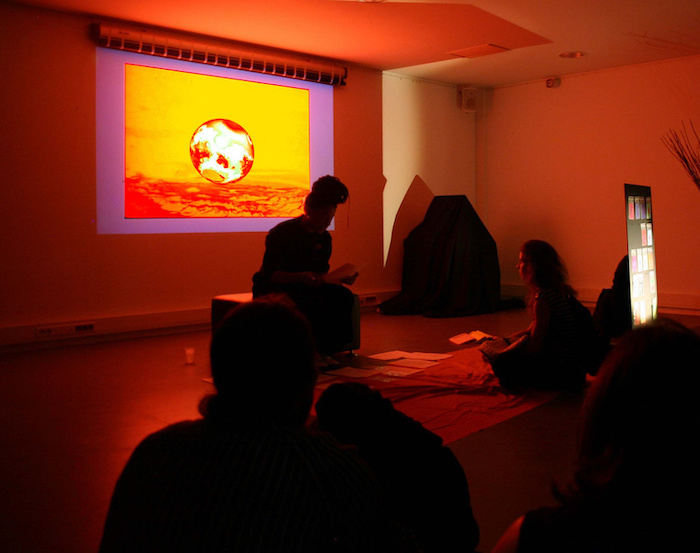 Josèfa Ntjam, Plants in revolt, performance, 90 min., Artothèque de Strasbourg, 2018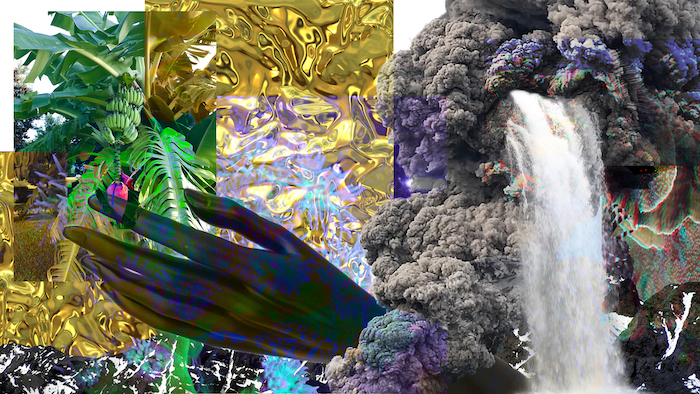 Josèfa Ntjam, Fish Tank Family, photomontage, 2018