ARTIST IN RESIDENCE
_
ESTEL FONSECA
Born in 1987. Lives and works in Marseille (FR).
Estel Fonseca's work is a visual representation of the connection between body, spirit and emotion as a whole, going from the body's shapes to spirit and emotion. Giving a shape to these 3 dimensions of the living being is a way to give it a tangible existence through matter. In our world, everything that has a tangible presence is linked to matter and energy and she is trying to find a way to rehabilitate this powerful and animated condition of the living beings. It appeared to her a strong analogy between cataclysm in the landscapes and diseases in the bodies. That's why her « volume pieces » are always in a formal indeterminacy between the landscapes and bodies forms. Disease and therapy are confounded into one volume piece.?Through it all, she is questioning the gaze that is put upon the wisdom of disease, in order to focus on what is really and profoundly blocking the action and the evolution of the person that is carrying a disease. Manipulating the ways of seeing and doing with life of which we can become the active agents, passing by our bodies. Readjusting the ways of existence, being and becoming, whether facing a project of aesthetic composition or facing an illness.
NO INERTIA as much as DEAL WITH IT. Everything is an ongoing metamorphosis with a singular movement. Her obsessions are related to the act of seeing, to the ability of improvisating, to bodies, materials, rejects and fringes. DEAL WITH IT, to be attentive to what is infecting, to choose what comes to the surface, the words that arise... To find a balance in which the disease loses its purpose. To be an artist like a seismologist, who — by listening to what is surrounding, by exploring the unforeseeable nature of the world — can announce that a volcano will wake up somewhere.
Since 2016, Estel Fonseca takes care of her mental, emotional and physical body. Estel's works have been showed for several exhibitions as « Le tremblement est invisible » at HubHug - 40mcube, Rennes, 2016 ; « Sauvetage vertical » at Galerie Straat, Marseille, 2017, and more recently « Automne Hiver Intersaison » at Galerie du Tableau, Marseille, 2019. In 2018, Estel Fonseca was in residency in Glasgow, as part of the exchange program between Triangle France and Glasgow Sculpture Studios.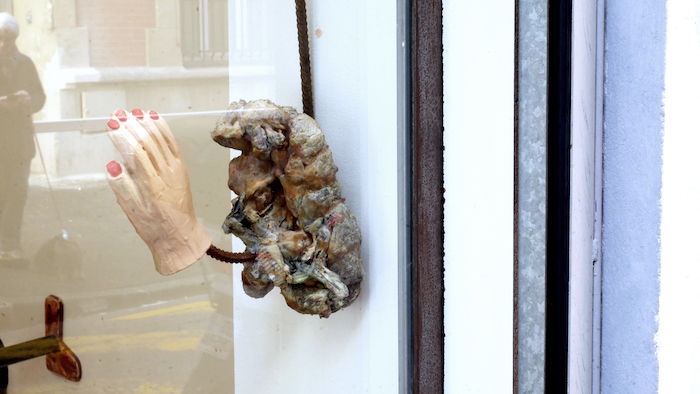 Estel Fonseca, MAMMIFÈRES À FREIN (detail), terra cotta, paper mache, ex-voto, painting, et steel, exhibition view AUTOMNE HIVER INTERSAISON, Galerie du Tableau, Marseille, 2019 © Estel Fonseca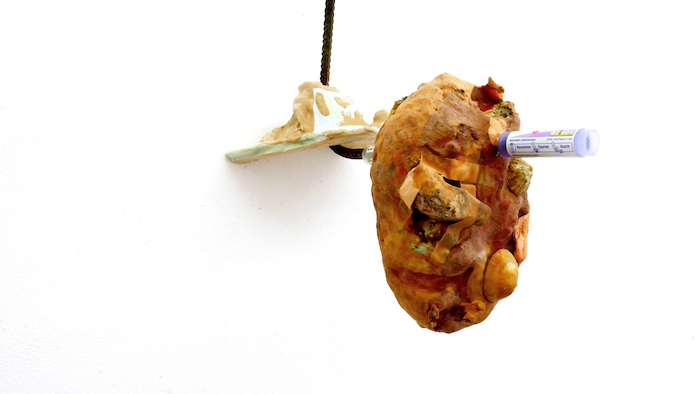 Estel Fonseca, PRENDRE SOIN, DILUTION DANS LE MONDE MATÉRIEL (detail), terra cotta, paper mache, shells, stones from Scotland, latex, painting, homeopathy and steel, exhibition view AUTOMNE HIVER INTERSAISON, Galerie du Tableau, Marseille, 2019 © Estel Fonseca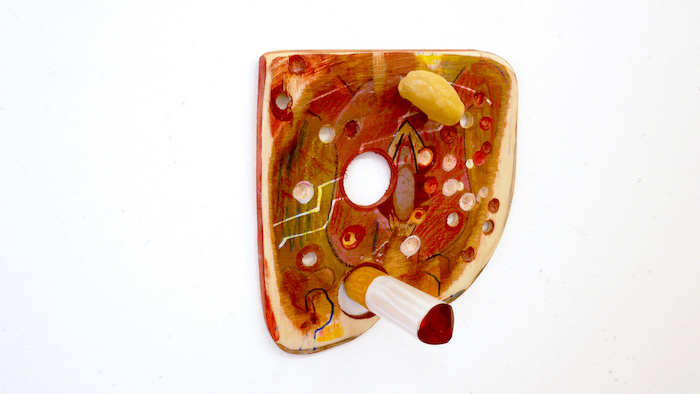 Estel Fonseca, VIVRE DANS LES PLIS, PERCER, wood, painting, terra cotta, exhibition view AUTOMNE HIVER INTERSAISON, Galerie du Tableau, Marseille, 2019 © Estel Fonseca