_
COMMUN.E
Public program, online commissions, discussions and residencies
April 19 - September 30, 2021
Commissioned and produced by Triangle - Astérides, centre d'art contemporain
In partnership with Triangle Network and Mucem
As part of the Africa2020 Season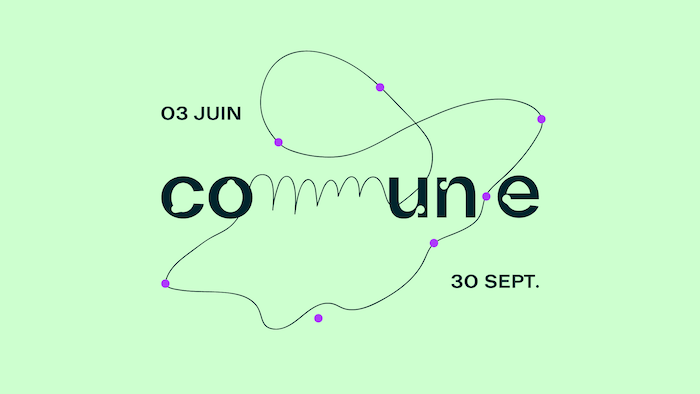 Design: êkhô studio, 2021.
Within the frame of the Africa2020 Season, Triangle - Astérides, centre d'art contemporain and Triangle Network are delighted to invite South African artist and curator Ziphozenkosi Dayile and the Breaking Bread collective to develop a new project, titled Commun.e, taking place both in Marseille and online.
Based on a transdisciplinary approach, Commun.e will involve a wide range of formats such as residencies, performances, screenings, and an online platform that will broadcast ideas, experimentations, and artworks produced within the frame of the project. The programme is conceived as a springboard for further knowledge exchange and production, gathering multiple perspectives.
Based on collaborative methodologies, Commun.e is questioning the renewal of artistic structures and infrastructures. From it, Triangle Network and its partners are opening new conversations and gathering a new generation of artists and art workers from different African countries, and their diaspora for a summer of collective thinking and potential building, both onsite and online. In doing so, Commun.e will aim to therefore inspire many discussions, meetings, collaborations, and, even maybe, offer a frame to pursue the thinking of the network and its future.
All of the conversations and presentations will be uploaded on bruisemagazine.com, Triangle - Astérides's online platform.
Public program
June 3, 2021
11:00 A.M. – 8:00 P.M.
Mucem, Marseille
Curated by Ziphozenkosi Dayile and Flora Fettah.
With: Eden Tinto-Collins (France), Vir Andrés Hera (Mexico / France), Belinda Zhawi (Zimbabwe / United-Kingdom), Buhlebezwe Siwani (South Africa), Dorothée Munyaneza (Rwanda / France), Moesha 13 (France)
To announce Commun.e, the Mucem welcomes Triangle - Astérides for a day of contemplations on cultural formations, resilience & resistance, and ways of being together.
This day will be dedicated to contemplations on cultural formations, resilience & resistance, and ways of being together. Ziphozenkosi Dayile is gathering looks at collaborative and participatory models which artists employ to make space for critical dialogue on the future of our society. We explore the ways in which projects in the field of performance, community, and other spheres are demanding a renewed imagination to dismantle current systems of power whilst providing space for new inquiries to converge.
>> Mandatory registration here
Detailed program
11:00 A.M.–1:00 P.M.
The artist who creates with-in circles
Encounter and discussion with Vir Andrés Hera (editorial board member of Qalqalah) and Eden Tinto-Collins (member of Black(s) to the Future)
Moderated by Ziphozenkosi Dayile and Flora Fettah
2:30 P.M.–3:00 P.M.
Sound performance by Belinda Zhawi (Zimbabwe/United-Kingdom)
3:15 P.M.–3:45 P.M.
Performance by Buhlebezwe Siwani (South Africa/Netherlands) and Dorothée Munyaneza (Rwanda/France)
4:00 P.M.–4:30 P.M.
Q&A with the performers
5:30 P.M.
Performance by Moseha 13 (France)
A simultaneous translation English - French will be available for those who want
Online discussions and commissions
June 3 - September 30, 2021
bruisemagazine.com
With: Phindezwa Mnyaka (South Africa), Bonolo Kavula (Black Mona Lisa, South Africa), People's Education (South Africa), Chef Sinesipho "Sine" Baduza (South Africa); Teesa Bahana (Uganda), Ayako Bertolli (Kenya
Curated by Ziphozenkosi Dayile and Breaking Bread
Commun.e examines the importance of local knowledge and practices of communal caregiving in the ongoing quest for community wellbeing and processes of decolonization. It starts by looking at how artists and other art practitioners in Southern Africa reconcile collective memory and local versions of freedom archive social transformation. The program also gathers Marseille and other France-based practitioners who share a commitment to and optimism for new utopias that can be attained through 'DIY' institution building.
Triangle – Astérides is inviting a new generation of art practitioners working in the African continent that are now defining new methodologies and other forms of institutions, taking as a starting point the program developed by Ziphozenkosi Dayile.
Residencies
April - July 2021
Triangle - Astérides, Marseille
Residencies are at the heart of our vision and 27 years long institutional history. Therefore, it was only natural for Triangle - Astérides to commit to Commun.e and to the Africa2020 Season by welcoming 4 artists from the African continent and opening up its studios to provide space for experimentation, knowledge sharing, and transnational dialogue.
Ayo
(Born in Uganda. Currently working in the Netherlands)
April 19 - July 26, 2021
Ayo's artistic practice predominantly consists of research projects which shape shift into film, sculpture, sound and performance. Her work often starts from the personal and specific; favouring relation making with various bodies and geographies with whom she seeks out counter-narratives, fictions, pleasurable and uncomfortable ways of (re)telling histories.
Maya Mihindou
(Born in Gabon. Lives and works in Marseille)
April 22 - August 31, 2021
Maya Mihindou is a self-taught artist. She trained in image-making through comics and photography through the practice of micro-publishing, then worked for the publishing industry and the press. Drawing allows her to approach the question of precarious, uprooted, fragile, and moving identities. One of her materials is the collection of testimony. She has contributed, since 2014, to the realization of drawings, but also to the writing of articles, reports and interviews for magazines (Ballast, Panthère Première, The Funambulist). She also accompanies, in images or videos, the work of other artists (Patrick Chamoiseau, Camille Hardouin, Myriam Mihindou, Dorothée Munyaneza).
Belinda Zhawi
(Born in Zimbabwe. Currently working in London)
May 26 - July 11, 2021
Residency in collaboration with Gasworks, UK
Belinda Zhawi is a Zimbabwean literary & sound artist. She is the author of Small Inheritances (ignitionpress, 2018) & South of South East (Bad Betty Press, 2019), co-founder of literary arts platform BORN::FREE & & experiments with sound/text performance as MA.MOYO. Her work has been broadcast & published on various platforms including The White Review, NTS Live, Boiler Room & BBC Radio 3, 4 & 6. Belinda hosts Juju Fission (RTM FM), a monthly radio broadcast. She lives & works in South East London.
Ziphozenkosi Dayile
(Born in South Africa, where she is currently working)
May 20 - July 29, 2021
Ziphozenkosi Dayile was born in South Africa where she currently lives and practices. She has been part of the South African arts community for over a decade. In that time, she has been involved with some of the most innovative sites of creativity including the artist collective, Gugulective and KinoKadre cinema circle. She has engaged in other aspects of the art industry including curatorship. Recently she co-founded Breaking Bread together with Unati Silinga and Thobile Ndenze, a Cape Town based multidisciplinary space using food, as a catalyst to engage with contemporary cultural practices. Her work is characterized by artistic communality and convergence.
Commission and production

Project partners

Institutional partners

Core funders

Networks

Organisers of the Africa2020 Season

Sponsors of the Africa2020 Season