ARTISTE EN RÉSIDENCE
_
DOMINIQUE WHITE
En résidence du 6 juillet 2020 au 5 avril 2021.
En résidence de production du 6 décembre 2021 au 29 avril 2022 dans le cadre de l'exposition Les cendres du naufrage (12.03.–05.06.2022).
Née en 1993 (GB). Vit et travaille à Marseille (FR).
blackdominique.com
Dominique White associe afro-futurisme et afro-pessissime aux mythes nautiques de la diaspora noire, et qu'elle assimile à la figure du naufragé ; soit le reflet d'une époque et de ses conditions d'existence. Ses sculptures proposent une vie dans laquelle la condition noire pourrait dépasser ses propres limites subjectives et servir de balises ou de vaisseaux d'une civilisation ignorée, définie comme étant celle des "Sans-Etats" ; un domaine dans lequel passé, présent et futur convergent vers un "Avenir Noir".
Parmi les dernières expositions de Dominique White, on peut citer : "Abandon(ed) Vessel", Kevin Space (Vienne, 2019), "Fugitive of the State(less) ", VEDA (Florence, 2019), "Flood-tide", Love Unlimited (Glasgow, 2018), "The Share of Opulence", Sophie Tappeiner Gallery (Vienne, 2018) ou encore "°c", Clearview.ltd (Londres, 2018), "The Conch (April) ", South London Gallery (Londres, 2018). Dominique White était en résidence à Saagrada Mercancia (Santiago, Chili) en 2020, à Curva Blu (Favignana, Italie) en 2019 ainsi qu'au Wysing Arts Centre dans le cadre du réseau Formerly Called en 2018.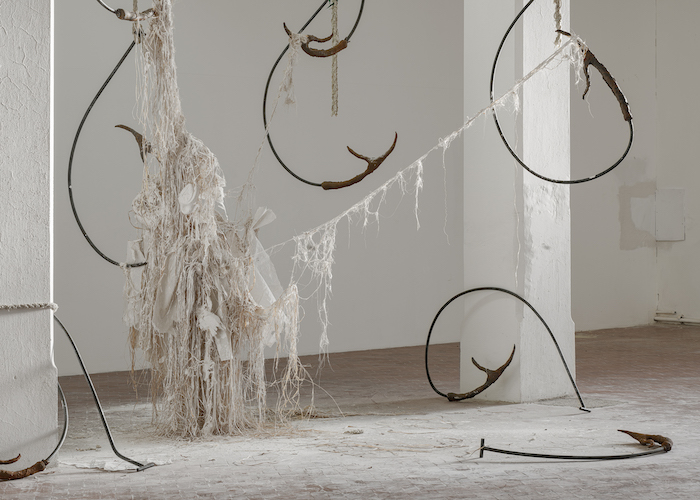 Dominique White, May you break free and outlive your enemy, 2021. Courtesy VEDA Firenze et l'artiste. Photo : Flavio Pescatori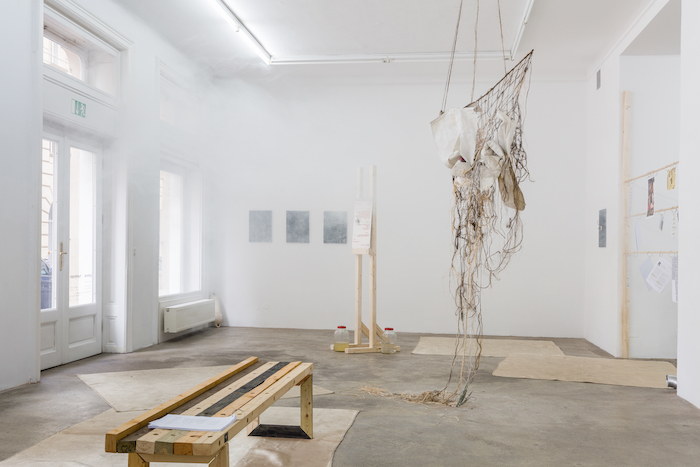 Dominique White, Landlocked Prisoner, 2018, vue d'exposition 'The Share of Opulence; Doubled; Fractional', Sophie Tappeiner Gallery, Vienne, 2019. © Kunstdokumentation.com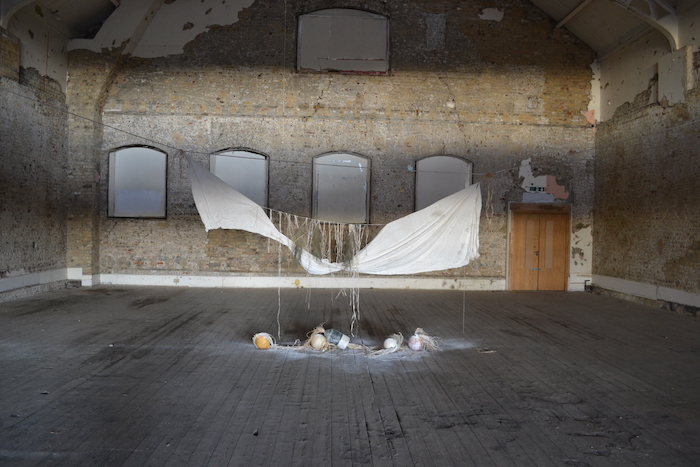 Dominique White, The Flag of Nowhere, dans le cadre de la performance 'A Study in Devotion for Nataal', 2017.