ARTIST IN RESIDENCE
_
DOMINIQUE WHITE
In residency from July 6, 2020 to April 5, 2021.
In residency from December 6, 2021 to April 29, 2022 for the production of the exhibition Cinders of the Wreck (03.12.–06.05.2022).
Born in 1993 (UK). Lives and works in Marseille (FR).
blackdominique.com
Dominique White weaves together the theories of "Blaccelerationism" and Afrofuturism with the nautical myths of Black Diaspora into a term she defines as the Shipwrecked; a reflexive verb and state of being. Her sculptures demonstrate how Black life could extend beyond its own subjective limits and act as beacons or vessels of an ignored civilisation defined as the Stateless; a realm in which the past, present and future have converged into a Black Future.
Recent exhibitions and talks include: "Abandon(ed) Vessel", Kevin Space (Vienna, 2019), "Fugitive of the State(less) ", VEDA (Florence, 2019), "Flood-tide", Love Unlimited (Glasgow, 2018), "The Share of Opulence; Doubled; Fractional" Sophie Tappeiner Gallery (Vienna, 2018), "°c", Clearview.ltd (London, 2018), "The Conch (April) ", South London Gallery (London, 2018). Dominique White was artist-in-residence at Sagrada Mercancia (Santiago, Chile) from January to March 2020, at Curva Blu (Favignana, Italie) from June to July 2019 and also artist in residence as part of the Formerly Called network at Wysing Arts Centre in 2018.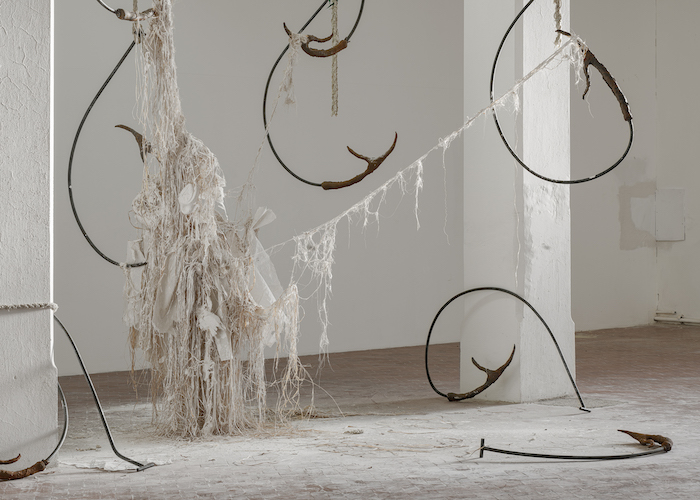 Dominique White, May you break free and outlive your enemy, 2021. Courtesy VEDA Firenze and the artist. Photo: Flavio Pescatori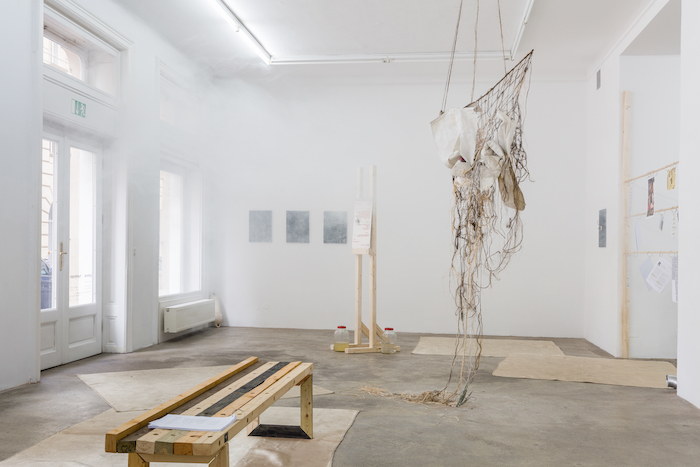 Dominique White, Landlocked Prisoner, 2018, exhibition 'The Share of Opulence; Doubled; Fractional', Sophie Tappeiner Gallery, Vienna, 2019. © Kunstdokumentation.com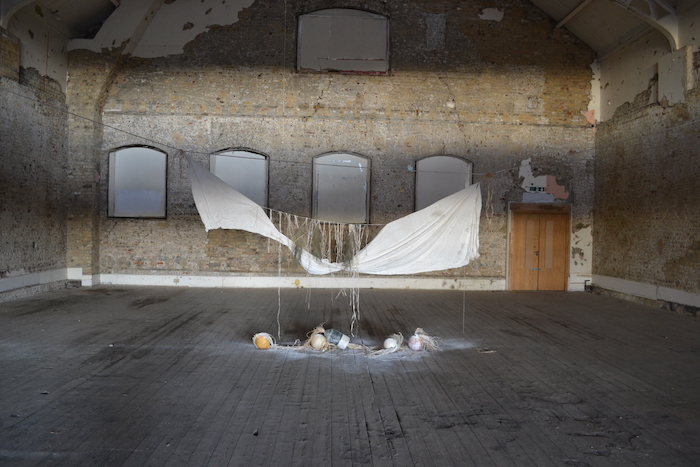 Dominique White, The Flag of Nowhere, as part of the performance 'A Study in Devotion for Nataal', 2017.