ARTISTE EN RÉSIDENCE
_
GHISLAINE LEUNG
En résidence en août 2018
Née en 1980 à Stockholm (SWE). Elle vit et travaille entre Londres (UK) et Bruxelles (BE).
Ghislaine Leung a participé en 2018 à différents projets et expositions : VIOLETS, Netwerk, Aalst; Local Studies, Reading International, Reading; Acoustic Holographic Language, Bureau des Réalités, Brussels; Five Sculptures; ESSEX STREET, New York City. Précédemment : The Moves, Cell Project Space, London (2017); 078746844, WIELS, Brussels (2016); Soft Open Shut, Studio Voltaire, London (2015).
Leung est membre de la maison d'éditions PUBLIKATIONEN + EDITIONEN. Sa première collection d'écrits "Partners" a été publiée par Cell Project Space en 2018. Au mois d'octobre 2018, Ghislaine Leung sera en résidence
Elle sera en résidence à EMPAC, The Curtis R. Priem Experimental Media and Performing Arts Center, et une exposition personnelle pour la Chisenhale Gallery à Londres est à venir pour 2019.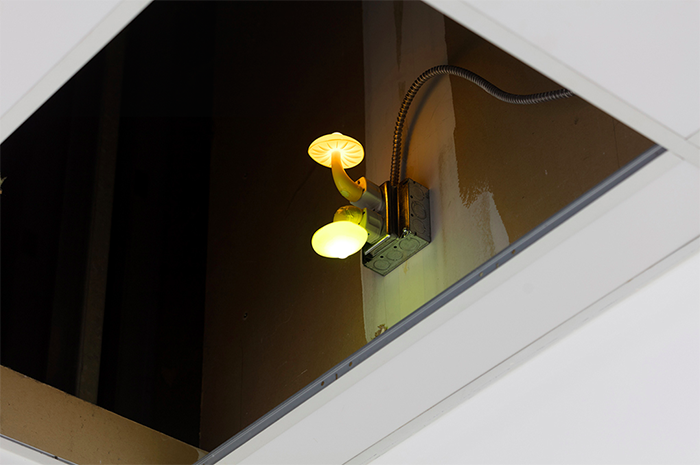 Shrooms, Ghislaine Leung, 2016
Score: Every visible unused socket within an exhibition to be filled with a mushroom nightlight and plug adapter. Dimensions Variable.
All available sockets to be filled within an exhibition. Installation View at And Now, Dallas 2017. Courtesy of the Artist and ESSEX STREET, New York.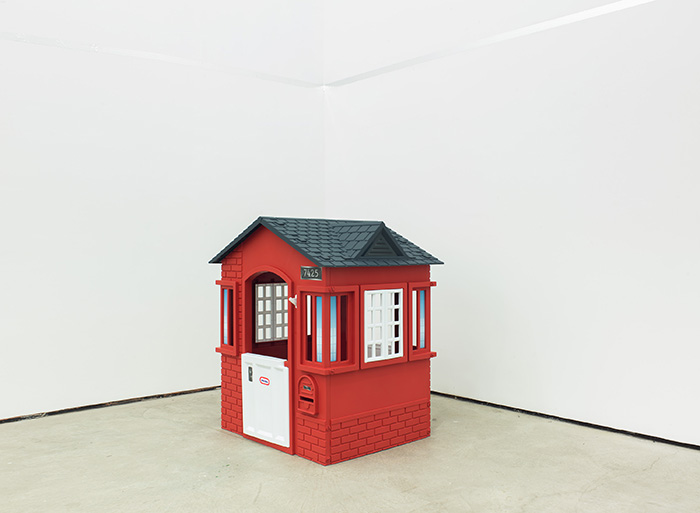 58 : 96 / 49, Ghislaine Leung , 2018
Plastic, aluminum tape, dye, glue, children's playhouse, metal, dimensions and title variable. Playhouse purchased in country of exhibition. Tape at minimum ceiling height for country of exhibition. 
Installation View at Frieze, New York 2018. Courtesy of the Artist and ESSEX STREET, New York.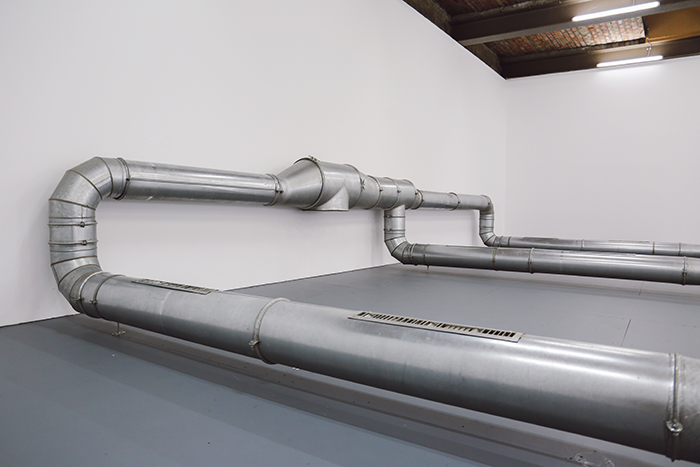 VIOLETS 2, Ghislaine Leung, 2018
Score: All ventilation pipes removed for refurbishment reinstalled within the space of one room and bracketed fixed to the floor, using as much of the material as possible while keeping it all interconnected. Spare pieces that do not fit in is configuration to be brackets together in smaller formations. A welcome sign to be installed. Ventilation System removed from Netwerk Aalst Bar during 2017 refurbishment: Brackets, Screws, Bolts, Dirt. Welcome Sign. Dimensions Variable.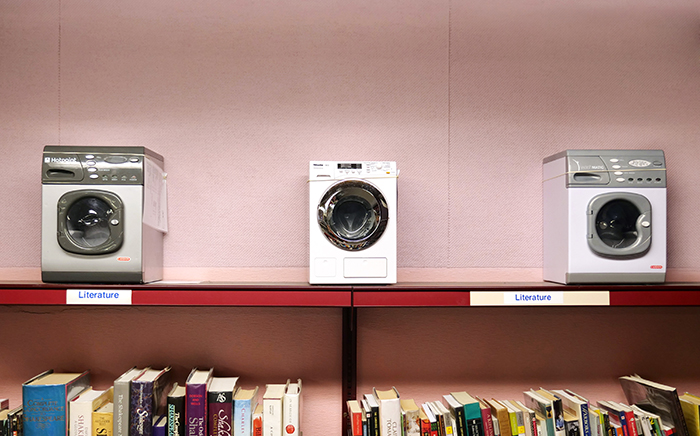 Public Sculpture, Ghislaine Leung, 2018
Score: 15 duplicate and additional toys purchased for Reading's Toy Library as part of the exhibition Local Studies for Reading International and now available for both collective exhibition loan and individual library loan via Reading Central Toy Library, Abbey Square, Reading RG1 3BQ, UK, +44 118 901 5950.
Toy Catalogue Items, laminated and paper labels, rubber bands. Inclusive of: Casdon Children's Dyson Ball Vacuum Cleaner, Casdon Numatic Little Henry Toy Vacuum Cleaner, Casdon Hotpoint Childrens Washing Machine, Miele Childrens Washing Machine, Sylvanian Families Cosy Cottage Starter Home Set, Playmobil 6020 Summer Fun Country House, Fisher Price 1999 Little People Dolls House Cottage Toy. Availability Variable.