_
VOS DÉSIRS SONT LES NÔTRES
Exhibition, lectures, performances
29 June — 21 October, 2018
Opening on 28 June, from 6:00 to 10:00 pm
Exhibition
Artists: Maayan Amir & Ruti Sela, Pauline Boudry & Renate Lorenz, Kudzanai-Violet Hwami, Jean-Charles de Quillacq, Roee Rosen, Liv Schulman, Ghita Skali
Curated by Marie de Gaulejac and Céline Kopp
Tampered emotions - Lust for Dust
Public program
Contributors: Bianca Baldi, Eva Barois de Caevel, Karima Boudou, Jana J. Haeckel, Natasha Marie Llorens, Paul-Emmanuel Odin, Roxanne Maillet, Douglas Morland, susan pui san lok, Jean-Charles de Quillacq, Roee Rosen, Liv Schulman, Ruti Sela, Ghita Skali, Doriane Souilhol, Camille Videcoq
Conceived by Lotte Arndt
This program is co-produced by SCIC Friche la Belle de Mai and The Artis Grant Program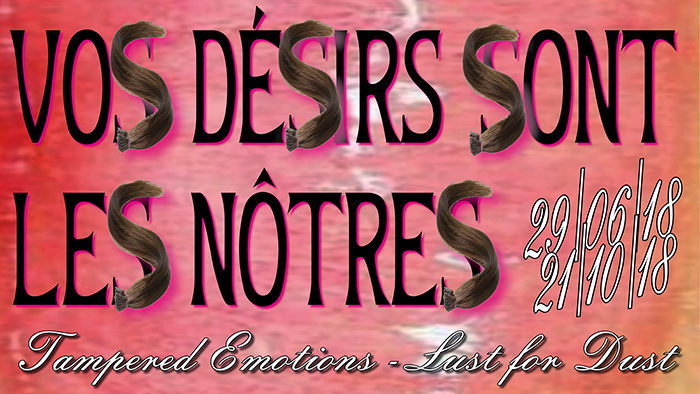 Graphic design: Roxanne Maillet
The first breath of this exhibition is in its title. Vos désirs sont les nôtres [Your desires are ours] addresses itself at you, at us, at them. It détournes the well known expression: "your wish is my command", in a radical and violent way blurring it with doubt and inflecting it with bodily urges and frictions. This primarily carnal and sensual address allows these bodies to speak, to 'assemble' their desires. The word desire (wish/want), so often used in formulating a demand or outlining a need, instead is used here to work against this sense, to bring fluidity and mobility to our relationship to reality and fiction.
"Desire is constructivist", Gilles Deleuze affirms in his celebrated From A to Z, where he speaks of desire in terms of an "assemblage" or "landscape". Resting on this idea of construction, the works put together here by Maayan Amir & Ruti Sela, Pauline Boudry/Renate Lorenz, Kudzanai-Violet Hwami, Jean-Charles de Quillacq, Roee Rosen, Liv Schulman and Ghita Skali, pile up the aches, differences, blindnesses, and dependences experienced when faced with consent. These are different interpretative visions, provocations sometimes verging on sarcasm, brought forward by each artist to constitute their own "assemblage", their narrative.
Ghita Skalia designs stage sets of sites of domination in the face of authority; starting from real facts, the artist hollows out and shakes up forms of absolute power. Kudzanai-Violet Hwami's work is bound up in exploring hope and family. Her painting is affirmative of bodies and of their right to self-definition.
The aforementioned idea of 'breath' evokes respiration, one of the driving forces in the videos of Roee Rosen, Liv Schulman and in Jean-Charles de Quillacq's manipulation of rope. This 'breath' puts almost naked bodies into action, themselves provocative of a damp indifference, or accelerators of intrusive violences, which we also find in the Maayan Amir & Ruti Sela's trilogy, where images dare to link establish sex as "the corollary of capitalism and war, the mirror of production"1 "sex to capital and in reflection, war to production".
Now we consider 'touch'. Pauline Boudry/Renate Lorenz's hair tableaux give important anchorage to the exhibition. These postiche works represent a return to matter, to the sensation of flesh. Through this physical sheath, they also bring us closer to our own sexual bodies, working through 'otherness' and offering contact.
Finally, placed in an agora at the centre of the exhibition, a vision of the city of Marseille, inhabited by its present post-colonial and identitarian splits, and investigated from the standpoint of the port of Jaffa. Made specially for the occasion by Roee Rosen and Ruti Sela, the joint work questions de-centring: a touristic advertorial on Marseille, it is filmed in an absurd manner in another city. This intersectional collaboration, led by a group of Ruti Sela and Roee Rosen's students, evokes one after the other the troubles, tendencies toward control, the jingoistic enthusiasms and reserves of significant members of Marseille. A tangle of portraits tinted with a grating, dark humour and nebulous storytellings, at once vague and speculative. The work in progress was filmed recently and is presented as such in a deliberately simple and documentary style.
Vos désirs sont les nôtres is an introspection through fluidity, an unconscious approach to our fears, which has multiple affinities with the critical theory of Paul B. Preciado, writing on the pharmaco-pornographic control of contemporary bio-capitalism, in his celebrated work Testo Junkie. He describes an era that "produces movable ideas, living organs, symbols, desires, chemical reactions, and affects"2, where the pharmaceutical industry and the audiovisual industry are both masters and producers.
From stories to stories, images after images, this exhibition calls out to beings where bodies draw together and push apart for a sensation of existing close to emptiness.
1. 2. Beatriz Preciado, Testo Junkie : Sex, Drugs, and Biopolitics in the Pharmacopornographic era, tr. Bruce Benderson (New York: The Feminist Press, CUNY, 2013) p. 40 - p.54
Opening schedule
From Wednesday to Friday 2:00pm to 7:00pm
Saturday & Sunday 1:00pm to 7:00pm
Address
3rd floor - Tour Panorama
Friche la Belle de Mai
41 rue Jobin
13003 Marseille
—
TAMPERED EMOTIONS - LUST FOR DUST
Encounters and performances, a program conceived by Lotte Arndt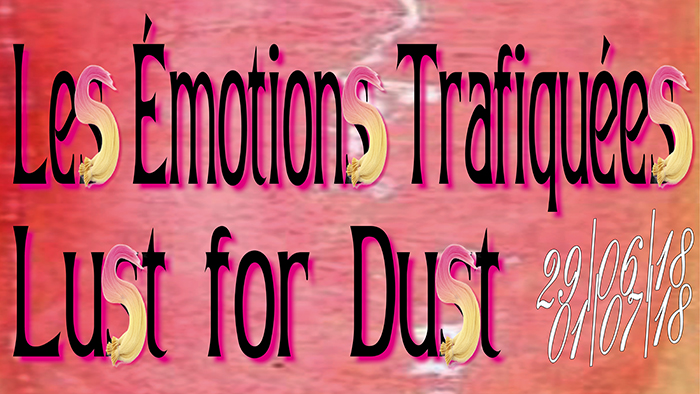 Graphic design: Roxanne Maillet
In the backstage areas of global trade ec-static subjectivities decompose into sweating skins. The air is heavy with far traveled smells, overwhelming, asphyxiating. The state stands stiff, stamps forms, wiggles bars and barriers, raises banners, and proclaims in strong voice willful redemption, but the sound is too loud. The film may be from last year and everybody gets bored. With surprising certitude, the remote corners of the abject selves walk in; they are vested in hairy dresses. As on a sign given to them, they gather in a crowd, accelerate the gestures of their toxic habits, until they loose heir contours and morph into liquid flows, leaving behind only prosthetic parts of their luxuriously shining bodies. From beyond, trembling wills without Visa cross borders as theft. They move closely tied to each other, while, nearby, she sits motionless on her own and smokes another hundred smuggled cigarettes. She has abandoned to wait long ago. She rather takes the backdoor. She'd rather not…. Here, passing is a mode of survival and dream comes as a kleptomaniac.
The public program Tampered Emotions – Lust for Dust accompanies the exhibition Vos désirs sont les nôtres. On 29 & 30, June the participating artists are invited for presentations, performances, and exchange with writers and theorists around desire and violence, and the affections of the intimate by the mutilations of life. This program conceived by Lotte Arndt will be closed on 1, July, 2018, by a book release by artist Liv Schulman, an evening of projections and a performative lecture by the artist Roee Rosen, event organized in collaboration with FIDMarseille and the [MAC] Museum of Contemporary Art of the City of Marseille at Mucem. In the beginning of September 2018, during the fair Art-o-rama a performance will close the program.
More details about the program here
—
FRIDAY 29 JUNE
Friche la Belle de Mai
41 rue Jobin - 13003 Marseille
11h - Curators' tour (English and French)
Marie de Gaulejac and Céline Kopp
14h - Public program's opening
Marie de Gaulejac, Aurélia Defrance and Céline Kopp (French)
14:15 - Introduction
Lotte Arndt (English)
15:00 - Institution's bodies
Lecture
Eva Barois de Caevel (French)
16:15 - Narratives machines: episode 1
Lecture-performance
Ghita Skali and Karima Boudou (French)
17:30 - TRANSPORT AMOUREUX
Performance between Friche la Belle de Mai and La Compagnie
Jean-Charles de Quillacq
La Compagnie
19 rue Francis de Pressensé - 13001 Marseille
19:00 - Aperitive and exhibition finissage
L'intrigue se cherche dans le dénouement de son noeud
With a performance by Doriane Souilhol and Douglas Morland
—
SATURDAY 30 JUNE
La Compagnie
19 rue Francis de Pressensé - 13001 Marseille
Translation English/French all day
10:00 - Introduction
Paul-Emmanuel Odin
10:30 - Found and Lost / Waste and Dust - Shimizu, Takahashi, Phaophanit/Oboussier
Lecture
susan pui san lok
11:45 - Lecture / Presentation
Ruti Sela
12:30 - Talk moderated by Natasha Marie Llorens
14:00 - Our Personal Union
Performance
Liv Schulman
15:00 - Dream as cleptomaniac? Torn desire in global capitalism
Talk moderated by Lotte Arndt
—
SUNDAY 1 JULY
Friche la Belle de Mai
41 rue Jobin – 13003 Marseille
Salle des machines
13:00 – Que faire ?
Book launch
Liv Schulman, artist, Roxanne Maillet, graphic designer, and Camille Videcoq, editorial director. (French)
Que faire ? is co-produced by La Galerie, center for contemporary art of Noisy-le-Sec, the center for contemporary art Parc Saint-Léger (Pougues-les-eaux) and Rond-Point Projects (Marseille).
2nd floor - Magasins
15:00 – Versipellis
Performance / Lecture
Bianca Baldi (English)
The lecture will be followed by a talk with Jana J. Haeckel, curator and researcher.
With the support of Goethe Institut Brussels, Goethe Institut Marseille and Netwerk Aalst.
Mucem – Auditorium
7 esplanade Robert Laffont - 13002 Marseille
18:00 – Roee Rosen special event
Screening of An Andalusian Dog by Luis Buñuel and The Dust Channel by Roee Rosen.
The screening will be followed by a lecture by Roee Rosen about the surrealist Judeo-Belgian's artist Justine Frank, fictive female character, created by the artist.
Event organized by FIDMarseille Festival as part of Make/Remake program, in partnership with Triangle France, [mac] contemporary art museum of Marseille and Camargo Foundation. As part of « MP2018, Quel amour ! ».
Films not recommended for children under 18.
Prices screening + lecture : 6 € / 4 €
—
PARTNERS
Project partners
Mucem
FIDMarseille
La Compagnie, lieu de création
Rond-Point Projects
Al Mawred Al Thaqafi
Goethe Institut Brussels
Goethe Institut Marseille
Villa Arson
Partner companies
Hôtel La Résidence
PICTO Méditerranée