_
UP IN THE CLOUDS, QUI DIT BLEU ?
Shirley Bruno, Josèfa Ntjam
Off-site exhibition
August 29 – September 5, 2019
Opening: Thursday 29 August, 2:00–7:00 P.M.
Bastide Projects
19 rue du Chevalier Rôze
13002 Marseille
Open from Wednesday until Sunday, 2:00–7:00 P.M. and by appointment.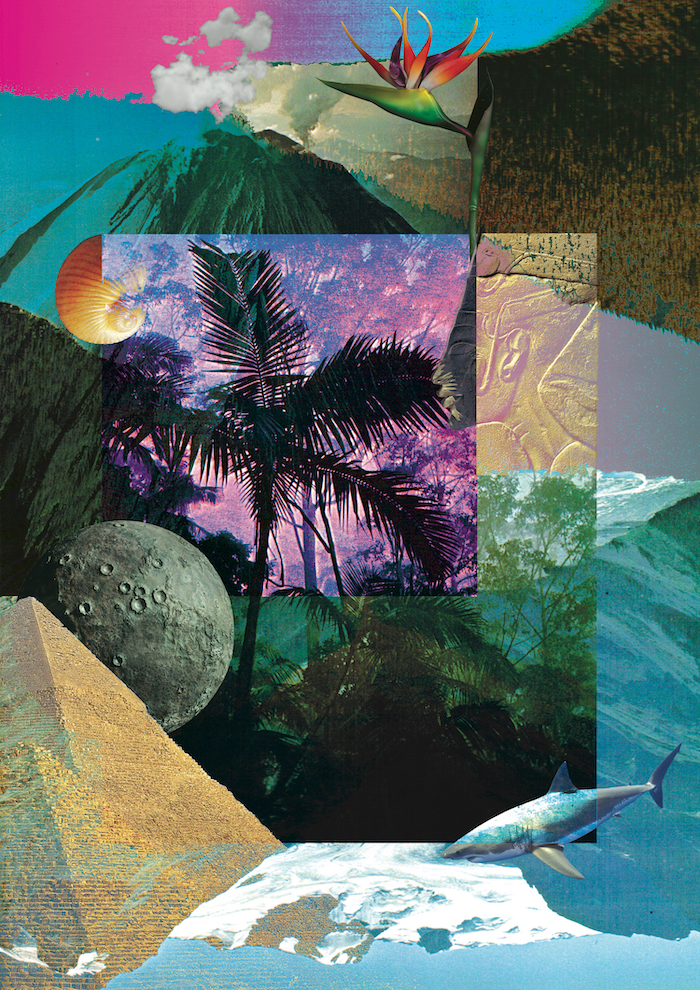 © Josèfa Ntjam, 2019
As part of its off-site series of exhibitions, Triangle France - Astérides is pleased to invite you to the opening of Up in the clouds, qui dit bleu ? 
Creating a dialogue between the work of Shirley Bruno and Josèfa Ntjam - two artists in residency in 2019 - this exhibition gathers recent works, some of which especially created for the occasion. Up in the clouds, qui dit bleu ? amplifies several narratives and voices, and presents non-Western oriented artworks, giving place to singular and feminist practices. 
??Shirley Bruno, artist and filmmaker, engages with myths, documented memories and forms of discourse derived from different systems of both written and oral transmission. 
Shirley Bruno (Haitian-American, born in 1980) deals with the meaning of things as a living phenomenon in the form of fiction. In the work presented here, Tezen, the artist works with a family, gathering three generations around a traditional Haitian tale about water and the spirits it conjures up. Filmed and released in Haitian Creole, (subtitled in French and English), Shirley gives us several fictional stories or ambiguous interpretations of certain truths and fears. A sensitive and honest journey (a term dear to the artist), a conduit of infinite conversations between ancestors and current generations.?
Josèfa Ntjam, artist, works on the reversal of symbols and the creation of new icons through multiple practices such as video, photomontage, writing and performance. 
Josèfa Ntjam, born in 1992, France, uses images as possible forms of life, from referenced scenarios which she scaffolds oui c'est bien or rewrites according to a personal process. Josèfa's work increasingly draws from and reappropriates Afro-Futurist aesthetics and sensibilities. The artist presents here several works: video, prints on paper, laminated vinyls on the glass window and a textile print. The scales of these different works mixing diverted / clipped images and language elements actively participates in the rewriting and fusion of new principles of reading, assimilating resourced images with the meaning of our discourses. This approach intends to offer other truths, other flexible and anticipatory strategies.
—
PUBLIC PROGRAM
Saturday 31 August, from 5:30 P.M.
As part of the exhibition, Triangle France - Astérides is pleased to present a series of public events: 
* The exhibition Up in the clouds, qui dit bleu ? will be partly disactivated to host this program, from 5:30 to 7:00 P.M. 
CONVERSATION
Triangle France - Astérides invites Aude Christel Mgba to converse with the artists on their respective practices.
PERFORMANCE
Josèfa Ntjam presents the performance Hilolombi #2, Et si nos corps en formes de gouttes côtoyaient les étoiles (duration: 30min)
Aude Christel Mgba is an independent curator based in Amsterdam, recently she was a participant of the De Appel 2018/19 curatorial Programme. Between 2017 and 2018, she was curator at Espace doual'art, an independent centre of contemporary art, which produces specific artistic interventions in the urban space of Douala, acting as an intermediary between social and economic actors as well as the population and local communities. In 2017, Aude worked as an assistant curator next to Cécile Bourne-Farrell for the SUD2017, an international triennial of public art organized by doual'art for the city of Douala. She is a member of the Madrassa Collective, a group of eight international curators formed at the end of a workshop organized by Atelier de l'Observatoire in October 2015 in Casablanca, Morocco. She co-organized with the group Something to Generate From (June-August 2016) at Kunsthal Aarhus in Denmark; Bazar (May 2017), a project presented as part of the second edition of Supercopy festival in Mannheim. Perpetuate the links between the contemporary and the ancestral through collaborations between artists, researchers, writers and artisans, she reevaluates decolonial thoughts of the contemporary world. Very attached to the ancestral values that would have sprouted from geographical antipodes, she creates connections between past, present and future.