_
BARZAKH
Lydia Ourahmane
Solo exhibition
Curated by Céline Kopp
June 5 – October 24, 2021
Opening: Friday, June 4th, 2021
Floor 3 - Tour Panorama
Friche la Belle de Mai
41 rue Jobin
13003 Marseille
An exhibition commissioned and produced by Triangle – Astérides, centre d'art contemporain and Kunsthalle Basel.
In partnership with gmem - CNCM - Marseille and rhizome, Algiers.
The exhibition has been presented from March 2nd to May 16, 2021 at the Kunsthalle Basel.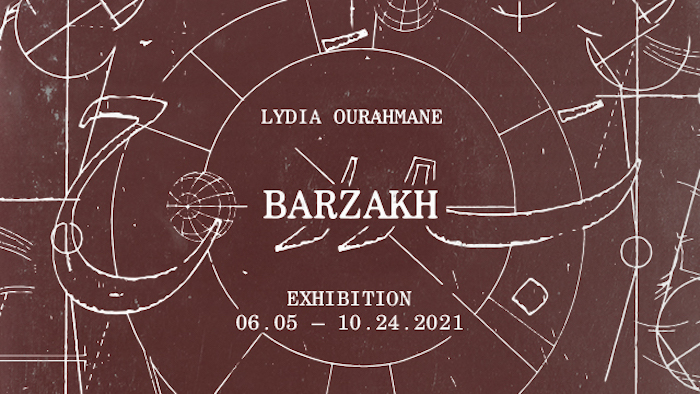 Design: Collin Fletcher, 2021
Deeply personal yet remaining on par with major issues of our era, Lydia Ourahmane's practice develops over periods of intense research and experimentation during which she questions the permeability of borders and transient forms of existence. The origins of her projects are often rooted in situations from her personal life, from those close to her, or materials and objects that carry the weight of social, political and economic tensions. Through a conceptual approach and a great variety of media– including installation, sound, photography, film and text – she outlines narrative trajectories where individual lives, bodies, and objects grapple with the systems that constrain them. Born in 1992 in Saïda, Algeria, she grew up between the United Kingdom and Spain. In 2014, she graduated from Goldsmiths after exhibiting a sound installation entitled The Third Choir. Composed of 20 empty Naftal oil barrels, this was the first artwork legally exported from Algeria since the implementation of restrictions on the circulation of art at the time of Algeria's independence in 1962. Since then, Ourahmane's work has generated increasing international attention. In 2018, for The You in Us, she melted a gold necklace purchased from a young man in a market in Oran for the price of a boat trip to Spain. From this gold, two teeth were produced, one of which is implanted in the artist's own mouth in reference not only to her grandfather who removed his own teeth in order to be discharged from the army in 1945, but also to all the irreversible acts provoked by a feeling of helplessness and the desire for a better life. Barzakh is the continuation of her practice as it highlights the many restrictions imposed on bodies and subjectivities as well as the structures that condition them.
Lydia Ourahmane (b. 1992, Saïda) lives and works in Algiers and Barcelona. She is graduated from Goldsmiths University of London in 2014 and has exhibited internationally. Recent exhibitions include Waiting for Omar Gatlato, Triangle - Astérides, centre d'art contemporain (Marseille, 2021), Solar Cry, CCA Wattis Institute (San Francisco, 2020), Homeless Souls, Louisiana Museum of Modern Art (Denmark, 2019), Crude, Jameel Art Center (Dubai, 2019), Manifesta 12 (Palermo, 2018), Droit du sang (blood right), Kunstverein München (Munich,2018), New Museum Triennial: Songs for Sabotage, New Museum (New York, 2018), The You In Us, Chisenhale Gallery (London, 2018). Barzakh is her first solo exhibition in France.
Artist talk - Lydia Ourahmane
Friday, August 27, 2021 - 5:00 P.M.
Join artist Lydia Ourahmane and curator Céline Kopp as they discuss Lydia Ourahmane's exhibition Barzakh. This talk is free to attend. Places will be limited, booking required: contact@trianglefrance.org
"The Impossibility of Return": a conversation between Lydia Ourahmane and Céline Kopp
Press images here
OPENING HOURS
From Wednesday to Friday, 2:00–7:00 P.M.
Saturday and Sunday, 1:00–7:00 P.M.
ADDRESS
Floor 3 - Tour Panorama
Friche la Belle de Mai
41 rue Jobin
13003 Marseille
The exhibition front desk is located on the ground floor of the Tour Panorama.
Since the 21st of July, access to Lydia Ourahmane's exhibition "Barzakh" is on presentation of a Health pass in the form of a QR Code.
Press inquiries
Frédéric Blancart
presse@trianglefrance.org
+33 (0)6 83 08 06 39
Commission and production: Triangle - Astérides, centre d'art contemporain and Kunsthalle Basel
Co-production: SCIC Friche la Belle de Mai
In partnership with gmem - CNCM - Marseille and rhizome, Algiers
Sponsor: PICTO Méditerranée


This exhibition is part of l'Été marseillais, the summer program of cultural and leisure activities by the Ville de Marseille.


This exhibition is part of the event Plein Soleil, the summer of art centers, a project by d.c.a., the French network of contemporary art centers.