_
CINDERS OF THE WRECK
Dominique White
Solo exhibition
Curated by Céline Kopp
March 12 – June 5, 2022
Opening: Friday, March 11
Panorama
Friche la Belle de Mai
41 rue Jobin
13003 Marseille
An exhibition commissioned and produced by Triangle – Astérides, centre d'art contemporain d'intérêt national.
Coproduction: SCIC Friche la Belle de Mai and Fluxus Art Projects.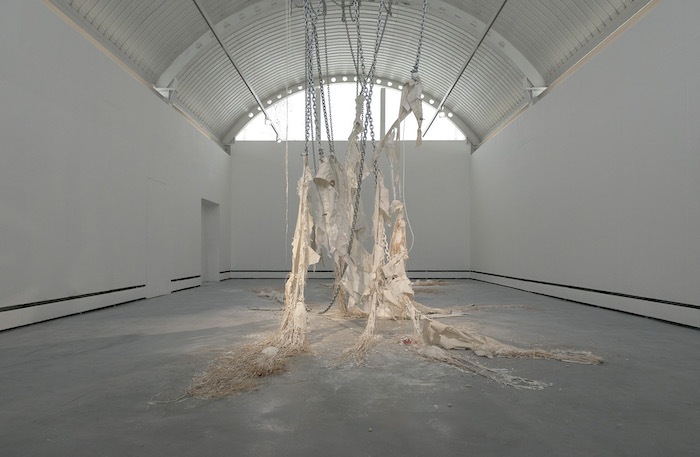 Dominique White, a haunting, a wake of sorts, 2019, Wysing Art Centre, Cambridge. Photo: Wilf Speller. Courtesy VEDA Firenze.
For her first solo exhibition in France titled Cinders of the Wreck, Dominique White pursues her depiction of the State as the Hydra; a relentless beast, with many, regenerative heads. Using disfigured and deformed hunting harpoons in place of the beast's many heads, and the Ship in place of the beast's body, Dominique White is questioning the regenerative powers of the State and its ability to constantly mutate as a means of maintaining an oppressive system. Known for giving life to forms which embody both a phantom-like fragility and a threatening presence, White walks the visitors through a universe of anticipation that weaves together theories of Black Subjectivity and Afro-pessimism with the nautical myths of Black Diaspora. Ropes, tired hand-woven nets, casted iron, raffia, and cowrie shells casted and coated in a ghostly shroud of kaolin clay all work together to evoke the transformative power of waves and wreck.